Map Name:
Downtown Ride
Author:
Aymeric Nocus (MRCK)
Released:
20th March 2004
Rating:
92
Review by Kim Robinson on 28th July 2007
A nice, fresh city level with action aplenty, Downtown Ride sports some great gameplay, nice detail and a high fun factor. You've got to find your three key-cards scattered around in order to unlock the exit, which does seem to come a little early. Not to worry though, plenty of alien-killing fun to had in getting there. Take a look at this goodie!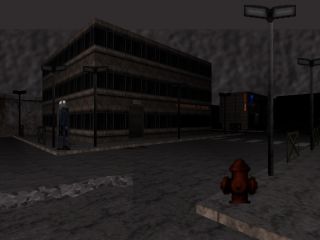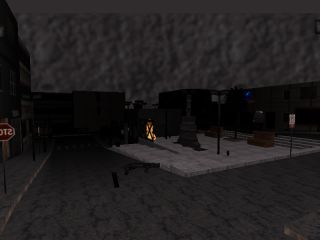 Gameplay Type: SP
Requires: Duke Nukem 3D v1.3d
Filesize: 55.88 KB

Download: Downtown Ride (741)
Other releases by Aymeric Nocus (MRCK): Anarchy City 1, Anarchy City 1: Atomic Version, Anarchy City 2: Neighbourhood Nightmare, Anarchy City 3: Zero Tolerance, Clérey, Dark Side of the Moon, Duke Nukem Forever (Bottles to the Ground), Filler, Happy Hangover, Meatball Sub Makin, Mega-CGR, Notre-Dame des Aydes, Overtime, Rural Nightmare, Tours - Rives du Cher
Know of any other maps from this author? Let us know
Mapping template:


=====================================================================================
============
			THIS LEVEL IS NEITHER MADE BY OR SUPPORTED BY 3D REALMS.
=====================================================================================
============

Title                 : Downtown Ride
Filename              : DtwnRide.map
Date finished	      : March 20th, 2004
Author                : Aymeric Nocus
E-mail                : aymeric-nocus[at]tele2.fr
Web Page              : None

Misc. Author Info     : 16-year-old French guy with nothin to do but skateboarding,
listenin
			to punk-rock bands, playing bass and of course building maps...

Other Levels          : Anarchy City, Blois, Mega-CGR, Clerey, Dark Side of the
Moon,
			Notre-Dame des Aydes, Tours. (Mega-CGR, Notre-Dame des Aydes and
			Dark Side of the Moon were rated 90, 91 and 87 on the Duke Nukem 3D
			Repository Site.) If you wanna get'em just ask me !

Description           : A medium-sized city level with a bunch of things to do, and a
lot
			of FX (earthquakes, rooms over rooms, "Duke Talk", explosions...).
			Very good attention to detail, you can find whatever you'll except to
			find in real streets (cars, sewer holes, garbage cans, dog shits...).
			I tried to make shadows look good too... Anyway this is based on a
			real-world place, don't let this scare you off however cuz I modified
			the layout of the streets a bit to optimize it for DN3D Play. This level
			has some good architecture, too...
			The - crappy - storyline behind this one is that you're driving home,
			back from a party, when you notice that a cop car is following you,
			sirens on. You don't understand why they want to get you cuz you've done
			nothing wrong, you're just doing 75 on the wrong side of the road... A
			glance at the reflector and you see that it's just those fucking pigcops
			with shotguns out, trying to aim at you. You try a few zigzag manoeuvers
			as an attempt to get out of the way, quickly park your car, reach inside
			the glove box and throw a pipebomb on the road. As you get out of your
			car to enjoy the show of those agonizing pigcops squirming in their blood
			- yes it's fun ! -, you hear some well-known screams and grunts coming
			from the city streets...
			In this level you'll have to kick alien ass (obviously), find three keys
			and a car to drive home cuz hey Lani's waiting for you...

Additional Credits To : The guy from the Duke Nukem Repository Site who posted three
of my
			levels, Pascal Rouaud for making me realize that a city map was a bit
			empty without cars in it, Gmoser, Itterheim and Breuer for their early
			FAQs who taught me everything, and you cuz you've downloaded the map -
			thanks...
                          
=====================================================================================
============

* Play Information *

Episode and Level #    : User map (E1L8), just load SETUP.EXE...
Single Player          : Yes - definitly
DukeMatch 2-8 Player   : Yes - starting points are here
Cooperative 2-8 Player : Yes - perhaps a bit too small for 8 players
Difficulty Settings    : Not implemented - who really cares about that
Plutonium Pak Required : No ! Be happy, 1.3D users !
New Art                : No
New Music              : No
New Sound Effects      : No
New .CON Files         : No
Demos Replaced         : None

=====================================================================================
============

* Construction *

Base                   : New level from scratch...
Level Editor(s) Used   : BUILD - can't get Mapster to work, but who cares...
Art Editor(s) Used     : None ! NO NEW ART ! ! !
Construction Time      : Two weeks. I built it very fast, but trust me the level is
good !
Known Bugs/Problems    : A weird bug happens when you're in one of the streets, when
you look
			 at the apartment building from a certain place you can see a few of
			 the sprites inside popping through the wall ! No effect on gameplay,
			 just something I don't understand that much since I've never seen that
			 in any map that I've ever played... So we'd just say that it's an
			 innovation :-) Don't worry it's even hardly noticiable.

=====================================================================================
============

*Important Information*

Installation           : Just do as usual, load SETUP, select an User Map and
play...
Important Notes        : After a one-year break, I'm back working on new maps ! I'll
finish
			 the ones that I've begun to build last year and then I'll start
			 to work on a big, awesome level using the Atomic Edition, with
			 hacked .CON files and shit. Stay tuned !

=====================================================================================
============
							
Top of the page