Map Name:
Dukem Memorial Hospital
Author:
Billy Boy
Released:
14th May 1999
Rating:
94
Review by Kim Robinson on 28th July 2007
Fair dinkum, this is one of the largest maps you'll ever play in terms of area, (rooms over rooms has been used extensively). For an old map the level is extremely well done, it's very long so gameplay does get a little tedious at times, especially when it appears you've explored everywhere. Keep going! Layout and themes are quite nice, puzzles mostly logical and there's some *very* neat effects thrown in as well. All in all a great map!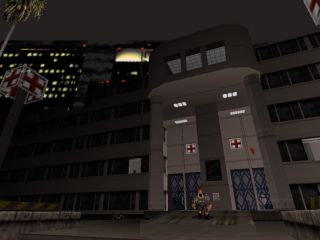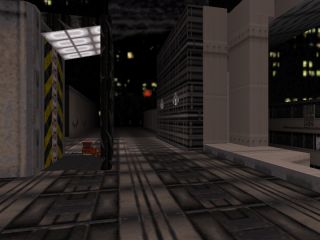 Gameplay Type: SP
Requires: Duke Nukem 3D v1.4+
Filesize: 149.00 KB
Level includes: multiple difficulty settings

Download: Dukem Memorial Hospital (1432)
Other releases by Billy Boy: Bedrone, Clearwater, Deadfall, Lighthouse, Oranges, Valves
Know of any other maps from this author? Let us know
Mapping template:


======================================================================
THIS LEVEL IS NEITHER MADE BY OR SUPPORTED BY 3D REALMS.

Title                 : Dukem Memorial Hospital
Filename              : brains2.map
Author                : Billy Boy
E-mail                : gawana[at]aol.com
Web Page              : 
Misc. Author Info     : 04-20-99
Other Levels          : oranges, valves 

Description           : Dukem Memorial Hospital is invaded by aliens. Duke's half
brother,
			the brain surgeon, has been captured for dissection, but not before
			he flushes his yellow security card into the hospital sewer.
			When Duke hears of family in trouble, he borrows a Jeep to crash a
			barrier, only to slam into a recreation vehicle with a cargo of road
			enraged pigcops. Duke may survive the accident, but will he save his
			brother from alien surgery, or merely take revenge on the invaders?
			
			This map has a lot of area because of many rooms over rooms. If you
			hear some guy on the floor above you, try blasting the ceiling with
			an RPG. You may get lucky. Get the yellow key last. This lets you in
			the main building. Work your way to the roof, get the courtyard 
			lights on, and you are more than half way home. Oh, there is a ladder
			out of the sewer. It is really five skinny steps. Jump while facing it.

			Difficulty settings are in place, but there are also some respawn
			monsters to deal with. Save a few RPG for the exit. There is one 
			puzzle more easily solved in cooperative play. There are some good
			open areas for dukematch, and there are jetpacks.
								

Additional Credits To :Kevin Zimmer and Anthony Zephier.                        
======================================================================

* Play Information *

Episode and Level #    : user map
Single Player          : Yes
DukeMatch 2-8 Player   : Yes
Cooperative 2-8 Player : Yes
Difficulty Settings    : Yes
Plutonium Pak Required : Yes
New Art                : No
New Music              : No
New Sound Effects      : No
New .CON Files         : No
Demos Replaced         : No

=====================================================================

* Construction *

Base                   : New level from scratch
Level Editor(s) Used   : BUILD
Art Editor(s) Used     : None
Construction Time      : several
Known Bugs/Problems    : none

* Where to get this MAP file *

File location          : 

=====================================================================

*Important Information*

Installation           : User map

Important Notes        : 

======================================================================

							
Top of the page