Map Name:
Anarchy City 1
Author:
Aymeric Nocus (MRCK)
Released:
14th April 2004
Rating:
93
Review by Kim Robinson on 28th July 2007
Anarchy City is a solid, action packed romp through an urban landscape - starting out in a pristine backyard you've got to make your way through the hellish streets, blow up a building, visit a church, nothing entirely unusual. Gameplay kicks arse, you've got to fight to get your key cards before entering the octabrain infested sewers. Level layout is very nice with great attention to detail - the streets are quite linear so you can't really get lost. Check out this goodie!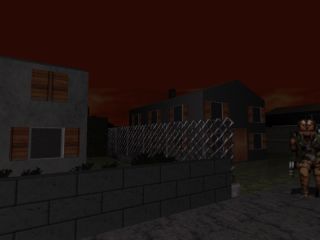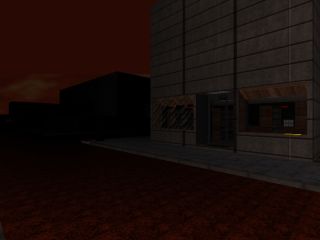 Gameplay Type: SP
Requires: Duke Nukem 3D v1.3d
Filesize: 641.77 KB
Level includes: new ART, new CON code, new music

Download: Anarchy City 1 (640)
Other releases by Aymeric Nocus (MRCK): Anarchy City 1: Atomic Version, Anarchy City 2: Neighbourhood Nightmare, Anarchy City 3: Zero Tolerance, Clérey, Dark Side of the Moon, Downtown Ride, Duke Nukem Forever (Bottles to the Ground), Filler, Happy Hangover, Meatball Sub Makin, Mega-CGR, Notre-Dame des Aydes, Overtime, Rural Nightmare, Tours - Rives du Cher
Know of any other maps from this author? Let us know
Mapping template:


=====================================================================================
============
			THIS LEVEL IS NEITHER MADE BY OR SUPPORTED BY 3D REALMS.
=====================================================================================
============

Title                 : Anarchy City
Filename              : AnarchyC.map
Date finished	      : April 14th, 2003
Author                : Aymeric Nocus
E-mail                : aymeric-nocus[at]tele2.fr
Web Page              : None

Misc. Author Info     : 16-year-old French guy with nothin to do but skateboarding,
listenin
			to punk-rock bands, playing bass and of course building maps...

Other Levels          : Blois, Mega-CGR, Clerey, Dark Side of the Moon,
			Notre-Dame des Aydes, Tours. (Mega-CGR, Notre-Dame des Aydes and
			Dark Side of the Moon were rated 90, 91 and 87 on the Duke Nukem 3D
			Repository Site.) If you wanna get'em just ask me !

Description           : A huge city level with a lot of FX (really), truely awesome
			(to my opinion). Lots and lots of details, rooms over rooms,
			earthquakes, new monsters, great ambiance etc. My best level ever.

Additional Credits To : The guy from the Duke Nukem Repository Site who posted three
of my
			levels, Gmoser, Itterheim and Breuer for their early
			FAQs who taught me everything, and you cuz you've downloaded the map -
			thanks...
                          
=====================================================================================
============

* Play Information *

Episode and Level #    : User map (E1L8), just load SETUP.EXE...
Single Player          : Yes - definitly
DukeMatch 2-8 Player   : Yes
Cooperative 2-8 Player : Yes
Difficulty Settings    : Not implemented - who really cares about that
Plutonium Pak Required : No ! Be happy, 1.3D users !
New Art                : Yes
New Music              : Yes
New Sound Effects      : No
New .CON Files         : Yes - new monsters : Pigtroopers with a green uniforn and
grenade
			 launchers
Demos Replaced         : None

=====================================================================================
============

* Construction *

Base                   : New level from scratch...
Level Editor(s) Used   : BUILD - can't get Mapster to work, but who cares...
Art Editor(s) Used     : None - I borrowed the ART file from the episode Duke It Out
in DC,
			 I just couldn't get the fucking Editart to work ! ! ! ! Anyway
			 it's a great episode.
Construction Time      : 200+ hours
Known Bugs/Problems    : N O N E

=====================================================================================
============

*Important Information*

Installation           : Do as usual, copy ALL the files in your DN3D directory, load
Setup
			 and select the map, Don't forget to backup your original .CON files.
Important Notes        : This level is really cool I think, when you're in the church
and you got
			 the blue key quickly run to the main room to enjoy all the explosions
			 and FX, then go out to have a little surprise... And check out the last
			 section of the map (the sewers), it's good too... :-)

=====================================================================================
============
							
Top of the page