Addon Name:
WGRealms
Author:
William Gee
Released:
30th July 2004
Rating:
96
Review by Kim Robinson on 1st October 2007
The fruit of over a year's hard labour, WGRealms is the latest from William Gee - perhaps even the most memorable. A five level masterpiece with an introductory map, three regular ones and a final boss level, the episode almost completely revamps the original game - a couple of new weapons, sounds and hundreds of new textures. There's a story behind the episode if you want to know exactly why you've wound up where you are - might be interesting to some, but it's pretty much the same old, same old. (I wish for once an author would write something short and to the point like: Duke is getting angry, the voices won't stop and he must find something to kill)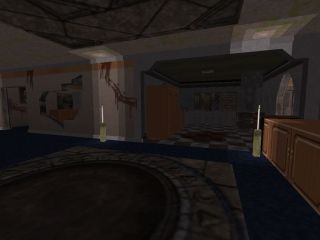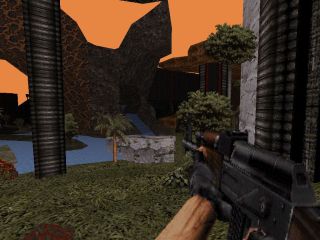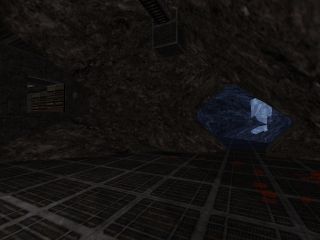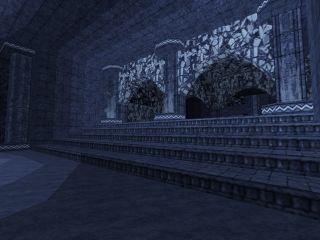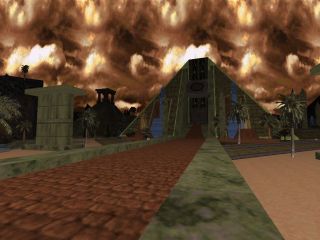 The levels are some of the best you will ever see. Each one is filled with exquisite detail, amazing architecture and textured like a pro. You'll start off at Duke's house, from which the rest of the episode continues in a more or less haphazard fashion - you'll visit a medieval castle, an enormous outdoor/hi-tech level and some terribly well-done caves, before meeting the boss in a surreal Egyptian-style level.
Every level is uniquely themed, huge and tremendously replayable, not only because the maps are fun to explore but because difficulty settings have been implemented. The new textures, sounds and background scores fit the levels well, nothing at all to fault there. There's a couple of midi's pinched from UT but, despite Duke3D being a far better game, they still seem to suit Duke3D well.
WGRealms has quickly risen to one of my all-time favourite mods. I was literally awestruck at the immensity and depth of these levels the first time through, and I eagerly await WGRealms 2. Unfortunately it'll only work with the Atomic Edition, so if you're a v1.3d'er life might suddenly seem rather pointless. Be sure to create a new, clean Duke directory to unzip WGRealms into - as it has not been GRP'd and may overwrite some of your more important files. Download, download, download!
Gameplay Type: addon
Requires: Duke Nukem 3D v1.4+
Filesize: 4.07 MB
Level includes: new ART, new CON code, new music, new sounds, multiple difficulty settings

Download: WGRealms (3257)
Other releases by William Gee: AlienX, Future Matrix, Labrenth2, Lord of the Secrets, WG-Old1, WG-Old2, WGAlien, WGCity, WGCityDM, WGCityDM2, WGDM1, WGDM2, WGDM3, WGDM4v2, WGDM7, WGDM8, WGDoom1, WGSecretV5, WGSpace 1 (Astro Core), WGSpace 2 (Alien Resurrection), WGSpace 3 (Ice Moon), WGSpace 4, WGSpace Episode, WGTeams2, WW2
Know of any other maps from this author? Let us know
Mapping template:


::: WGREALMS EPISODE :::

======================================================================

Title                 : WGRealms Episode
Author                : WILLIAM GEE
E-mail                : GEEWILLYWIZZ[at]HOTMAIL.COM
Duke page             : WWW.geocities.com/wgrealms
art  page             : WWW.artastic.co.nz

Description:  5 Level episode. All new textures. 

NOTE (Save Often. Otherwise I will trap you and you wont like it :D)

Time taken to make Level : Over a year. but less than 2 years :P

======================================================================

Other maps by me. 

                   SP : 
                        Future
                        WGDOOM1
                        AlienX
                        WGSpace1
                        WGSpace2
                        WGSpace3
                        WGSpace4
                        WGAlien

                   DM : Labrenth
                        Lots
                        Labrenth2
                        WW2
                        WGDM1
                        WGDM2
                        WGDM3
CBP'S I have taken
part in.              : CBP2
                        CBP3
                        CBP4
                        OGBB 
                        CBP5                           
======================================================================
EPISODE INFO

Level1 :AWAKENING:      : Dark scary walkthrough Level based inside a house.
Level2 :MEDIEVIL CRESS: : Dark Scary Level based in a castle in the hills.
Level3 :OPEN SEASON:    : Giant Nature Level massive frag fest hundreds of enimies.
Level4 :CRYSTAL MINES:  : Cave system level.
Level5 :TEMPLE CRESS:   : Huge Egyptian Boss level.

======================================================================

* Play Information *

Episode and Level #   : YES! 5 Levels play them all. :P
Single Player         : YES! all 5 levels.
DukeMatch Level       : YES! all 5 levels.
Difficulty Settings   : YES! all 5 levels. So if its to easy for you try it on the
hardst. If its to easy on hardst im sory.
Co-Op Settings        : YES! all 5 levels.
Version?              : 1.4  Atomic YAY. If you only have 1.3d then go download and
play my WGSpace levels.
New textures?         : YES! Episode uses all new Textures.
New sounds?           : YES! 
New Midis?            : YES! All new midis. 
New Weapons?          : Yes! 2.
New Enimies?          : Dame There had to be at least 1 NO! :P Maybe I will have new
enmies in WGR/2

======================================================================

* JonoF's Duke Nukem 3D Port *

Classic mode          : Yes WGRealms has been made for Classic mode, so you will get
the best impact with this mode.
GL                    : Yes even though I made WGR for Classic mode it also works
very good in GL so try this to. 
                        Also there are no sky bugs in WGR when using GL ;) 

======================================================================


Additional Credits to : 
 
Me!!William Gee : For Spending over a year makeing this bloody episode :P
James Stanfield : For beta testing and posting the texture thread in AMC. 
                  The place I got 95% of my textures. And the place that started
this.
Gangster        : For the cool weapons and some of the plant sprites.
http://www.premiumtc.de.vu
Mrline          : For beta testing.
Maartn          : For beta testing.
Sang            : For beta testing.
Stephano        : For beta testing.
Alex Pistol     : For beta testing. 
Rusty Nails     : For beta testing.
Fakir           : For beta testing and some textures and sounds from his mod he riped
from shadow warior :D.
Highwaire       : For some art he gave me. 
Meth            : For beta testing.
Quakis          : for some weapon editing I didnt use.
======================================================================       

* Construction *

Base                  : EDF Base :D lol :P
Editor(s) used        : Makemap 
Known Bugs            : None. If there are any his me with a message :P Just look at
all the beta testers ;)

Note : If you would like to make userlevels for this episode please do so and also
email them to me :)
Note : If you want to rip some textures sprites for your own project then please feel
free to do so, but remember some of them were made by me. The paintings are infact
photoes of my own paintings, Some doors were made by me and a couple other bits so I
would apreciate it if you would give me credit for those. If you want the Weapons ask
Gangster first! http://www.premiumtc.de.vu And remembe to add a link to my site in
textfile :P Oh yeah NEVER I mean NEVER use the levels in this for your own projects,
Or eles Ill have to get the AMC squad to track you down tie you up and smack you with
supa slippers.

* Where to get this MAP file *

maybe from these sites although im not 100% sure :P And of cause your all alowed to
review it and add it to your own sites.

http://www.geocities.com/wgrealms (MY SITE)
http://www.planetduke.com/kef 
http://www.planetduke.com/AMC
http://www.planetduke.com/MSDN
http://www.bur.st/~duke3d

...................................... PLEASE FEEL FREE TO EMAIL ME WITH YOUR
COMMENTS!!!!..................................

							
Top of the page