Map Name:
The Last Train to Marsville
Author:
reflex17
Released:
11th October 2007
Rating:
95
Review by Kim Robinson on 12th October 2007
A behemoth of a level, the first in a highly ambitious episode in the making, The Last Train to Marsville transports you to a high tech cloning facility on Mars, wherein you'll face such ghastly horrors as eerily fogged-up red rooms, octabrain infestations and rather ominous looking architecture, and regular old horrors like ventilation duct systems and uneaten burgers. Who knows how long they've been sitting there. This is a long level, and the author has put a lot of time and effort into making it enjoyable - not only with respect to the atmosphere and puzzles, but also with the non-linearity, the interconnectedness of different parts of the map, and ensuring that the player simply can't run around shooting mindlessly and hope to complete it without thinking.
Design is top-notch and difficult to fault. The outside areas look simply superbe and give the level a sense of immensity not often achieved in Duke maps. The new textures are pretty darn snazzy as well and suit the theme very well - the bloated download size is well justified. Gameplay is quite straightforward, there's no trekking from one end of the map to the other to retrieve keycards, and play smoothly transitions from one area to the next. That isn't to say there's no backtracking involved, but new areas open up to get to old places so the level stays fresh.
Now, the level was designed with the hi-res pack in mind, and as such looks better with it enabled. The sky is a bit garbled in places when playing with the regular textures (as I did when taking the screenshots), and I noticed that a forcefield or two looked a little funky (easily remedied by resizing the texture) - but unless you want to pick to pieces what is essentially a very nice contribution to the Duke community these shouldn't worry you.
Enough from me, this is a must for any avid Duker. Check it out now!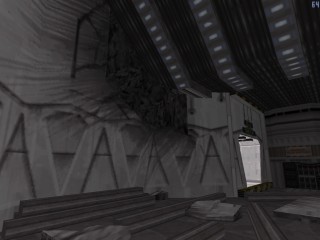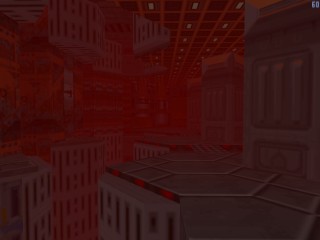 Gameplay Type: SP
Requires: Duke Nukem 3D v1.4+ and JonoF/EDuke32
Filesize: 4.66 MB
Level includes: new ART, multiple difficulty settings

Download: The Last Train to Marsville (1781)
Know of any other maps from this author? Let us know
Mapping template:


*THIS LEVEL IS NOT CREATED OR SUPPORTED BY 3DREALMS*

======================================================================
Title                 :'The Last Train to Marsville' (MARS BASE DEMO)

Author                : reflex17

Description           : Duke was supposed to be the subject of a top-
                        secret cloning project, but the robotic train
                        that was transporting him in cryo-stasis has 
                        crashed... Mars colony is under attack...
                       

Additional Credits to : -3drealms for Duke Nukem 3d, my favorite game
                        -Lucasarts for Dark Forces, my 2nd place FPS!
                        -JonoF for his original Duke3d/Build port
                        -TerminiX for his exellent Eduke32/Mapster port
                        -Duke3d online community past&present
                        

Special Thanks to     : -Geoffrey and Frode 'Puritan' Waksvik,
                         for beta-testing and valuable feedback
                        
======================================================================

* Play Information *

Episode and Level #   : User Level
Single Player         : Yes
DukeMatch Level       : No
Co-op Level           : No
Difficulty Settings   : Yes
New ART               : Yes
Ports required        : EDuke32                      

* Construction *

Base                  : New level from scratch
Editor(s) used        : JFBuild/Mapster32
Known Bugs            : None

======================================================================

+++Important Installation Notes+++

1.Copy all of 'Tiles013.art' to 'Tiles020.art' into your Duke3d folder
2.Copy 'duke3d_hrp.def' into your Duke3d folder for fog effects
3.Run the game in 32-bit high res mode and kick some martian ass!

Make sure to back up any files you don't want to overwrite beforehand.

======================================================================

* Where to get this MAP file *

AMC Forums: http://amc.planetduke.gamespy.com/smf/

Other cool sites for tons of custom maps:

MSDN: http://msdn.planetduke.gamespy.com/
DNR : http://www.duke3d.bur.st/

Get Eduke32 here : http://wiki.eduke32.com/stuff/
Get HRP here     : http://hrpupdate.duke4.net/



Thankyou for playing!
							
Top of the page