Map Name:
Anarchy City 2: Neighbourhood Nightmare
Author:
Aymeric Nocus (MRCK)
Released:
18th April 2004
Rating:
94
Review by Kim Robinson on 1st August 2007
Yet another top-notch release from Aymeric Nocus, this first sequel to Anarchy City boasts more fun and hardcore action than most other levels I've played. Plenty of explosions and a constant onslaught of enemies get the adrenaline going, and the level progresses very nicely with fresh waves of baddies to wipe your boots on. Attention to detail is exquisite, check it out!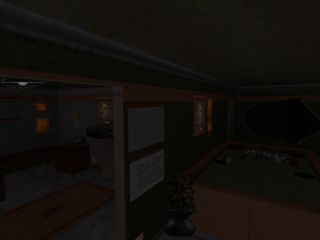 Gameplay Type: SP
Requires: Duke Nukem 3D v1.4+
Filesize: 97.66 KB
Level includes: new music

Download: Anarchy City 2: Neighbourhood Nightmare (626)
Other releases by Aymeric Nocus (MRCK): Anarchy City 1, Anarchy City 1: Atomic Version, Anarchy City 3: Zero Tolerance, Clérey, Dark Side of the Moon, Downtown Ride, Duke Nukem Forever (Bottles to the Ground), Filler, Happy Hangover, Meatball Sub Makin, Mega-CGR, Notre-Dame des Aydes, Overtime, Rural Nightmare, Tours - Rives du Cher
Know of any other maps from this author? Let us know
Mapping template:


=====================================================================================
============
			THIS LEVEL IS NEITHER MADE BY OR SUPPORTED BY 3D REALMS.
=====================================================================================
============
Title                   : Anarchy City 2 : Neighborhood Nightmare
Date Finished           : Avril 18th, 2004
Filename                : ANCHYC2.MAP
Author                  : Aymeric Nocus
Email Address           : aymeric-nocus[at]tele2.fr
Web page		: None
Misc. Author Info       : 16 year-old from France who LOVES skateboarding, playing
bass in a
			  punk-rock band and of course building Duke 3D maps to kick ass again
			  and again and again... :P Oh and my English sucks so don't mind
			  the mistakes

Other levels		: "First maps" good enough to be released :

			  - Clerey 2.0 (unreleased yet but should be put on the Repository soon)
			  - Notre-Dame des Aydes 2.0 (rated 91 % on the Repository)
			  - Mega-CGR 2.0 (rated 90 % on the Repository)
			  - Blois (unreleased)
			  - Tours (unreleased yet but should be put on the Repository soon)
			  - Dark Side of the Moon (rated 87 % on the Repository)

			  Lattest maps :

			  - Anarchy City (rated 93 % on the Repository)
			  - Downtown Ride (rated 92 % on the Repository)
			  - Overtime (rated 94 % on the Repository)

Description             : A city level... :P Duh. But this one is something unique I
think...
			  I mean, at first I wanted to create a very atmospheric level like Red 4
			  (my all-time favorite :P) and Red 3 by Merlijn v. Oostrum, but as far
			  as the level grew it became an action-packed map :P. Lots of firefights
			  against tough enemies (lots of Newbeasts and Battlelords) in large but
			  detailed streets, *LOTS* of timed explosions and earthquakes. The thing
			  is that you're not in a city taken over by aliens, you're in a city
			  which IS GETTING TAKEN OVER ; at first, the streets are totally empty,
			  but as you make your way through the level monsters respawn, buildings
			  or walls blow up etc. Some scary surprises too... You'll see.
			  This level is based on my neighborhood, like Anarchy City 1, but
			  obviously this is not the same part of the city :P. Gameplay is unique,
			  although very inspired by Red 3 and Red 4. Enjoy. :P

Additional Credits to   : Obviously Merlijn v. Oostrum and his Red 3 and Red 4 levels
who gave me
			  a lot of ideas and inspiration. I also borrowed an idea from the
			  OHTLD01 level by Kevin Cools, and I improved it a little :P. I also
			  have to thank Pascal Rouaud, because I learned how to build more
			  detailed cars from one of his maps (check out the Roch series !). Also,
			  thanks to the Repository Bloke for putting up my levels with nice
			  scores regularly :P, and to all those guys who wrote early FAQs back in
			  1996 who have taught me everything - thanks to Brett Gmoser,
			  Jonah Bishop, Steffen Itterheim and Klaus Breuer.

=====================================================================================
============
* File info * (yep this is a new section I just made up. So what ?)

Sectors used 		: 0840 / 1024
Walls used		: 6193 / 1024
Sprites used		: 2880 / 4096
Keycards		: 4
Normal actors		: 52
Respawning actors	: 27
Size of the map file	: 350 Ko
Atomic Edition needed 	: Yes
Innovations		: The whole gameplay :P

=====================================================================================
============
* Play Information *

Episode and Level #     : Fuck that ! User map
Single Player           : Yes !!!!! Go for it
Cooperative 2-8 Player	: No
DukeMatch 2-8 Player    : No - this wouldn't work because of all the touchplates and
timed
			  explosions
Difficulty Settings     : Not implemented - who cares about that ?!
New Sounds              : None
New Music               : Yes, a NOFX song called "Drugs are good" :P I downloaded it
from this
			  site : http://www.bollhalter.com/IntentionallyPunk/midis.html
			  Check it out !
New Graphics            : No, but I guess it will feel like new art, I was tired of
the old
			  building textures so I played around with some window sprites, you'll
			  see :P
New/changed CONs        : None
Demos Replaced          : None

=====================================================================================
============
* Construction *

Base                    : New level from scratch
Build Time              : 2 weeks. I started it on April 4th and finished it on April
18th
Editor(s) used          : Build
Known Bugs / Problems   : NONE THAT I KNOW OF. Just the sprite pop-up thing at some
places...
			  Also, what may be thought as a bug is that sometimes you can get
			  hurt because of the timed explosions, so here's an advice : when in
			  an inside location, be when earthquakes occur :P
May Not Run With...     : 1.3d - this is my first 1.4+ only level

* Copyright / Permissions *

Oh no I don't like to complete that part of the txt file. Well do have I the choice
?

Authors may NOT use this level as a base to build additional levels. But they can
scope it under
Build to see how the new effects work.  
You MAY distribute this MAP, provided you include this file, with no modifications. 
You may
distribute this file in any electronic format (BBS, Diskette, CD, etc) as long as you
include
this file intact.
I'm at no fault if the files included in the ZIP file damage your computer. Don't
worry they
hardly could :P

* Where to get this MAP file *

On your HD :P
DN-R I think : http://www.bur.st/~duke3d/index.htm
And perhaps on MSDN : http://www.planetduke.com/msdn/

=====================================================================================
============
*Important Information*

Installation           : Do as usual, copy ALL the files in your DN3D directory, load
Setup
			 and select the map... You've done that a billion times before didn't
			 you ? :P
Important Notes        : - This map is based on the same real-world location than my
old Blois
			   level, that's why it was never released. However, if you wanna get it,
			   just ask me :P
			 - Have fun :P

=====================================================================================
============
* Not So Important Information *
(feel free to skip this section and go play the level if you want :P)

Five SP maps you HAVE TO download :

1) RED4.MAP 	(Red 4 : Boat Trippin')		By Merlijn v. Oostrum
2) RED3.MAP 	(Red 3)				By Merlijn v. Oostrum
3) OGBB.MAP 	(Operation Get Bike Back)	By W.Gee and the Oostrum bros.
4) JAC.MAP  	(Just Another Christmas)	By Taivo Maripuu
5) ROCH8.MAP 	(Roch 8 :P)			By Pascal Rouaud (who the hell is he ? :P)

Next maps by me : I have some plans for other upcoming levels... But I won't tell you
more, hehe.
		  I wanna create an episode based on the city I live in including Anarchy
		  City I & II, Downtown Ride, Overtime and a few of my old levels... Well you'll
		  see. :P

"My own maps" TOP 6 (why not :P):

- Anarchy City II				Date finished : April 18th, 2004
- Anarchy City					Date finished : April 14th, 2003
- Downtown Ride					Date finished : March 20th, 2004
- Overtime					Date finished : April 3rd, 2004
- Mega-CGR 2.0					Date finished : Feburary 24th, 2003
- Clerey 2.0					Date finished : August 7th, 2002

------
































































			Still here ? The show's over ! Go play the level d*mb*ss :P
							
Top of the page