Map Name:
Reichskanzlei
Author:
Peter Kucera
Released:
19th June 2003
Rating:
92
Review by Nancsi on 23rd July 2009
Reichskanzlei is one of Peter Kucera's later maps, and undisputedly his best one as well. You have to visit the Nazi city hall in Berlin, and wipe out the Nazis of the aliens. Well, the storyline isn't much elaborated, but who cares anyway, if you just can kick alien butts.
The design of the map is excellent. There are no mess of details, but the whole mansion looks so real, and it reaches commercial quality. My favourite part is the lab near to the end. The whole map actually looks like a more colourful and more action-filled one from Duke it out in DC (especially the Smithsonian level), and the Robert Travis influence is obvious. I can't point out any single bad location here.
The gameplay is also excellent, altough for the first time you can run into problems here and there. There is an important pathway behind opened door, which can be problematic, then a completely darkened room where you have to learn what to do, and then another place you have to find out what to do with the jetpack. These aren't frustrating however, and only give problems for the first playing. Since I found the replay value quite high, then for the second time the map flows much better.
Monster and item placement is perfect, most rooms have at least one liztroop, one pigcop, one lizman and usually one commander. You never run out of ammo, and health balance is great too, so the map isn't too difficult (like Peter's second best map, Doly, where those baddies look unstoppable at times). The boss at the end however is quite an annoyance, you have to be very careful with that one.
The map has some new sound effects, neither of them are important, since all replace another original one. I decided to remove a pigcop sound from this grp version, because it was so out of place for the map. There is also a new user.con file, which refers to the author's and Lukas Cerovsky's great episode "The Lost Highway". I don't know why it's there frankly, it's completely useless. Ignore the episode title (since it only lead to the normal E2) and run the usermap RK instead. The artfile is from DN Penthouse, but it was only used twice.
Conclusion: RK is a great map with great level design and good gameplay. A few locations at first are hard to find, but it never gets frustrating. Definately worth a try.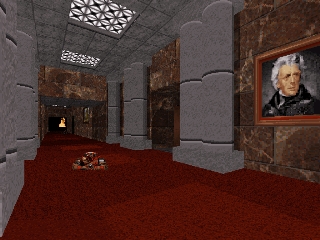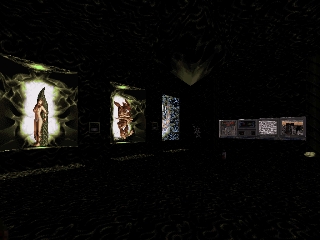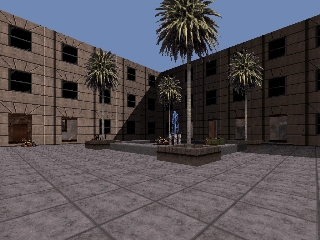 Gameplay Type: SP,DM,COOP
Requires: Duke Nukem 3D v1.4+
Filesize: 1.53 MB
Level includes: new sounds

Download: Reichskanzlei (992)
Other releases by Peter Kucera: Aliens, Banka, Doly, Letiste, Petrin, Risk, Sicilie, Skola, Soutpark, Stadion, Vlak, XXX
Know of any other maps from this author? Let us know
Mapping template:


Duke Nukem 3D Atomic Edition  .map  
======================================================================
Title                : Reichskanzlei
Filename             : Rk.map  v1.1
Author               : Artec - Petr Kucera 2000

Description          : Tato mapa je vytvořena podle skutečné budovy,
                       která byla po válce rozbořena. Kvůli nedostatku
                       místa byla mapa poněkud zkrácena.
======================================================================

- - Play Information - -

Episode and Level    : USER MAP
Single Player        : Yes
Cooperative play     : Yes
DukeMatch Level      : Yes
New SoundEfect       : Yes
New Music            : No

- - Construction - -

Editor(s)            : BUILD for Atomic Edition + Penthouse

- Vše překopírujte do kořenového adresáře Duka a v setapu
  vyberte mapu rk.map
							
Top of the page