Map Name:
Duke 23:4
Author:
Scott "Forge" L.
Released:
9th March 2010
Rating:
93
Review by MRCK on 19th March 2010
A fairly big, and very immersive canyon-styled map by the author of Duke 3:16, making for his second ever single map release. While the forementioned prequel was already rather outstanding for a debut map, for this one Forge has taken things even further and managed to wrap up not less than a high-quality level, that goes as far as baring some resemblances with Gambini's work in terms of visual realism and eye-candy (the author has his own unique style, though), but also makes for a solid experience on the gameplay side of things.
In this level you will get to visit a variety of locations such as an abandoned building (my personal favorite section of the map), a railway station with an arcade room and a little restaurant, a parking lot, a windmill, docks... a lot of attention has been put into the detailing and everywhere you will stumble upon meticulous little constructions, cool-looking vehicles and clever spritework, including a lot of machines and random stuff you've never seen in Duke before which contributes a lot to the atmosphere. You will also get to cross what's probably the most impressive bridge ever built in a map for this game.
The level is basically divided into two sections - during the first two thirds of it, you will be blasting liztroops, pigcops and lizmen in the forementioned canyon-looking environment, making for some solid, enjoyable firefights in fairly open environments with a lot of random stuff everywhere to take cover from. Then the last third of the map takes place in the railway station, with a lot of indoor fights against tougher enemies such as protector drones or octabrains, as you fight your way to the switches scattered in every single room in order to get out and away. The gameplay itself is well-balanced and there's is nothing to fault whether it comes to the enemy / ammo ratio, or the monster placement. The map is of average difficulty, and your progression will only be made easier if you happen to find the numerous secret places cleverly hidden throughout the whole map. Overall a solid release, and a very enjoyable 25-minute-long level that every Duker should have a reason to try out. Enjoy this little gem !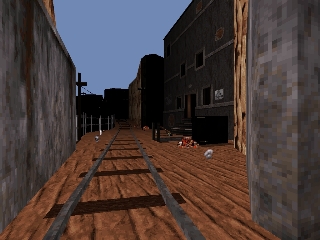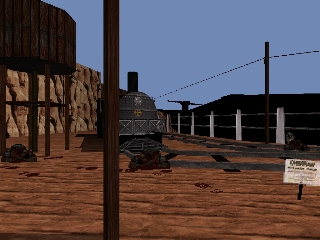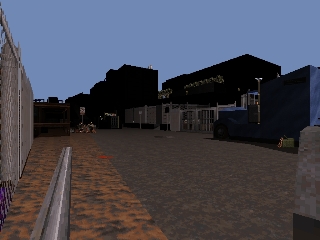 Gameplay Type: SP
Requires: Duke Nukem 3D v1.4+
Filesize: 259.21 KB
Level includes: new music

Download: Duke 23:4 (366)
Other releases by Scott "Forge" L.: Duke 3:16
Know of any other maps from this author? Let us know
Mapping template:


======================================================================
THIS LEVEL IS NEITHER MADE BY OR SUPPORTED BY 3D REALMS.

This map was intended for play under 32 bit only. HRP and 8 bit may cause sprite
clipping visual glitches. Not tested with polymer. Tested with Dukeplus, not
compatible with mantling. Duke needs to jump up to a ledge that's too high for
mantling to reach.

7 MAR 2010
Revised 9 MAR 2010
2nd Revision 14 MAR 2010
3rd Revision 16 MAR 2010

Title                 : Duke 23:4
Filename              : Duke23_4
Author                : Scott "Forge" L.
E-mail                : message me at D-NR or Duke4
Web Page              : None
Misc. Author Info     : I'm too old for this
Other Levels          : Duke 3:16  

Description           : This picks up where Duke 3:16 left off after Duke escapes
through the railroad tunnel.

			
			Duke 23:4
			Yea, though I walk through the valley of the shadow of death,I will fear no evil:
For EDF art                             with me;Thy pistol and thy shotgun, they
comfort me.Thou preparest a feast before me in the
			presence of mine enemies;Thou annointest my hands with blood; My cup runneth
over.

Additional Credits To : Special thanks to Luciano "Gambini" Gallo for technical
assistance. Also thanks to Ryan "Nukey" Lennox for his Informational Suite; an
invaluable resource. Thanks to the Duke community after over a decade of
weathering.

			The beta testers: (may we have mercy on their souls):
			 
			Aymeric "MRCK" Nocus
			Mikko Sandt
			
======================================================================

* Play Information *

Episode and Level #    : E1L8
Single Player          : Yes
DukeMatch 2-8 Player   : No
Cooperative 2-8 Player : No
Difficulty Settings    : Not implemented
Plutonium Pak Required : Yes
New Art                : No
New Music              : Yes (One of these Days - Pink Floyd)
New Sound Effects      : No
New .CON Files         : No
Demos Replaced         : No

=====================================================================

* Construction *

Base                   : New level from scratch
Level Editor(s) Used   : Mapster32
Art Editor(s) Used     : None
Construction Time      : Six month period.
Known Bugs/Problems    : The fenced gate for the fast food restaurant.It's lined up
properly, but since it's at an angle to the sector grid: repeatedly hitting the
switch to open and close it may make it move in steps backwards until it's in the
middle of the restaurant floor. 

=====================================================================

*Important Information*

Installation           : 

Important Notes        : Not made for use with mods. If you use anything besides 32
bit polymost and it looks crappier than normal; it's nobody's fault but your own.

You MAY NOT use this level as a base to build additional
levels.  

You MAY distribute this map, provided you include this file with
no modifications.  You may distribute this file in any electronic
format as long as you include this file intact.

If you're desperate enough to steal from this map, then you're a sad, sad person.

======================================================================

							
Top of the page