Map Name:
Duke 3:16
Author:
Scott "Forge" L.
Released:
3rd October 2009
Rating:
84
Review by Merlijn on 2nd January 2010
After a wild night (how the heck did that girl end up in his closet?), Duke tries to take a well-deserved nap,but of course there's no such thing as peace and quiet in Dukeworld. Soon, the sounds of explosions disturb the silence and an angry Duke grabs his weapons, ready to teach someone a few lessons about being a good neighbour. Naturally, the city has been invaded once again and as soon as he leaves the house, he's welcomed by a whole bunch of trigger-happy pigcops.
A medium sized citymap and also Forges first map. He manages to avoid some beginner mistakes, but not all of them.The design is very uneven: some areas look great while others look bland and sloppy. The biggest strenght here is the outdoor scenery. Forge managed to create a convincing looking ravaged city.Torn buildings, broken streets, neat spritework and a cool looking skyline in the background all help to create a superb, immersive atmosphere. Another great location is the factory (as seen in the screenshot below).
However, many indoor parts don't reach the same heights. Some of them are too cramped, others just lookbland and empty and suffer from poor texture choises. Shadows and lightning are mostly lacking, and ambient sounds are also often absent. As a result, many of these areas look and feel unfinished. This also has a negative impact on the gameplay; towards the end the map starts to drag, as you navigateyour way through some bland buildings and empty looking hallways that seem to have no purpose. It's a shame, because the map starts out promising: the first half of the map offers a lot of fun and features some nicely staged firefights, although I wouldn't mind seeing some more health and ammo.
Then there are 2 bigger issues: at one point there's a neatly designed puzzle. It's an original idea, but it's also very easy to screw it up, in which case you'll get stuck before you even know what you're supposed to do. It certainly would have helped to give the player some hints beforehand. Then there's the big fight at the ending. At this point, I simply didn't have enough firepower and I ended up fighting 2 minibosses with my pistol. Now, there's supposed to be a devastator hidden somewhere, but I never found it. Hidden weapons shouldn't have such a vital impact on gameplay.
Conclusion: it's a hit and miss map. Some areas look great and show great potential, while others drag the overall quality down. Overall, it's still worth checking out though. For a first map, it's actually very good.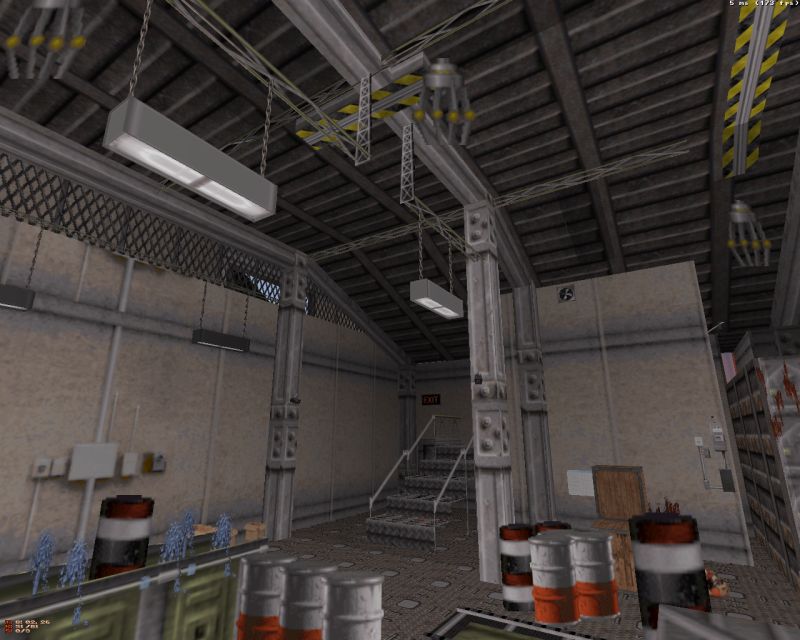 Gameplay Type: SP
Requires: Duke Nukem 3D v1.4+ and JonoF/EDuke32
Filesize: 178.40 KB
Level includes: new music

Download: Duke 3:16 (530)
Other releases by Scott "Forge" L.: Duke 23:4
Know of any other maps from this author? Let us know
Mapping template:


======================================================================
THIS LEVEL IS NEITHER MADE BY OR SUPPORTED BY 3D REALMS.

3 Oct. 2009

Title                 : Duke 3:16
Filename              : Duke 3_16
Author                : Scott "Forge" L.
E-mail                : message me at D-NR or AMC if you think it's that important
Web Page              : None
Misc. Author Info     : I'm too old for this
Other Levels          : This is the first.

Description           : Duke is off relaxing in a secret location. The aliens have
infiltrated EDF headquarters and 				taken key leadership hostage. The ransom is the
location of Duke.The aliens are methodically 				cutting off all escape routes. The
only way left out is through the tunnel at the rail 					station. 

			This is my first map and it was done as an experiment and a learning experience,
so there's 				nothing special or innovative about it. 

			Duke 3:16
			For EDF so loved the world, that they gave their only begotten Son, Duke Nukem,
that 					whosoever believeth in him should not perish, but continue to live. 

Additional Credits To : Special thanks to Frode "Puritan" Waksvik and Aymeric "MRCK"
Nocus for motivation, 					inspiration, and a great deal of patience. Also thanks to
Ryan "Nukey" Lennox for his 					Informational Suite; an invaluable resource. Thanks
also to what's left of the Duke community 			after over a decade of weathering.
			The beta testers (may we have mercy on their souls):
			Luciano "Gambini" Gallo 
			Aymeric "MRCK" Nocus
			-don't ask me how two of the premier mappers of the community came to be testers
for this 				horrid piece of work
                        And Ryan "quakis" Rouse for his game play suggestions 
======================================================================

* Play Information *

Episode and Level #    : E1L8
Single Player          : Yes
DukeMatch 2-8 Player   : No
Cooperative 2-8 Player : No
Difficulty Settings    : Not implemented
Plutonium Pak Required : Yes
New Art                : No
New Music              : Yes (The Summoning:an old RPG game by SSI)
New Sound Effects      : No
New .CON Files         : No
Demos Replaced         : No

=====================================================================

* Construction *

Base                   : New level from scratch
Level Editor(s) Used   : Mapster32
Art Editor(s) Used     : None
Construction Time      : About 120 hours over a four month period.
Known Bugs/Problems    : It's my first map so it's loaded with them. There's visual
glitches from one end to the 				other because of my odd construction methods.The
conveyor belt switches are a one time only 				activation. Once you turn them on, you
can't turn them off. For some reason the map randomly 				crashes in the underwater
area located in the sewage treatment facility (save before you 				slide down the
sluce gate in the sewer). Speaking of the sluce gate:if you randomly jump 				around
while sliding down it, you might get yourself dead. 

=====================================================================

*Important Information*

Installation           : 

Important Notes        : requires eduke32, built in 32 bit, should work with 8 bit,
might work with HRP. Definitely 				not made for polymer due to the parallaxing
issues. If you use anything besides 32 bit 					polymost and it looks crappier than
normal; it's nobody's fault but your own.

If you're desperate enough to steal from this map, then you're a sad, sad person.

======================================================================

							
Top of the page