Map Name:
WGSpace 4
Author:
William Gee
Released:
29th June 2003
Rating:
95
Review by Kim Robinson on 7th March 2008
The fourth map in the WGSpace series, this level takes on the same characteristic gameplay and design of the others - and is arguably better. The flashing lights and sometimes wacky colours is a little off-putting at times but the gameplay more than makes up for it - puzzles aren't too difficult and monsters fall quite easily. A barrel load of fun - be sure to check out this bit of alright.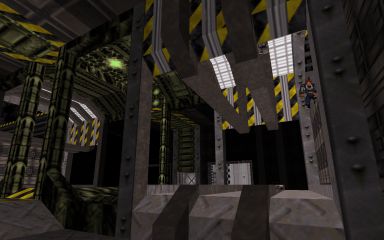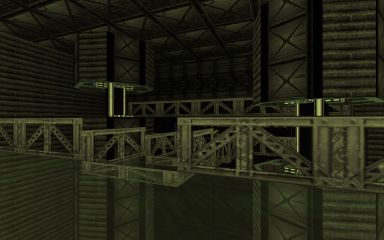 Gameplay Type: SP
Requires: Duke Nukem 3D v1.3d
Filesize: 102.05 KB
Level includes: new music, multiple difficulty settings

Download: WGSpace 4 (426)
Other releases by William Gee: AlienX, Future Matrix, Labrenth2, Lord of the Secrets, WG-Old1, WG-Old2, WGAlien, WGCity, WGCityDM, WGCityDM2, WGDM1, WGDM2, WGDM3, WGDM4v2, WGDM7, WGDM8, WGDoom1, WGRealms, WGSecretV5, WGSpace 1 (Astro Core), WGSpace 2 (Alien Resurrection), WGSpace 3 (Ice Moon), WGSpace Episode, WGTeams2, WW2
Know of any other maps from this author? Let us know
Mapping template:


======================================================================
Title                 : WGSpace4.map 
Author                : WILLIAM GEE
E-mail                : GEEWILLYWIZZ[at]HOTMAIL.COM
Web Page              : WWW.artastic.co.nz

Description:  (SP Space Level)
Aliens have taken over a EDF base again but this time the are trying to and
assimilate the technology :) 
better stop the bastards !
Play the map to see the real story ;)

Other maps by me   SP : WGDOOM1
                        AlienX
                        WGSpace1
                        WGSpace2
                        WGSpace3

                   DM : Labrenth/Lots
                        Labrenth2
                        WW2
                        WGDM1
                        WGDM2
                        WGDM3
CBP'S I have taken
part in.              : CBP2
                        CBP3
                        OGBB  




Additional Credits to :  
Betta testers:          Maartn & Mrline
                        Kuffi
                        Ale
                        
                          
======================================================================

* Play Information *

Episode and Level #   : WGSpace level 4
Single Player         : YES! 
DukeMatch Level       : no!
Difficulty Settings   : yes! 
Version               : 1.3d so you can all play it ;) like always :P

* Construction *

Base                  : 
Editor(s) used        : Build / Makemap
Known Bugs            : None (If there is, hit me, with your message)

This map took to long to build. PC crashes new pc,s sound problems eg.. I have to
restart my pc each time to hear music :(

WGSpace5                when where and how? 
When                  : Dunno but ive already done 600 sectors maybe in 2-3 months
Where                 : AMC Dukeweb and MSDN maybe ill bring back DL3000 for its
release :P
How                   : Im going to release WGSpace5 with the full episode with many
bug fixes and extra detail. 
The episode will work for both 1.3d and 1.4 ;) of cause so everyone can play it ;)


* Where to get this MAP file *

http://www.planetduke.com/kef 
http://www.planetduke.com/AMC
http://www.planetduke.com/MSDN

...................................... PLEASE FEEL FREE TO EMAIL ME WITH YOUR
COMMENTS!!!!..................................



							
Top of the page