Map Name:
WGSpace 2 (Alien Resurrection)
Author:
William Gee
Released:
4th November 2002
Rating:
91
Review by Kim Robinson on 7th March 2008
The second level in the WGSpace series, Duke finds himself in some strange alien environment infested with - you guessed it - strange aliens. Great interactivity and gameplay make this a top notch map, if you don't mind a whole lot of enemies respawning and very little with which to mow through them, of course. Some wonderful architecture and spritework, reminiscent of the movie.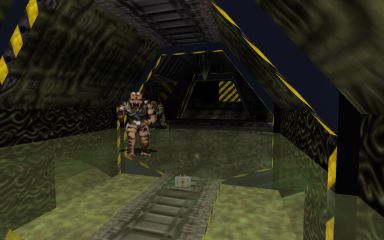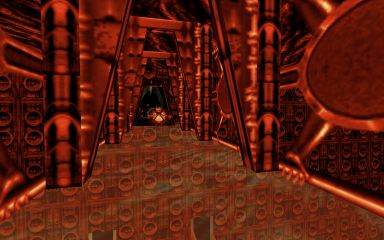 Gameplay Type: SP
Requires: Duke Nukem 3D v1.3d
Filesize: 93.38 KB
Level includes: multiple difficulty settings

Download: WGSpace 2 (Alien Resurrection) (419)
Other releases by William Gee: AlienX, Future Matrix, Labrenth2, Lord of the Secrets, WG-Old1, WG-Old2, WGAlien, WGCity, WGCityDM, WGCityDM2, WGDM1, WGDM2, WGDM3, WGDM4v2, WGDM7, WGDM8, WGDoom1, WGRealms, WGSecretV5, WGSpace 1 (Astro Core), WGSpace 3 (Ice Moon), WGSpace 4, WGSpace Episode, WGTeams2, WW2
Know of any other maps from this author? Let us know
Mapping template:


======================================================================
Title                 : wgspace2.map / Alien Reserection.
Author                : WILLIAM GEE
E-mail                : GEEWILLYWIZZ[at]HOTMAIL.COM
Web Page              : WWW.GEOCITIES.COM/DUKELORD3000

Description           : (SP Space Level) 
The Alien scum have developed a new flying sauser, also a new cloeking squid
warrior.
Duke has been sent into the depths of the alien hive ship to find and
destroy all prototypes of these new weapons.

Additional Credits to : 

                          
======================================================================

* Play Information *

Episode and Level #   : matrix2 / level 2
Single Player         : YES! 
DukeMatch Level       : no!
Difficulty Settings   : yes!

* Construction *

Base                  : 
Editor(s) used        : Build
Known Bugs            : Too many flahing lights :D might make u sick.

took 2 and a half weeks to build

* Where to get this MAP file *

We're here...WWW.GEOCITIES.COM/DUKELORD3000
aslo find many other maps by me.


							
Top of the page