Map Name:
WGAlien
Author:
William Gee
Released:
1st November 2003
Rating:
96
Review by Kim Robinson on 7th March 2008
Another wonderfully well-designed space map from Will Gee with all the neat effects and fantastic gameplay you've come to expect. Puzzles are straight-forward and so don't really interrupt the smooth flow of the game, and although you'll find yourself backtracking a couple of times to revisit old areas the level still progresses very well. A pleasurable experience all the way through, the ending sequence particularly worthwhile - take a squizz!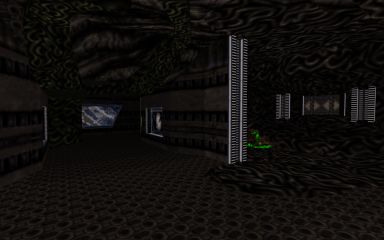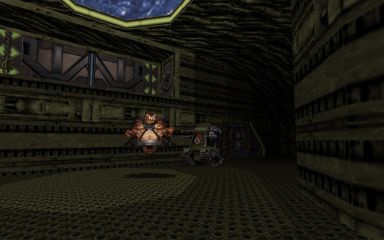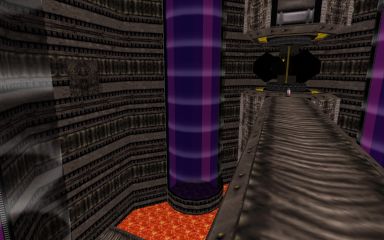 Gameplay Type: SP
Requires: Duke Nukem 3D v1.4+
Filesize: 106.61 KB
Level includes: new music

Download: WGAlien (413)
Other releases by William Gee: AlienX, Future Matrix, Labrenth2, Lord of the Secrets, WG-Old1, WG-Old2, WGCity, WGCityDM, WGCityDM2, WGDM1, WGDM2, WGDM3, WGDM4v2, WGDM7, WGDM8, WGDoom1, WGRealms, WGSecretV5, WGSpace 1 (Astro Core), WGSpace 2 (Alien Resurrection), WGSpace 3 (Ice Moon), WGSpace 4, WGSpace Episode, WGTeams2, WW2
Know of any other maps from this author? Let us know
Mapping template:


======================================================================
Title                 : WGAlien.map 
Author                : WILLIAM GEE
E-mail                : GEEWILLYWIZZ[at]HOTMAIL.COM
Web Page              : WWW.geocities.com/wgrealms

Description:  (SP Alien Space Level)

The Aliens are comeing to attack earth again "The basterds" Your mission is to stop
them! 

Mission (1) Destroy the main power generator, disabaling all the ships weaponry.
Mission (2) Disable the ships shileds, 
Mission (3) Deploy missles into the ship. 

NOTE (This is my first Atomic Single player map)
NOTE (Save often) 

Other maps by me   SP : 
                        Future
                        WGDOOM1
                        AlienX
                        WGSpace1
                        WGSpace2
                        WGSpace3
                        WGSpace4

                   DM : Labrenth
                        Lots
                        Labrenth2
                        WW2
                        WGDM1
                        WGDM2
                        WGDM3
CBP'S I have taken
part in.              : CBP2
                        CBP3
                        CBP4
                        OGBB  




Additional Credits to :  
Betta testers:          OGBB team :D Maartn & Mrline
                                               
                          
======================================================================

* Play Information *

Episode and Level #   : *
Single Player         : YES! 
DukeMatch Level       : no!
Difficulty Settings   : NO! 
Version               : 1.4 Atomic YAY

* Construction *

Base                  : EDF Base :D lol :P
Editor(s) used        : Makemap
Known Bugs            : None (If there is, hit me, with your message)


* Where to get this MAP file *

http://www.geocities.com/wgrealms (MY SITE)
http://www.planetduke.com/kef 
http://www.planetduke.com/AMC
http://www.planetduke.com/MSDN
http://www.bur.st/~duke3d

...................................... PLEASE FEEL FREE TO EMAIL ME WITH YOUR
COMMENTS!!!!..................................



							
Top of the page