Map Name:
Babes Reloaded
Author:
Taivo Maripuu
Released:
31st July 2003
Rating:
90
Review by Kim Robinson on 6th March 2008
A nicely designed, well thought out level but lacking in gameplay, Babes Reloaded is a reasonably fast-paced romp through a Babeland resort and a WSYC facility. Puzzles are straightforward, monster numbers quite reasonable. The map focuses greatly on layout and complexity, however the level is rather short and ends abruptly. This is not to say it isn't a whole lot of fun, it's still well worth the download - if only for the brilliant eye-candy.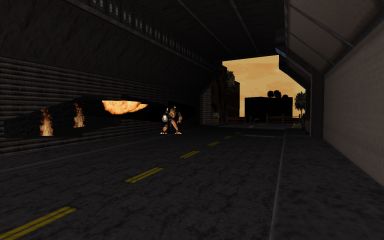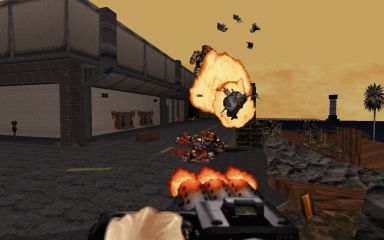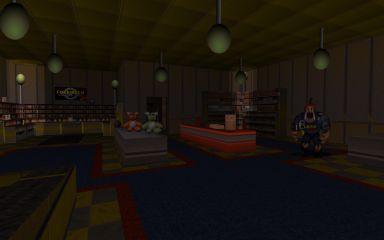 Gameplay Type: SP
Requires: Duke Nukem 3D v1.4+
Filesize: 109.09 KB

Download: Babes Reloaded (395)
Other releases by Taivo Maripuu: Babes (2009 remix), City Full Of Alien Scum, Dark Place, Dark Place 2, Dark Place 3, Dark Place 4, Dark Place 5, Dogville, Just Another Christmas, Napalm Death, Seven
Know of any other maps from this author? Let us know
Mapping template:


title        :babes reloaded
author       :taivo maripuu
e-mail       :taivo.maripuu.001[at]mail.ee
web page     :none
description  :babeland resort,wsyc building and some outdoor action.


play information

episode&level #      :1
single player        :yes
dukematch level      :no
difficulty settings  :no


construction time:almost a month

base          :new level from scratch
editor used   :build
bugs          :i hope not

this is the sequel to babes,but cant really compare the two.this one is lot better
with supersweet design and all.
STORY
All the babes are missing from the babeland resort so duke is sent to
investigate.Soon he will know whats going on:all the babes are being
transported illegally throughout the universe by the alien bastards.so kill the
aliens and see where this mission takes u!!

some of the places i made look similar to some things from other maps,hope nobody
would not be offended!! also tried to make the gameplay as good as i can and this
level has same good sounds as well.also when i make maps and play them then my
brightness level is too inches to the left,i think this level looks the best
then.anyway enjoy this killer map! 
							
Top of the page