Map Name:
Transylvania
Author:
Juan Daniel Alcobre (Papamonos)
Released:
4th August 2004
Rating:
89
Review by Kim Robinson on 3rd August 2007
The latest Duke3D adventure from Papamonos, Transylvania is fun, eerie and one of the best 'haunted house' style maps you're likely ever to play. The areas you visit are nicely symmetrical (oh the geometrical madness!), the corridors are decidedly gothic-looking and the new arts and sounds suit the theme perfectly. A few areas could have received a little more attention - some parts are empty and under-detailed, and shading is pretty minimal. On the whole though it's an enjoyable level, quite drawn out and with a nice firefight at the end. Be sure to check this one out!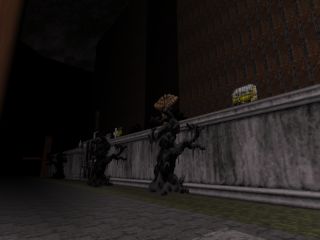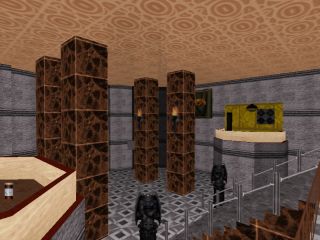 Gameplay Type: SP
Requires: Duke Nukem 3D v1.4+
Filesize: 2.21 MB
Level includes: new ART, new music, new sounds, multiple difficulty settings

Download: Transylvania (412)
Other releases by Juan Daniel Alcobre (Papamonos): Criaturas de la Noche, Gates Motel, Killing Floor, Living on the Wildside, Mission: Perejil, Secret District, Stellar Death
Know of any other maps from this author? Let us know
Mapping template:


Map name: Transylvania
Author: Juan Daniel "Papamonos" Alcobre
Editor: Mapster

New tiles: Yes, tiles 014 and 015
New sounds: yes
New music: Yes, Dracula.mid and Haunting.mid
Difficulty settings: Yes
Atomic edition required: Yes 

Web: es.geocities.com/pescapantanos
Mail: papamonos2[at]hotmail.com
Others maps: "Total Apocalypse" episode, Killing Floor, Gates Motel (psx version)
Creatures of the Night, Stellar Death, and Secret district

Argument: Duke is losed at an abandoned  ancient castle-house...

Note: To hear the sounds, extract all at duke directory. When you wanna
hear original sounds again, erase all new sounds.

Note to the game: If you want a better experience with the sounds, play first at
piece of cake, and use haunting.mid When you wanna play with more action, play
the next difficulty settings and use dracula.mid
							
Top of the page