Map Name:
Living on the Wildside
Author:
Juan Daniel Alcobre (Papamonos)
Released:
21st November 2004
Rating:
91
Review by Kim Robinson on 3rd August 2007
'Papamonos' has once again proved his mapping skills with Living on the Wildside, another grooving level set in and around a nicely detailed city. Gameplay is great, the key card puzzles are straightforward and you don't have to go hunting for hours trying to find which door to unlock next. Design is pretty much top-notch, the map pushes BUILD's sector and wall limits with some creative architecture and great council planning. With a great end sequence to boot you can't go wrong - take a gander!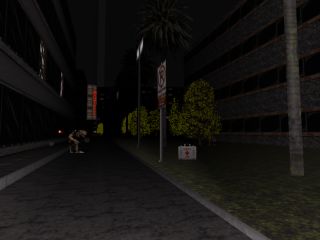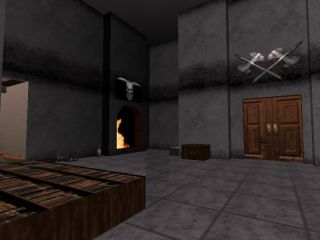 Gameplay Type: SP
Requires: Duke Nukem 3D v1.4+
Filesize: 1.65 MB
Level includes: new ART, new CON code

Download: Living on the Wildside (414)
Other releases by Juan Daniel Alcobre (Papamonos): Criaturas de la Noche, Gates Motel, Killing Floor, Mission: Perejil, Secret District, Stellar Death, Transylvania
Know of any other maps from this author? Let us know
Mapping template:


General Info:

Map Name: Living on the Wildside
Author: Juan Daniel "Papamonos" Alcobre
Editor used: Build (from jduke port)
Time of construction: A month
Map Base: From scratch

Personal data

Home: Málaga, Spain
E-mail: papamonos2[at]hotmail.com
Duke's Web site: es.geocities.com/pescapantanos
Other maps: "Total Apocalypse" Episode, Secret District, Gates Motel 
(3th "plug and pray" psx episode reedition), Killing Floor, Criaturas
de la Noche, Stellar Death, Transylvania and Mission: Perejil

Map info:

New tiles: Yes (014 and 015)
New music: No
New enemies: No
New cons: Yes (user and game)
Atomic edition required
Single player: Yes
Multiplayer: None
Difficulty settings: No
Secrets: Yes. 
Bugs: I don't believe, but please, if you see some strange, notice me.

Special thanks to:
-Eye del cul (www.geocities.com/eyedecul)
-Anarko (es.geocities.com/dukeforever2004)
-The Duke Repository (www.bur.st/~duke3d)
-Dukespana (dukespana.webcindario.com) 
-Enrique (es.geocities.com/quiquekroz)
 
AND TO EVERYONE THAT MAKE POSSIBLE THE DUKE NUKEM MAINTENANCE!

VISIT THE WWW.ARCADES3D.COM SPANISH PAGE! OUR SOCIETY WILL BE AGREE

      
                           DUKE FOREVER. DOOM FOREVER.
                                THE ARCADES 3D REBORN!                  

							
Top of the page