Map Name:
Killing Floor
Author:
Juan Daniel Alcobre (Papamonos)
Released:
19th March 2004
Rating:
85
Review by Kim Robinson on 2nd August 2007
Another map from the maker of Gates Motel and the Total Apocalypse episode, this one takes place in a meat processing plant right next door to a Duke Burger outlet - it's not hard to put the two together. Gameplay is alright, design is nice in parts but lacking detail in others, but the level remains fun and fast-paced. Plenty of Battlelords and other hairy foes to keep you on your toes - check it out!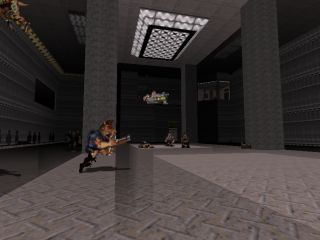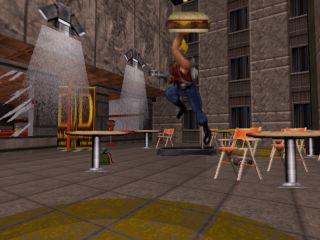 Gameplay Type: SP
Requires: Duke Nukem 3D v1.4+
Filesize: 42.37 KB

Download: Killing Floor (340)
Other releases by Juan Daniel Alcobre (Papamonos): Criaturas de la Noche, Gates Motel, Living on the Wildside, Mission: Perejil, Secret District, Stellar Death, Transylvania
Know of any other maps from this author? Let us know
Mapping template:


Map name: Killing Floor
Author: Juan Daniel "Papamonos" Alcobre
Editor: Mapster
Time of construction: Two weeks and a bite
Skill levels:No
New music: No
New sounds: No
New arts: No
Single player: Yes
Multiplayer: No
Bugs: None, or noone importance
Atomic edition required
Other maps: "Total Apocalypse" episode, "Secret District" and "Gates
Motel"(psx map).
My home page: es.geocities.com/pescapantanos
E-mail: Papamonos2[at]hotmail.com

Argument

You are a sanity and consum inspector. A meat proccesing plant don't 
like have the correct permise to distribuite her meat, and you must
visit the place. But the employees and market director don't are 
happy for this, and they will make everything for noone knows her dark
secret.... 

							
Top of the page