Map Name:
Roch 7
Author:
Pascal Rouaud
Released:
21st June 2002
Rating:
99
Review by Steven Laliberté on 22nd August 2008
June 21st 2002, right on the solstice, Pascal Rouaud released this absolutely extraordinary city map that is Roch 7. In fact, there's a quite lack of words if you want to describe the tremendous achievement that represents a map such as Roch 7 where you can experience Pascal's art of city designing close to the perfection.
Sure, you'll be stunned by the very clever layout of this city, wandering around the ultra-elaborated facades and buildings or within the heavy-detailed interiors. Have a particular look to the majestical triumphal arch dominating the large plaza (look at the picture!), and to the excellent odd urban work of art beside. Moreover, Roch 7 once again get the point across Pascal's terrific spritework craftsmanship. He uses sprites all over to improve every facades with numerous 3D porches and balconies or others embellishments, but also to design plenty of superposed floors everywhere, for example in the nice building under construction outside.
Roch 7 contains also some stupendous interiors full of tiny details like a nice printer, an ashtray or also some more complicated objects in the vein of the still improved 3D chairs and shelves, or this rather strange "chandelier". Perhaps even you'll bow while struggling into the outstanding concert hall, featuring a complete Rock Band instrumental set: guitars, synthesizer, amplifiers, and an impressive Drum kit! By the way, Roch 7 fits to the ROCH Style by featuring the typical blue sky, a new original animated billboard working like vertical blinds, and plenty of cars! Extra, have a glimpse for the 3 secret places of the map and try to check out with DNCLIP all the games and messages scattered in the forbidden places… some are really hard to reveal!
The gameplay is awesome: like in the others ROCH maps, you'll pacify every class of Aliens with all the varieties of weapons and the enemy ratio is just right, served by numerous angry respawns. Above all, Pascal provides in Roch 7 his second unlinear keycard system, sometimes later used by others User map: the four buildings you'll visit are locked by the same blue card, and each one contains another blue card, with one of the four switches unlocking the final way. Therefore there's up to 24 different ways to thrash about into the awesome fights of Roch 7.
So you MUST have this map on you disk not to miss one of the most imposing maps of all the city-style maps ever!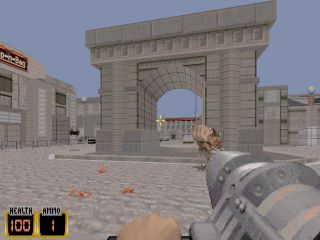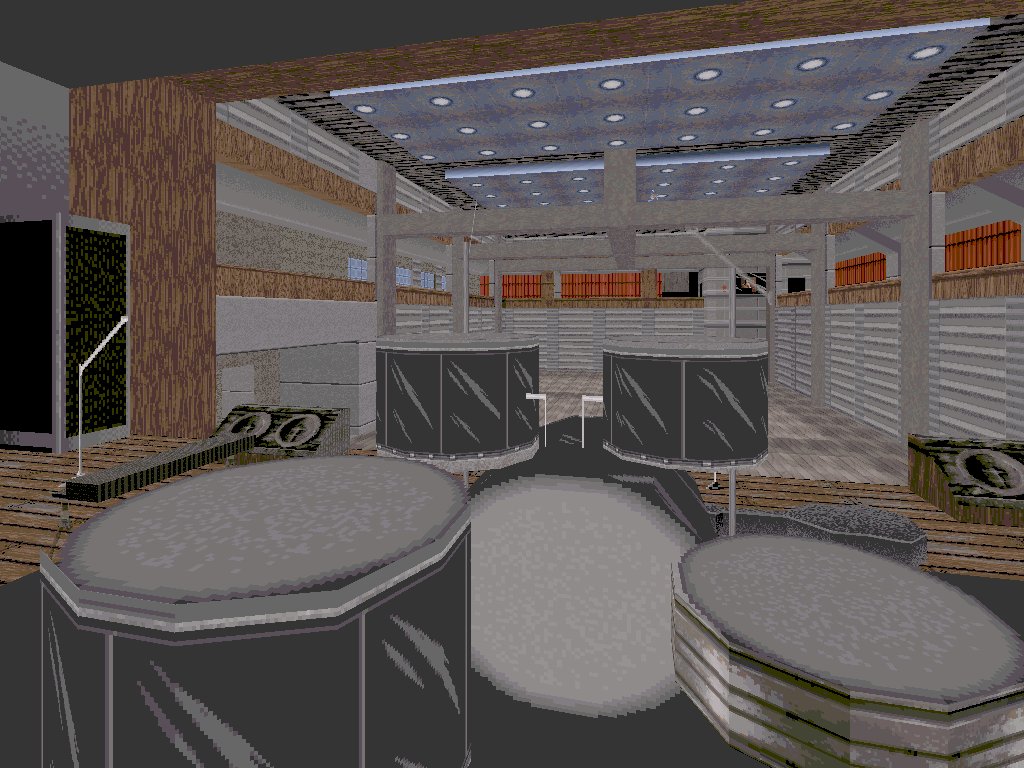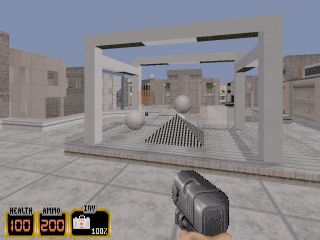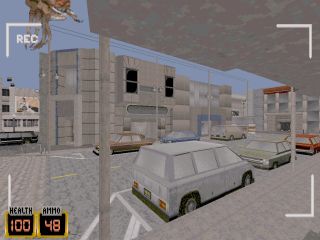 Gameplay Type: SP
Requires: Duke Nukem 3D v1.4+
Filesize: 142.08 KB
Level includes: new music, multiple difficulty settings

Download: Roch 7 (780)
Other releases by Pascal Rouaud: Roch, Roch 2, Roch 3, Roch 4, Roch 5, Roch 6, Roch 8, Roch Secret 1
Know of any other maps from this author? Let us know
Mapping template:


Title           : Roch 7

Filename        : Roch7.map
Author          : Pascal ROUAUD
E-mail          : pascalrouaud[at]hotmail.com
                  Please send me any comments about this map
                  If you post it on your web page, please tell me you've done
                  it so I can appreciate...

Misc.Author Info: I'm French (sorry for my English)

Other Levels    : Roch, Roch2, Roch3, Roch_sc1, Roch4, Roch5, Roch6.

Other stuff     : DukeRoch, a Windows Duke3d launcher, which also allows you
                  to test all Duke3d sounds and musics, browse and test .GRP
                  files, and more...

Description     : My eighth map. The seventh in the series - Roch_sc1 will be
                  the 1st secret level in the episode if I finish it one day.

                  Some cool effects/tips & tricks

                  3 secret places.

                  I've made this map "anti-linear". Four main buildings are
                  unlocked with the same color key, so you'll have 24
                  different routes possible to complete it! Good luck.

                  I managed to mount my drum kit - I thought I couldn't when I
                  did Roch2 (in a secret place). And yes, some of you may
                  notice that I'm left handed, but on drums ONLY!

                  If you love this map like I do and would like to know where
                  all secrets are, mail me to get a demo file that shows
                  everything (or to get my previous / future levels).
_____________________________________________________________________________

Additional Credits To : Ken Silverman, 3D Realms.


Special thanks to my beta-testers:

Ken Silverman again who's been kind to betatest it.
                 : "Build" author           http://www.advsys.net/ken
                   (our God to all of us!)
Chris Allcock    : Chris's page             http://jump.to/chris[at]his-site
Kevin Cools      : Borg Nukem               http://borgn.totalconversions.com
Dukebert         : former DMZ
Jeremy Endres    : former Duke Map Busters
Tracy Fox        : (no website)             Many thanks for your support
Juha Laaksonen   : Dukesivut                http://www.dukesivut.cjb.net
Maarten Pinxten  : 2maarten.com             http://www.2maarten.com
Antonio Rodríguez: Página oficial de Real3D http://grijan.cjb.net
Mikko Sandt      : MSDN                     http://www.planetduke.com/msdn
Bill Schaedler   : (no website)             Many thanks for your support
Matt Wareham     : DNF Inc                  http://www.computergamingnews.com/dnf

For their support to "DukeRoch":
Jeremy, Juha, Maarten, Matt and Mikko again...
Jack Farnsworth III: Gloryroader         http://gloryroad.freeyellow.com
Nekromancer        : Duke Nukem Center   http://www.dukenukemcenter.com
Bug team members   : Bug Team            http://www.multimania.com/duke3d
Duke-N-The-Babes   : Duke-N-The-Babes    http://www.ifrance.com/Duke-N-The-Babes
_____________________________________________________________________________

* Play Information *

Episode and Level #    : Roch7
Single Player          : Yes
DukeMatch 2-8 Player   : Yes
Cooperative 2-8 Player : Yes
Difficulty Settings    : Yes (3 skills)
Plutonium Pak Required : Yes
New Art                : No
New Music              : Yes Oxygene part 6 by JM Jarre
New Sound              : No
New .CON Files         : No
Demos Replaced         : No (see above for a "secret demo")
_____________________________________________________________________________

* Construction *

Base                   : New level from Roch6's end sectors
Level Editor(s) Used   : Build, Hex Workshop
Construction Time      : 3 months (on and OFF)
Known Bugs/Problems    : Let me know...

* Where to get this MAP file *

File location          : In "Roch7.zip" with this file...
_____________________________________________________________________________

* Important Information *

Installation           : Unzip ROCH7.MAP in your Duke3d directory and type:
                             duke3d map roch7 
                         You may choose your skill : add /s# (#=1 to 4)

If you have DukeRoch (mail me if you don't!):
double click ROCH7.MAP and click OK.
You may change any default options (skill, fake multiplayer, etc)

Macintosh users        : You know better than me!
_____________________________________________________________________________

* Suggestion *

I love demos! Please, make me a favour: record one in any of my maps and send
it to me (pascalrouaud[at]hotmail.com).
_____________________________________________________________________________

* Copyright / Permissions *

Authors MAY NOT use this level as a base to build additional levels,
concatenations, or otherwise. You MAY NOT use anything from this map or from
my previous maps w/o my permission.

You MAY distribute this MAP (Roch7.map), provided you include this text file
(Roch7.txt), with no modifications.  You may distribute this file in any
electronic format (BBS, Diskette, CD, etc) as long as you include this file
intact.
_____________________________________________________________________________

							
Top of the page