Map Name:
Roch 2
Author:
Pascal Rouaud
Released:
3rd January 2000
Rating:
95
Review by Steven Laliberté on 27th March 2008
To build this second part of the great ROCH city, Pascal has probably tried to make the most of the various remarks made about his precedent release, Roch. Indeed, you'll jaunt in a well-designed smaller city with more details and more elaborate architecture: on your way to end Roch 2, you'll be struggling against some hard boiled monsters upon the roofs of various houses, and even within a quite beautiful plaza lined up by this splendid theater with pillars (look at the picture!).
That's not all: you'll find also in this map two masterpieces of the Duke-mapping, first with the marvelous Lamborghini race car, jealously defended by our usual most tough-minded invaders, and with the incredibly addictive "bumper-cars" fairground. I bet you'll spend a lot of your time within this place, looking for the alien drivers being ejected from their car, being squeezed or getting into another car. By the way, have you ever seen a Drone or a Tank exploding in blood and flesh pieces like the others aliens? Or even a Battlelord humiliated by a tiny car? You can try it now!
Beside these features, the gameplay of the main action plainly rocks, served by some nice traps and explosions. Every nook of the city is occupied by a monster, but the Enemies/Goodies balance is correct enough for the map to be played in one go. Once again, all the weapons are scattered in the level, no less to kill each bastard once, and you'll be able to recognize other trademarks of the ROCH style through the animated billboard (going here alternatively left and right), and the patrolling helicopter that you can notice in the clear blue sky, behind the fairground wall. Moreover, all the 6 secret places are easier to find than in Roch, and more interesting.
To conclude: this map, published in 2000, is a excellent graphic and gameplay achievement for this year, and although you could sometimes be quite surprised by a few mono-textural facades remaining in the architecture, you should download Roch 2 immediately if you wanna play a singular piece of action.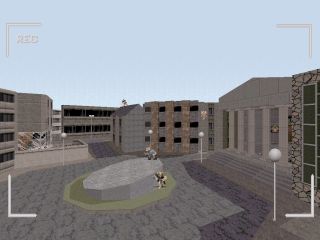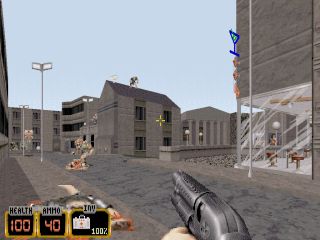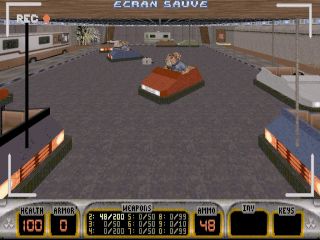 Gameplay Type: SP
Requires: Duke Nukem 3D v1.4+
Filesize: 96.58 KB
Level includes: multiple difficulty settings

Download: Roch 2 (522)
Other releases by Pascal Rouaud: Roch, Roch 3, Roch 4, Roch 5, Roch 6, Roch 7, Roch 8, Roch Secret 1
Know of any other maps from this author? Let us know
Mapping template:


======================================================================
Title             : Roch 2
Filename          : Roch2.map
Author            : Pascal ROUAUD
E-mail            : pascalrouaud[at]hotmail.com
                    PLEASE send me any comments about this map
                    If you plan to post it on your web page, tell me you'll do
                    it so I can appreciate...
Web Page          : none
Misc. Author Info : I'm French (so sorry for my English!)
                    I started making "wads" for Doom (and I DON'T like Quake!)

Other Levels      : Roch.map (1st level of a possible(?) "Roch" serie. It depends
                    on your encouraging e-mails!)

Description       : It's the continuation of Roch.map...
                    6 secret places to find, bumper cars to have fun, etc,...
                    To get 1st level ("Roch.map"), e-mail me and I will send
                    it to you.

Tips and tricks   : Please try to play this map without cheating for keys
                    or so. Ways and keys are not very hard to find!

                    To have fun: go and see bumper cars without killing monsters
                    in rolling cars. See their reaction. Sometimes, they are 
                    ejected, then get into the other car. I've seen four monsters
                    in the same car, one of them standing up on the hood! (really
                    funny!)

                    If you love this map like I do and would like to know all
                    secrets, e-mail me to get a demo file that shows everything.
                    Once again, feel free to e-mail me any comments.

Additional Credits To : Ken Silverman, 3D Realms.
                    Special thanks to Dukebert, Juha Laaksonen and Mikko Sandt
                    for their beta-test.

======================================================================

* Play Information *

Episode and Level #    : none
Single Player          : Yes
DukeMatch 2-8 Player   : Yes
Cooperative 2-8 Player : Yes
Difficulty Settings    : Yes (3 skills)
Plutonium Pak Required : YES! YOU MUST HAVE IT.
New Art                : No
New Music              : No
New Sound Effects      : No
New .CON Files         : No
Demos Replaced         : No (see above for a "secret demo")

=====================================================================

* Construction *

Base                   : New level from scratch
Level Editor(s) Used   : BUILD
Construction Time      : 2 months
Known Bugs/Problems    : Let me know if there are...

* Where to get this MAP file *

File location          : In the zip archive with this file...

=====================================================================

*Important Information*

Installation           : Unzip ROCH2.MAP in your Duke3d directory, then
                         type : duke3d map roch2 
                         You can specify the skill : add /s# (#=1 to 4)

IMPORTANT NOTES        : 

======================================================================

* Copyright / Permissions *

Authors MAY NOT use this level as a base to build additional levels, 
concatenations, or otherwise.

You MAY distribute this MAP (Roch2.map), provided you include this text file
(Roch2.txt), with no modifications.  You may distribute this file in any 
electronic format (BBS, Diskette, CD, etc) as long as you include this file 
intact.

							
Top of the page