Map Name:
Roch
Author:
Pascal Rouaud
Released:
24th October 1999
Rating:
92
Review by Steven Laliberté on 21st March 2008
Roch is the first map of one of the most innovating and realistic map-creators of this last decade: Pascal Rouaud. It represents also the beginning of the outstanding ROCH Series. In this quite huge city, you'll find plenty of action travelling through the different places invaded by your favourite aliens: a supermarket, a car park, a restaurant, a bar, a cinema and a petrol station guarded by a rough resident.
Although you'll fight in numerous scenes of intense action, Roch isn't difficult to play thanks to the frequent health goodies and ammunitions you will find, and you'll take real pleasure wandering and fighting with all the weapons of the game under a sunny sky. Indeed, one of the particularities of the ROCH Series is that in each level, you can fight against all the monsters with all the weapons. Moreover, you'll have the challenge to find all the 13 official secret places scattered in Roch, and even the two other secret places! By the way, don't forget to go for a drive in one of the two little cars patrolling within the city, I bet it could be… useful?
Apart from the main action, Roch includes some nice features like a comic shop, a carousel, an helicopter rising from the ground when you come and, like in all the other ROCH maps: an original animated billboard, going here alternatively up and down.
All the same, keep in mind that this map was published in 1999 and that since it's the first map of this author not to be disappointed by the graphics. They are always coherent but quite outmoded by the other levels of the ROCH Series, especially for example the long streets with mono-textural buildings, or a quite lack of details.
In any cases, you won't waste your time fighting your way in this level!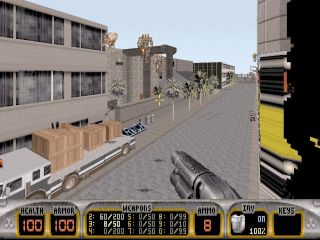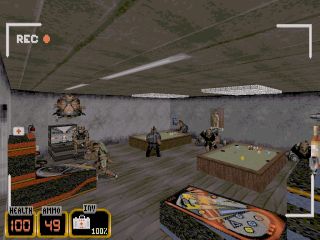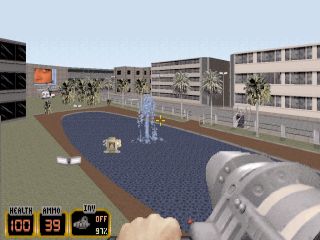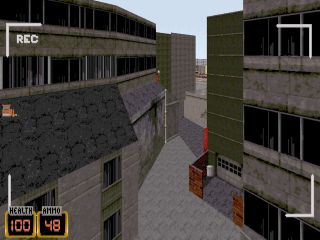 Gameplay Type: SP
Requires: Duke Nukem 3D v1.4+
Filesize: 120.03 KB
Level includes: multiple difficulty settings

Download: Roch (565)
Other releases by Pascal Rouaud: Roch 2, Roch 3, Roch 4, Roch 5, Roch 6, Roch 7, Roch 8, Roch Secret 1
Know of any other maps from this author? Let us know
Mapping template:


======================================================================
Title             : Roch
Filename          : Roch.map
Author            : Pascal ROUAUD & Roch for ideas
E-mail            : pascalrouaud[at]hotmail.com
                    (PLEASE send me any comments about this map)
Web Page          : none
Misc. Author Info : I'm French (excuse for my English!)
                    I started making "wads" for Doom (and I DON'T like Quake!)

Other Levels      : others, never distributed
Description       : A large city with cars, supermarket, cinema, dancing,
                    arcades, service station, a carousel, appartments, etc.
                    13 secrets (some are large and nice places, find them!)

Tips and tricks   : Please try to play this map without cheating for keys
                    or so. Ways and keys are not very hard to find! For all
                    secrets, there is a sign to help!
                    All control screens show different places, nearly all secret
                    places are shown in one of them.
                    If you love this map like I do and would like to know all
                    secrets, e-mail me to get a demo file that shows everything.
                    Once again, feel free to e-mail me for any comments.

Additional Credits To : Ken Silverman, 3D Realms.

======================================================================

* Play Information *

Episode and Level #    : none
Single Player          : Yes
DukeMatch 2-8 Player   : Implemented but not tested
                         I don't think Dukematch players will love
                         this (too) large level!
Cooperative 2-8 Player : Implemented but not tested
Difficulty Settings    : Yes
Plutonium Pak Required : YES! (especially for MANY textures, and some effects)
New Art                : No (not in distributed version)
New Music              : No
New Sound Effects      : No
New .CON Files         : No
Demos Replaced         : No

=====================================================================

* Construction *

Base                   : New level from scratch
Level Editor(s) Used   : BUILD
Art Editor(s) Used     : Editart (for version with new arts)
Construction Time      : 3 months (I couldn't say how many hours !)
Known Bugs/Problems    : some, but only well known build's weird effects

* Where to get this MAP file *

File location          : where you got it !

=====================================================================

*Important Information*

Installation           : Unzip ROCH.MAP in your Duke3d directory, then
                         type : duke3d map roch 

IMPORTANT NOTES        : This map is very large (near 400K / 1023 sectors)
~~~~~~~~~~~~~~~          Run it in MS-DOS mode (NOT within Windows) if you 
                         have a small configuration (under 200Mhz / 32Mo RAM)
                         or game will slow down very much !

======================================================================

* Copyright / Permissions *

Authors MAY NOT use this level as a base to build additional levels, 
concatenations, or otherwise.

You MAY distribute this MAP (roch.map), provided you include this text file
(roch.txt), with no modifications.  You may distribute this file in any 
electronic format (BBS, Diskette, CD, etc) as long as you include this file 
intact.

							
Top of the page