Map Name:
MP Research Facility
Author:
Maarten Pinxten
Released:
31st August 1999
Rating:
92
Review by Kim Robinson on 12th August 2007
A nicely done level involving blowing aliens to tiny pieces, MP Research Facility is a fun, well paced map with plenty of action. Puzzles aren't too hard, neither is the gameplay and it's got some semblance of a story; you must wipe out a newly discovered alien base - simply because they're there.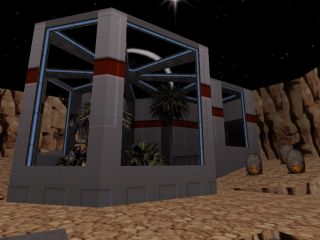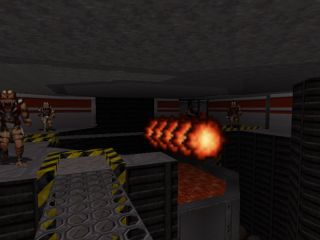 Gameplay Type: SP
Requires: Duke Nukem 3D v1.4+
Filesize: 53.82 KB

Download: MP Research Facility (316)
Other releases by Maarten Pinxten: Crucial Conflict: 1 - Suspicious Storage, Crucial Conflict: 2 - Waterworld, Crucial Conflict: 3 - Acupa Dylana, Hazardous Chemicals, MPOrbit, MpRocket, Operation Kolpowitz, The Railway Station, The Restless Resort
Know of any other maps from this author? Let us know
Mapping template:


================================================================
Title                   : MPRESFAC
Filename                : mpresfac.map
Author                  : Maarten Pinxten
Email Address           : M.F.Pinxten[at]student.tudelft.nl
Description             : A research facility has found an alien
			base on another planet. They aliens however
			fought back. They shot Duke out of they air
			in combat. Now he's really pissed off!

Additional Credit to    : 3D Realms for making this kick-ass game.
                                                     
================================================================

* Play Information *

Single Player           : Yes
Cooperative 2-4 Player  : No
Deathmatch 2-4 Player   : No
Difficulty Settings     : No
New Sounds              : No
New Graphics            : No
New Music               : No
Demos Replaced          : No

* Construction *

Base                    : New from scratch
Editor used             : BUILD.EXE
Build Time              : don't know, lotsa
Known Bugs              : None

* Copyright / Permissions *

You can freely distribute this level and put it on your page. You may 
also use this level as a base for your own (don't be such loser, 
though), as long as you include this textfile and give me credit for
it. Please don't distribute this level under your own name. There's
not much I can do about it, but well, I'll be watching ya :)

* Where to get this MAP *

As far as I know only on Maarten's Gamorama (www.crosswinds.net/~Gamorama)
and Maarten's Virtual Adventure (bounce.to/MVA). Have you seen this
level on another page? Mail me!
							
Top of the page