Addon Name:
Total Infiltration
Author:
Devastator
Released:
14th May 2004
Rating:
92
Review by Kim Robinson on 12th March 2008
The latest and greatest release from Devastator (at time of writing), Total Infiltration is a six-level episode which takes exciting gameplay and alienesque design to a whole new level. First word on the maps - they're designed to present a challenge, in this their design and complexity matches Devastator's intentions pretty much spot on. At some points (especially in the earlier maps) it is not always entirely obvious where you should go or how to get past that 'certain spot'. Refrain from cheating! (Unless of course moral debasement is your kind of thing). Each level is entirely passable, you just have to keep your eyes open for small, unassuming things (for example the 9-button combination lock in Transport 2).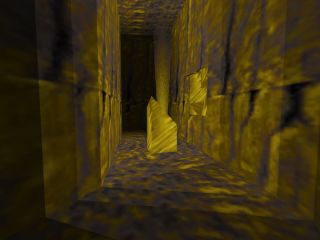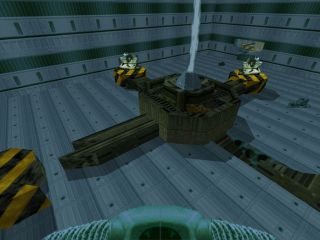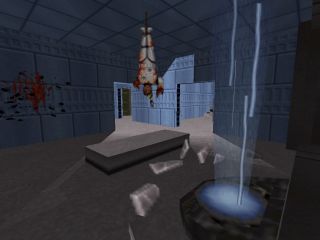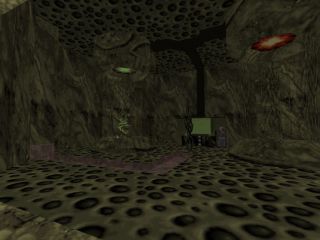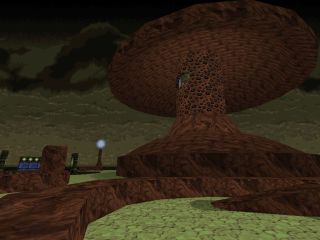 Aside from the obvious difficulties, gameplay rocks. Devastator brings back what most recent releases lack - constant action with memorable scenes of destruction. As well as being let loose against hundreds of enemies, you'll have to use your head to overcome barriers and seemingly impossible obstacles. It's no walk in the park - if you play it right through you'll have spent at least a few hours figuring it all out. Don't let that deter you though, there's some wonderful architecture to be seen and great spritework - the amount of effort which has gone into it is phenomenal.
Even if you've played the first four maps of this episode before, you'll have fun playing them again (and indeed the last two as well) with a whole lot of nice weapon enhancements and some great scripted sequences (well, two - one at the beginning and another one at the end). The pipe-bomb has been suped up, as well as the shrinker and the freezegun - and some of the weapon sound effects have been changed to great effect as well. The new midi soundtracks are also very fitting and add to the atmosphere rather nicely.
Nothing more to say - just unzip the archive into your Duke folder and run inf.bat to get going (or inf-eduke32.bat if using EDuke32).
Gameplay Type: addon
Requires: Duke Nukem 3D v1.4+
Filesize: 2.50 MB
Level includes: new ART, new CON code, new music, new sounds, multiple difficulty settings

Download: Total Infiltration (613)
Other releases by Devastator: Alien 4: Resurrection, Alien Planet, Alien Space Station, Aquatic Hive, Dawn in Arctic, Demolition, How Many Ways Can You Die, How Many Ways Can You Die 2, How Many Ways Can You Die 3, Jade Base, Mind Storm, Space Vessel, Transport 2, Two Towers
Know of any other maps from this author? Let us know
Mapping template:


ZIP acrhive created for B******S who still don't understand that winRAR is superior
======================================================================
THIS EPISODE IS NEITHER MADE BY OR SUPPORTED BY 3D REALMS.

Title                 : TOTAL INFILTRATION
Filename              : just run inf.bat
Author                : Devastator
E-mail                : zheka_XX[at]TUT.by
Web Page              : 
Misc. Author Info     : Just a crazy Duker, who kicked Cycloid emperor with knee
weapon
Other Levels          : about 9 ones including new ones from this episode
Description           : just play the first level of the episode and you'll know
everything
episode also includes a small movie. :)

Additional Credits To : Rewiever giving more life to my map.
and also: 3Drealms;
James Ferry for *GL_editart*;
Jonah and Gary Bishop for *GRP studio*;

and the biggest "THANK YOU" is devoted to MICROprose for endless inspiration, which
was give me by such 
games as XCOM 1,2,3 Master Of Orion 1,2

                          
======================================================================

* Play Information *

Episode and Level #    : replaces 2nd episode
Single Player          : Yes
DukeMatch 2-8 Player   : No
Cooperative 2-8 Player : somewhere yes and somewhere no
Difficulty Settings    : Yes, Of course YES
Plutonium Pak Required : Yes 
New Art                : No, I have this art, but it is too big for release, maybe
later :)
New Music              : Yeahahahahahaaaa!
New Sound Effects      : Yes YEs and YEEES!
New .CON Files         : OF COURSE,!
Demos Replaced         : hmmmm.., sorry no demos...

=====================================================================

* Construction *

Base                   : New episode from scratch
Level Editor(s) Used   : MAPSTER, Atomic Build, Makemap
Art Editor(s) Used     : Listed in the beggining
Construction Time      : 1,1 year


=====================================================================

*Important Information*

Important Notes        : 
I allow to use new ideas which are implemented in this map until you give credit to
me, the 
original author. and you may not use things from my maps

======================================================================

*  *   **   *   * ****    **** *   * *   *   |
*  *  *  *  *   * *       *    *   * **  *   |
**** ****** *   * ***     ***  *   * * * *   |
*  * *    *  * *  *       *    *   * *  **  
*  * *    *   *   ****    *     ***  *   *   *






							
Top of the page