Map Name:
Alien 4: Resurrection
Author:
Devastator
Released:
23rd June 2004
Rating:
94
Review by Kim Robinson on 3rd August 2007
If you've ever seen Alien 4: Resurrection you'll be in for a treat, this latest contribution from Devastator finds you on board the Auriga with nothing but your trusty size nine boot. The CON files have been hacked (but the level comes with its own nifty BAT file so you don't have to backup your old cons), and now the aliens have an uncanny ability to spit acid at your face - rather unnerving. Design is great, ambience is terrific - the sound effects really add that extra dimension - and a few times you'll have to turn your heel and run for your life. A great play and a worthy addition to the archives!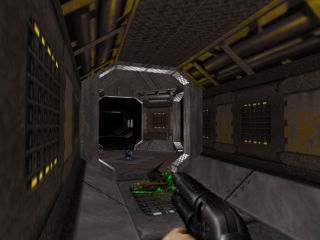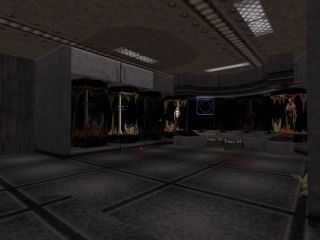 Gameplay Type: SP
Requires: Duke Nukem 3D v1.4+
Filesize: 286.78 KB
Level includes: new ART, new CON code, new music, new sounds

Download: Alien 4: Resurrection (538)
Other releases by Devastator: Alien Planet, Alien Space Station, Aquatic Hive, Dawn in Arctic, Demolition, How Many Ways Can You Die, How Many Ways Can You Die 2, How Many Ways Can You Die 3, Jade Base, Mind Storm, Space Vessel, Total Infiltration, Transport 2, Two Towers
Know of any other maps from this author? Let us know
Mapping template:


======================================================================
THIS LEVEL IS NEITHER MADE BY OR SUPPORTED BY 3D REALMS.

Title                 : Alien 4: RESURRECTION
Filename              : aurigaA4.map
Author                : Devastator
E-mail                : zheka_XX[at]TUT.by
Web Page              : absent  ( really SHOCKING drink :) )
Misc. Author Info     : NOTHING IS IMPOSSIBLE
Other Levels          : 'famous' Space Vessel, Two Towers, HMWCYD, Alien Planet, Jade
Base
Transprot 2, ... about 11 + 1

Description           : This map was TOTALLY inspired by movie Alien 4 :
Resurrection
This one of myfavourite movies. I've seen other "Aliens" theme maps, nad I must say,
that gameplay is almost the same. not that many enemies+ only ALIENS and slimes.
not that many ammo, but atmosphere of the level should cover all this...


Additional Credits To : Rewiever giving more life to my map.
                          
======================================================================

* Play Information *

Episode and Level #    : for WHAT?!
Single Player          : Yes
DukeMatch 2-8 Player   : nope
Cooperative 2-8 Player : nop
Difficulty Settings    : no ( have you ever seen difficulty settings in real life ?
)
Plutonium Pak Required : Yes, of course, or you'll see only ledges, some stuff and
nothing more
except bugs
New Art                : Yes
New Music              : and yes and no
New Sound Effects      : Yes 
New .CON Files         : Yes
Demos Replaced         : N

=====================================================================

* Construction *

Base                   : New level from scratch
Level Editor(s) Used   : MAPSTER and Atomic Build
Art Editor(s) Used     : Gl_editart
Construction Time      : THat's it! about 1.5 years I've starded this map long ago,
and only now when i was inspired very well, I could complete it.
It was rebuilt some times, and it didn't reached even the 1/10 of all map.
When I got Atomic Edition I started over, so I'm proud to bring this map TO YOU ALL!


=====================================================================

*Important Information*

Important Notes        : This map copies itself to e1l8.map so make a .bak file for
it.
I allow to use new ideas which are implemented in this map until you give credit to
me, the 
original author. I don't allow to use things from my maps in any cases.

======================================================================
HAVE FUN . :)
							
Top of the page