Map Name:
The System: Opposing Facility
Author:
Ryan Rouse (Quakis)
Released:
28th March 2004
Rating:
93
Review by Kim Robinson on 26th November 2007
A nice industrial themed map with plenty of alien butt-kicking action, nice layout, above average gameplay and a decent fun factor. The first leg of the map is just a key-run but don't let that put you off, it's all good fun. Outside as well as inside locations have been nicely done - detail is right up there too, which adds to the realism. Take a look!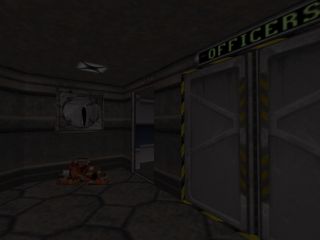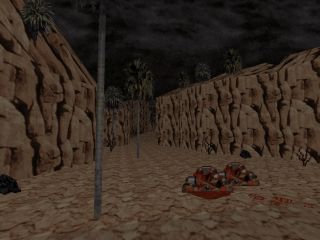 Gameplay Type: SP
Requires: Duke Nukem 3D v1.4+
Filesize: 49.80 KB

Download: The System: Opposing Facility (487)
Other releases by Ryan Rouse (Quakis): EDF Overtaken (Nuked1 Remake), Enlighten The Darkness: Again, Nuked1: The Launch Bay Complex, Q-Red, Simple Minded
Know of any other maps from this author? Let us know
Mapping template:


The System: Opposing Facility (txt modified July 2007)
======================================================================
Title                 : The System: Opposing Facility
Filename              : quakis_tsof.zip
Author                : Ryan "Quakis" Rouse
E-mail                : quakis[at]planetduke.com
Web Page              : qshockwave.planetduke.gamespy.com
Misc. Author Info     : "The guy who often starts but rarely finishes" (© Mikko
Sandt)

Other Levels          : 

	- Nuked1
	- GresterDM1
	- NukedR
	- Origin
	- Q-Red
	- Enlighten the Darkness
	- Simple Minded


Description           : A small island with a base has been overtaken by the aliens,
same
			old story and it's up to Duke to fix the problem. However what is
			there reason to take over an abandoned area anyway?

			Was part of a series called, The System. Although the story is
			incomplete, the map is one of my favourites even though some areas
			are lacking. The end was completely rushed due to my motivation
			dying out.
			
Additional Credits To : 

	- Duke3D Community
	- Mikko Sandt
		> Hosting & Review
	- Beta Testers:
		Sang
		Victor
		Alex Pistol
		Stephano Lessa		
		Maarten Oostrum		
                          
======================================================================

* Play Information *

Episode and Level #    : User
Single Player          : Yes
DukeMatch 2-8 Player   : No
Cooperative 2-8 Player : No
Difficulty Settings    : Yes
Plutonium Pak Required : Yes
New Art                : No
New Music              : No
New Sound Effects      : No
New .CON Files         : No
Demos Replaced         : No

=====================================================================

* Construction *

Base                   : New level from scratch
Level Editor(s) Used   : BUILD 
Art Editor(s) Used     : 
Construction Time      : 2 Weeks
Known Bugs             :

=====================================================================

*Important Information*

Installation           : Extract into your Duke3D directory and open
			 using port of choice / vanilla Duke3D setup.

Important Notes        : You may not use this map as a base, or any 
			 parts from this map for your own project/use.

======================================================================


							
Top of the page