Map Name:
Enlighten The Darkness: Again
Author:
Ryan Rouse (Quakis)
Released:
8th July 2007
Rating:
92
Review by Kim Robinson on 16th January 2008
A top-notch romp through a medieval-ish fantasy realm, where dragons be and yon dungeons lie. Well, perhaps there's no dragons, but there's plenty of pretty textures from Shadow Warrior plastered about the place - the level itself was originally a user-map for the Army of Darkness minimod, but this release sees the skeletons replaced with regular Duke3D enemies and a few bug fixes.
Enlighten the Darkness will have you trying to figure out how to unlock a rather heavily sealed door (the puzzle is quite simple), while pitting you against a couple of hundred bad guys. No fear, there's quite a bit of ammo strewn about the place, and it always seems to magically reappear just when you're about to need it. Must be due to the whole fantasy thing. As you can probably imagine there's quite a few fire fights, it's always pleasing to knock down a couple of battlelords in a Duke level, and you won't be disappointed here.
Some areas are lavished with detail, with nice sector work and shading, while others are the opposite - the outside expanses mostly. By no means let this put you off however, there's some lovely stuff to see and thrilling places to kill things in.
Weighing in at over thirteen hundred sectors the level does break the old limits, and so the JFDuke or EDuke32 ports are required, the latter being recommended. Grab your copy (of both, perhaps) right now!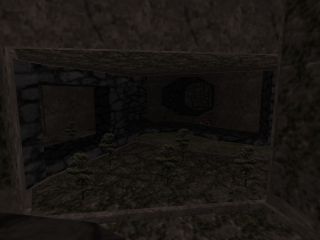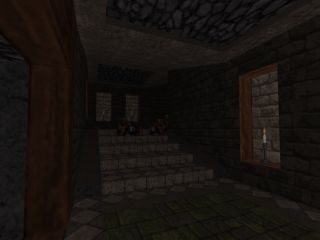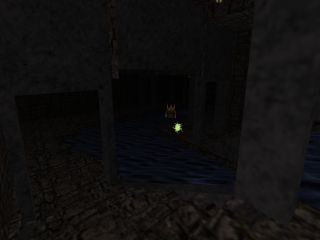 Gameplay Type: SP
Requires: Duke Nukem 3D v1.4+ and JonoF/EDuke32
Filesize: 1.32 MB
Level includes: new ART, new CON code, new music, new sounds

Download: Enlighten The Darkness: Again (445)
Other releases by Ryan Rouse (Quakis): EDF Overtaken (Nuked1 Remake), Nuked1: The Launch Bay Complex, Q-Red, Simple Minded, The System: Opposing Facility
Know of any other maps from this author? Let us know
Mapping template:


Enlighten The Darkness: Again (txt modified July 2007)
======================================================================
Title                 : Enlighten The Darkness: Again
Filename              : quakis_enlighten2.zip
Author                : Ryan "Quakis" Rouse
E-mail                : quakis[at]planetduke.com
Web Page              : qshockwave.planetduke.gamespy.com
Misc. Author Info     : "The guy who often starts but rarely finishes" (© Mikko
Sandt)

Other Levels          : 

	- Nuked1
	- GresterDM1
	- NukedR
	- Origin
	- Q-Red
	- The System: Opposing Facility
	- Simpled Minded
	- Enlighten The Darkness


Description           : After replaying the original version of this map, I thought
it
			would be a good idea to change the gameplay to fit with Duke3D
			enemies since that of Army of Death could be considered boring
			or too easy. The map now has some more ambient sounds throughout,
			two taken from Half Life games. Fixed a few graphical issues and
			tweaked some design. I've also attached a new skybox, the same
			one I use as a website theme from Hipshot, to be played in 32bit.

Requires:

	- Eduke32

Additional Credits To : 

	- Duke3D Community
	- Hipshot (Skybox)
	- Mikko Sandt
	- Geoffrey van Dijk
		> Army of Death
		> Inspiration
	- Sang
		> Beta Testing
	- Half Life (sounds)
	- Heretic (music)
                          
======================================================================

* Play Information *

Episode and Level #    : User
Single Player          : Yes
DukeMatch 2-8 Player   : No
Cooperative 2-8 Player : No
Difficulty Settings    : No
Plutonium Pak Required : Yes
New Art                : Yes
New Music              : Yes (Heretic)
New Sound Effects      : Yes
New .CON Files         : Yes
Demos Replaced         : No

=====================================================================

* Construction *

Base                   : New level from scratch
Level Editor(s) Used   : Mapster32 
Art Editor(s) Used     : 
Construction Time      : 1 day tweaking
Known Bugs:

	- Green switch may take some few presses.
	- Possible crashes in Jonof Port. Recommend Eduke32.

=====================================================================

*Important Information*

Installation           : Extract into your Duke3D directory and open
			 using port of choice / vanilla Duke3D setup.

			 Go into video options and change the setting
			 to 32bit for the skybox to work.			

Important Notes        : You may not use this map as a base, or any 
			 parts from this map for your own project/use.

======================================================================

							
Top of the page