Map Name:
EDF Overtaken (Nuked1 Remake)
Author:
Ryan Rouse (Quakis)
Released:
16th July 2003
Rating:
90
Review by Kim Robinson on 26th November 2007
Quite a good level - it's the same theme as its original but more spacious which makes a pleasant change from most recent maps. Detail remains quite high, and although it's not an overly long level I still found it very enjoyable. A must have for the collection!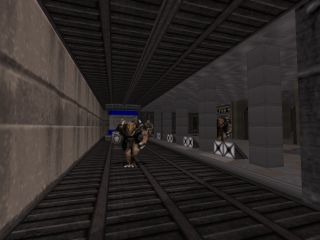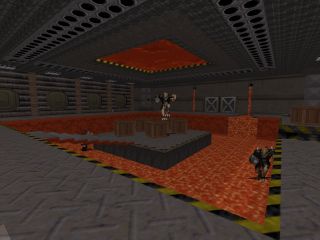 Gameplay Type: SP
Requires: Duke Nukem 3D v1.4+
Filesize: 81.87 KB

Download: EDF Overtaken (Nuked1 Remake) (391)
Other releases by Ryan Rouse (Quakis): Enlighten The Darkness: Again, Nuked1: The Launch Bay Complex, Q-Red, Simple Minded, The System: Opposing Facility
Know of any other maps from this author? Let us know
Mapping template:


Nuked R: EDF OVertaken (txt modified July 2007)
======================================================================
Title                 : Nuked R: EDF OVertaken
Filename              : quakis_nukedr.Zip
Author                : Ryan "Quakis" Rouse
E-mail                : quakis[at]planetduke.com
Web Page              : qshockwave.planetduke.gamespy.com
Misc. Author Info     : "The guy who often starts but rarely finishes" (© Mikko
Sandt)

Other Levels          : 

	- Nuked1
	- GresterDM1
	- Origin
	- Q-Red
	- The System: Opposing Facility
	- Enlighten the Darkness
	- Simpled Minded 

Description           : The map was originally a prequel but serves well as a sequel
			to the first Nuked map. Originally started as a deathmatch
			level expanded into a short, enjoyable level. Though it could
			have used some improvements, it worked the way I intended it 
			except the ending, for which I took the lazy way out and gave
			it an anti-climax one instead. It was never a dream anyway.

Additional Credits To : 

	- The Duke3D Community
	- Mikko Sandt
		> Hosting & Review
                          
======================================================================

* Play Information *

Episode and Level #    : User
Single Player          : Yes
DukeMatch 2-8 Player   : No
Cooperative 2-8 Player : No
Difficulty Settings    : Yes
Plutonium Pak Required : Yes
New Art                : No
New Music              : No
New Sound Effects      : No
New .CON Files         : No
Demos Replaced         : No

=====================================================================

* Construction *

Base                   : New level from scratch
Level Editor(s) Used   : BUILD
Art Editor(s) Used     : 
Construction Time      : 2-3 months
Known Bugs             : 

=====================================================================

*Important Information*

Installation           : Extract into your Duke3D directory and open
			 using port of choice / vanilla Duke3D setup.

Important Notes        : You may not use this map as a base, or any 
			 parts from this map for your own project/use.

======================================================================

							
Top of the page