Map Name:
Nuked1: The Launch Bay Complex
Author:
Ryan Rouse (Quakis)
Released:
29th June 2003
Rating:
86
Review by Kim Robinson on 26th November 2007
A somewhat nice looking industrial themed map; largely Bob-inspired, logical puzzles, clean design and okay gameplay. A couple of areas are a little empty but the monsters are more of a distraction - one room in particular is an all out gib-fest. There's nothing really revolutionary about the level, it flows smoothly enough save for a bit of tiresome backtracking and is sure to keep you entertained.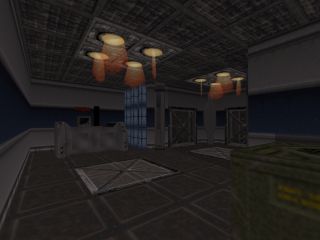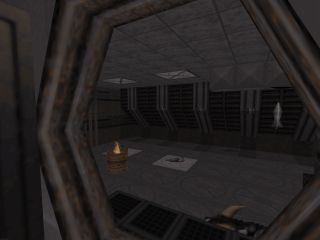 Gameplay Type: SP
Requires: Duke Nukem 3D v1.4+
Filesize: 81.87 KB
Level includes: multiple difficulty settings

Download: Nuked1: The Launch Bay Complex (345)
Other releases by Ryan Rouse (Quakis): EDF Overtaken (Nuked1 Remake), Enlighten The Darkness: Again, Q-Red, Simple Minded, The System: Opposing Facility
Know of any other maps from this author? Let us know
Mapping template:


Nuked 1: The Launch Bay Complex (txt modified July 2007)
======================================================================
Title                 : Nuked 1: The Launch Bay Complex
Filename              : quakis_nuked1.zip
Author                : Ryan "Quakis" Rouse
E-mail                : quakis[at]planetduke.com
Web Page              : qshockwave.planetduke.gamespy.com
Misc. Author Info     : "The guy who often starts but rarely finishes" (© Mikko
Sandt)

Other Levels          : 

	- GresterDM1
	- NukedR
	- Origin
	- Q-Red
	- The System: Opposing Facility
	- Enlighten the Darkness
	- Simpled Minded


Description           : First released map, published on Mikko Sandt Duke Nukem
(MSDN). 
			Started and completed in 2002, the zip file included both the 
			full version of the map and the original beta version. The 
			former has some minor and major bugs fixed as of today.

Additional Credits To : 

	- Duke3D Community
	- Mikko Sandt
		> Beta Testing
		> Hosting & Review
                          
======================================================================

* Play Information *

Episode and Level #    : User
Single Player          : Yes
DukeMatch 2-8 Player   : No
Cooperative 2-8 Player : No
Difficulty Settings    : Yes
Plutonium Pak Required : Yes
New Art                : No
New Music              : No
New Sound Effects      : No
New .CON Files         : No
Demos Replaced         : No

=====================================================================

* Construction *

Base                   : New level from scratch
Level Editor(s) Used   : BUILD 
Art Editor(s) Used     : 
Construction Time      : Started late 2001 - Completed early 2002.
Known Bugs             :

	Fixed:
	+ Blue keycard disappearing bug.
	+ Locked pillars near blue keycard.
	+ Texture alignments.

=====================================================================

*Important Information*

Installation           : Extract into your Duke3D directory and open
			 using port of choice / vanilla Duke3D setup.

Important Notes        : You may not use this map as a base, or any 
			 parts from this map for your own project/use.

======================================================================

							
Top of the page