Addon Name:
Moonbase Accident
Author:
Zykov Eddy
Released:
15th January 2008
Rating:
92
Review by Kim Robinson on 20th January 2008
A well rounded episode set in space and one in which you'll have more fun than you can shake a stick at, Moonbase Accident begins with your obligatory crash landing into a lunar research station somewhere - which is of course overrun by alien vermin. Level design at first appears slightly amateurish but quickly improves as the first level wears on, with cramped areas giving way to slightly less cramped and better detailed areas. The first difficulty I ran into while playing this was finding the blue key card, it's stashed away in an unassuming part of the map involving food preparation - just keep looking. After that the level sails on nicely, with some nice explosions and interconnectedness bringing the whole thing together.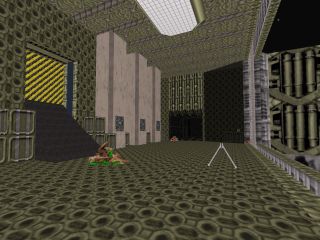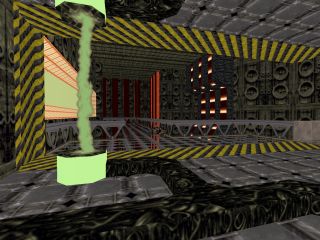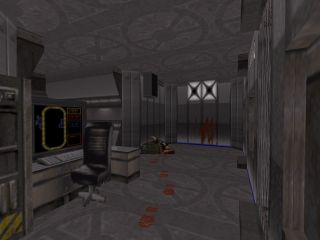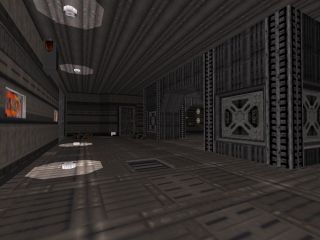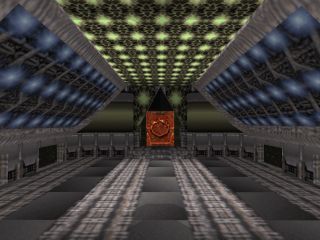 Level two picks up again in terms of quality, and although there's a few areas which could look a lot nicer with some more shading and less ambient light, the author has done well to produce an alien base map. Nothing better than a few newbeasts running at you through green rooms with wall textures only some awful outer space monster could choose. Level three, Gamma Station puts you on an orbiting space platform and this is where the author's knack for creating realistic feeling environments is proven (at least as far as one could reasonably expect a space station to feel realistic - exactly how many astronauts are in the habit of sitting down of an evening and playing Duke, much less writing in to tell us we just haven't captured the vibe of it?). The level of detail really picks up and there's plenty of places to visit, from your average space restaurant to storage facilities to tube transports - all of course brimming with alien scum to wipe your boots on, close to 170 enemies in total.
The next level, Alpha Station sees yet more crash landing - this time you make a bit more of an impact it seems, you've got to be hot on your heels to safety before the landing bay goes and explodes on you. There's some very nicely done sprite-'building' destruction going on just before that happens however, sure to raise an eyebrow. In the immortal words of Lelu Dallas Multipass, there's some big badabooms to look forward to in this map. This level doesn't feature the same level of complexity as the previous one, nor the amount of enemies, but its fun nonetheless - once you work out the pattern to get those 3x3 button combinations cranking. For the more gung-ho player this'll likely slow you down, which is bound to be annoying. Now, there's a couple of secret levels hidden away whose entrances are not so secretly hidden, both of which are certainly worth checking out. The first is quite short and pays homage ("Homage? Disgusting. You're drunk!") to Doom II, the second is a melancholic jaunt through the grey world as perhaps seen through the eyes of the author, or Charlie Chaplin. Be sure to save frequently in this latter map, especially when you get to the bit where you play twenty questions.
The final level is where you re-meet the Queen, whose chamber is looking particularly horrible and alienesque, and the fight with whom is pretty easy so long as you remain swift on your feet. It nicely rounds off the episode, I'd say, although a bit more of a challenge or lead-up would have been alright. The two DM levels included look pretty fun, though I haven't yet had a chance to play them. The first involves a couple of trippy moving walkways, traps you can activate and an exit to the next DM level, which is an arena set in around a base. Good fun.
Note: As of 28/3/2008, version 1.1 has been released, which includes a couple of edited levels, bug fixes and new music in OGG format - altogether weighing in at around 30MB. Download it from here.
Gameplay Type: addon
Requires: Duke Nukem 3D v1.4+ and JonoF/EDuke32
Filesize: 16.46 MB
Level includes: new ART, new music, new sounds, multiple difficulty settings

Download: Moonbase Accident (943)
Other releases by Zykov Eddy: A.Dream 2, Aliens TC Demo, Arctic Alert!, Sunshine Complex , The Dream
Know of any other maps from this author? Let us know
Mapping template:


::: Moonbase Accident :::

======================================================================

Title                 : Moonbase Accident
Author              : Piterplus EZ (jr)
E-mail              : zykov[at]bk.ru
Duke page        : http://forums.3drealms.com/vb/forumdisplay.php?f=17

Description:  7 Levels episode, including 2 secret levels. 

Time taken to make episode : Around a year.

======================================================================

EPISODE INFO

episode 1
Level 1 :delta station
Level 2 :alien station
Level 3 :GAMMA STATION
Level 4 :ALPHA STATION
Level 5 :THIS IS END OF ALL
Level 5 :Doomed Entryway (secret level)
Level 7 :DEPRESSIVO (secret level)

episode 2 (deathmatch)
Level 1 :station x
Level 2 :dark moon

======================================================================

* Play Information *

Single Player         : yes. all 7 levels.
DukeMatch Levels       : yes, 2
Difficulty Settings   : yes. all 7 levels.
Co-Op Settings        : yes. all 7 levels.
New textures        : yes, some.
New sounds           : yes, a bit. 
New Midis            : yes 

======================================================================

Mod is fully compatible with eduke32, with HRP, with sound/music mod by Hunter_rus
and with sd_duke. 
May be played without all this stuff, except eduke32. (In 8 bit mode some special
episode graphics will be replaced by regular Duke3D tiles)

Installation: No need to unzip archive, just place files "A.EZ_episode.zip" and
"A.EZ_episode.bat" in game folder and run bat file.
If you use eDuke32 mod will run flawlessly.

======================================================================


Additional Credits to : 
 
Piterplus - for making production of the project , new graphic and beta testing.
Tea Monster - for generous help with writing background story (in all it's glory :)
NightFright - for support and good ideas, which helped to write the story.

======================================================================       

* Construction *

Base                  : New from scratch. 
Editor(s) used     : Mapster 32 
Known Bugs       : Yes, some but they do not influence the gameplay .

P.S. Spaceship's image used in start/end screens are NOT USA spaceshuttle. Actually
it is Russian shuttle "Buran" (RIP)

							
Top of the page