Map Name:
Arctic Alert!
Author:
Zykov Eddy
Released:
17th November 2008
Rating:
84
Review by Frode Waksvik on 19th November 2008
The authors own words: This is my new Arctic map, with good gameplay and lots of new code! New items, new objects, new effects, new monsters and more! This map using ONLY new monsters! ***
This map is set around some supply-base in an arctic environment. Gameplay is about finding buttons and open doors. Most of this map is showing off various new monsters and effects. The layout isn't too bad but not anything to go nuts about. Textures and trimming is for the most part ok. Shading is somewhat present but could have been worked on a little bit more. Ammo and health is decent dispensed throughout the level. The ending is maybe a little disappoing though. All in all a good 25 minutes play and it's worth a try.
-Frode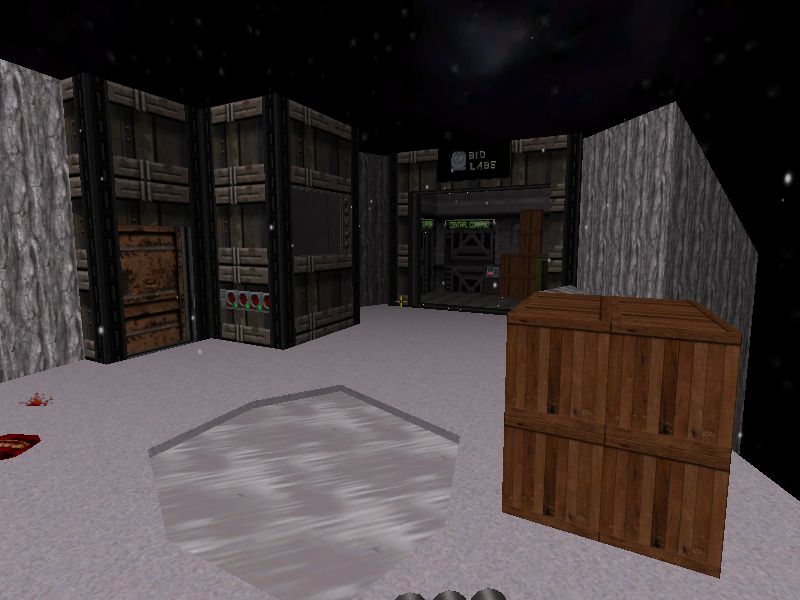 Gameplay Type: Sp
Requires: Duke Nukem 3D v1.4+ and JonoF/EDuke32
Filesize: 939.17 KB
Level includes: new CON code, new sounds, multiple difficulty settings

Download: Arctic Alert! (351)
Other releases by Zykov Eddy: A.Dream 2, Aliens TC Demo, Moonbase Accident, Sunshine Complex , The Dream
Know of any other maps from this author? Let us know
Mapping template:


======================================================================
Title                 : Arctic Alert!
Filename              : !bioalert.zip
Author                : Zykov Eddy
E-mail                : edik.zykov[at]mail.ru
Other levels          : A lot!

Moonbase Accident TC
The dream
Quake 3 WP
Fun mode
Minigame Small map
!Steps
Infestation in time TC (under construction)
Russian community build project (i am was in community)
Russian community build project 2 (under construction)


Web Page              : http://mydukemods.ucoz.ru/
Description           : Duke Nukem must get in secret Bio Lab in Arctica and kill all
aliens there...

This map include new super CON effects! Duke bots, smoke effects, new monsters, new
items and more! All code written by me.

This map use ONLY new monsters!
                                               
Additional Credits To : To all betatesters!!!
M210
Sanek
Piterplus
Lezing
                        
======================================================================

* Play Information *

Episode and level           : Just play it...
Single Player               : Yes, of course!
Coop                        : No, sorry...
Dukematch                   : No 
Difficulty settings         : Yes!

Construction
Time	 			 : Three Days. Ha!
Base                        : Made from scratch 
Editors used                : Mapster, LeBuild
Know bugs                   : If you duck at the entrance of the drop ship's


* Construction *

Base                  : New level from scratch
Editor(s) used        : Build
Known Bugs            : None known... or not?

							
Top of the page