Map Name:
FbSp003: City Under Siege
Author:
Geoffrey van Dijk (Fakir)
Released:
23rd December 2004
Rating:
97
Review by Kim Robinson on 1st August 2007
FbSp003: City Under Siege is pretty much exactly that, a city in the process of becoming another alien stronghold. As usual it's your job to do the down and dirty, getting in there and clearing out the invaders. Gameplay is superbe. There's a reasonably high number of baddies for you to contend with and sometimes it's just not feasible to run in, guns blazing. There's plenty of nooks and crannies to duck into to attack from, which while adding that extra aspect to the playing style also increases the 'siege' atmos tremendously. Design is, as is usual from Fakir, top notch. The new, optional skybox fits the level really well. A little empty in parts but you won't be hanging around for long anyway. A real masterpiece - take a gander!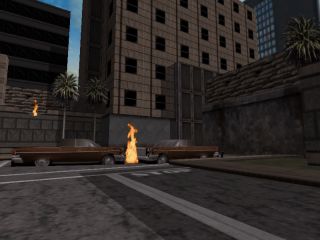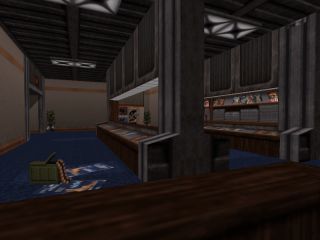 Gameplay Type: SP
Requires: Duke Nukem 3D v1.4+
Filesize: 350.83 KB
Level includes: new ART, new music, multiple difficulty settings

Download: FbSp003: City Under Siege (757)
Other releases by Geoffrey van Dijk (Fakir): Command and Conquer Map Pack (unfinished), DmDucts, Fakir Babas Place, FbSp001, FbSp002, Night and Day, Saturday Night Fever
Know of any other maps from this author? Let us know
Mapping template:



======================================================================
Title                 : Fbsp003: City under Siege
Filename              : Fbsp003
Author                : Geoffrey van Dijk
E-mail                : fakirnogwat[at]hotmail.com
Homepage              : www.geocities.com/fakirnogwat
                        ( Dutch, but not too hard to navigate )

Description	      : A part of the alien invasion army has invaded
                        and fortified a city that, once completely
                        taken over, will give the aliens a great
                        benefit because of it's strategic position.
                        You are to enter through the old subway system
                        and clear as much ground as possible to make
                        way for EDF's troops.
			
Other Levels          : can be found on my site.

Additional Credits To : Everyone in the community that had an overall
                        positive influence on my maps;
                        James, Jesse, Maarten Pinxten, Alejandro,
                        C3P0, William Gee, Mikko and Bob Averill.
                        Another big thanks to Mikko for giving me
                        some ideas that made this map extra-awesome.
                        Some credit goes to Red Alert 2 as well, for
                        the idea of placing sandbags around buildings
                        and such.

                        Finally, I'd like to apologize to Cody for my
                        irrational behavior a few years back, and I'd
                        like to wish you the best of luck on current
                        and future projects.

Betatesting	      : by James, Mikko and Methunter

======================================================================

* Play Information *

Single Player          : Yes
DukeMatch 2-8 Player   : Yes ( only tested in Botmatch )
Cooperative 2-8 Player : Yes ( not tested )
Difficulty Settings    : Yes
Plutonium Pak Required : Yes
New Art                : Yes ( see below )
New Music              : Yes ( ROTT )
New Sound Effects      : No
New .CON Files         : No
Demos Replaced         : No

=====================================================================

* Construction *

Base                   : New levels from scratch
Level Editor(s) Used   : Build
Art Editor(s) Used     : None
Construction Time      : The usual.

=====================================================================

* Skybox *

I've included a custom skybox in this zip. It's optional, the map
looks just as good with hitile textures than it does without it.
Ofcourse, this skybox can only be used with Jonofs port; browse the
3drealms forums to find it. ( www.3drealms.com )
I've found this skybox at www.levels4you.com.

Definition lines:
defineskybox 94 0 0 sky/front.jpg sky/right.jpg sky/back.jpg
sky/left.jpg sky/up.jpg sky/down.jpg

=====================================================================
Donderdag 23 December 2004
							
Top of the page