Map Name:
Tropical Alien Massacre
Author:
Rob Wijkstra (HighWire)
Released:
10th May 2003
Rating:
93
Review by Kim Robinson on 25th November 2007
Lots of tropical fun with this one - the new art looks great and the level plays very well, though there's nothing overly innovative about it. Level design is well conceived, some areas are a little empty but I suppose you'd clear out too if a bunch of aliens came knocking at your door. Great fun to play, well worth the 1meg+ download!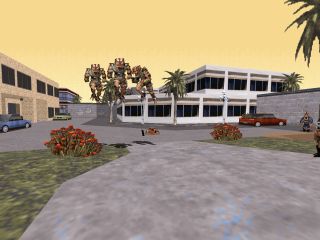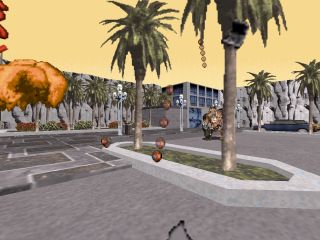 Gameplay Type: SP
Requires: Duke Nukem 3D v1.4+
Filesize: 1.34 MB
Level includes: new ART, new music

Download: Tropical Alien Massacre (504)
Other releases by Rob Wijkstra (HighWire): Death Valley, Driving Home For Christmas
Know of any other maps from this author? Let us know
Mapping template:


======================================================================

Title                 : Tropical Alien Massacre
Filename              : TAM
Author                : Rob Wijkstra (HighWire)
E-mail                : kickassy35[at]hotmail.com

Description           : Small city map located on a tropical island with many
                        new arts but normal duke gameplay.

Additional Credits To : Intershpere productions, the guys from the Penthouse 
			Paradise map. My map was very influenced by Penthouse 
			Paradise.

======================================================================

* Play Information *

Single Player          : Yes
DukeMatch 2-8 Player   : Yes
Cooperative 2-8 Player : Yes
Plutonium Pak Required : Yes
New Art                : Yes
New Music              : Yes
New Sound Effects      : No
New .CON Files         : No
Demos Replaced         : No

=====================================================================

* Construction *

Base                   : New level from scratch
Level Editor(s) Used   : BUILD
Construction Time      : Less than a week
Known Bugs/Problems    : There is a small glitch in the door at the aquarium
                         building. It is not a big problem but.. doh forget about it
:) 

			 I'm also sorry that i had to include tiles000.art and tiles004.art. But 
			 that was the only way of giving the map it's right rock texture and sky 
			 texture.
                         
=====================================================================

*Important Information*

Installation           : Extract this zip in your duke folder and use setup to play
CdF.map.

Important Notes        : Play City Terror!
                         HTTP://CITY-TERROR.TOTALCONVERSIONS.COM

=====================================================================

10-05-2003


							
Top of the page