Map Name:
Lem3
Author:
Enric Alvarez
Released:
10th March 1997
Rating:
92
Review by Kim Robinson on 1st August 2007
Lem3 centers on an enormous industrial complex with plenty of mind-numbing architectutre, spritework, strangely placed elevators and a bit of a native population. Gameplay is for the most part kick arse, although it's not always clear where you should go next - some of the puzzles are quite hard. It's a top-notch play though with brilliant design and ideas, and the final fight is one not to be missed.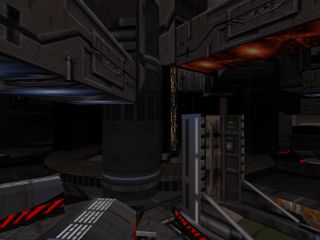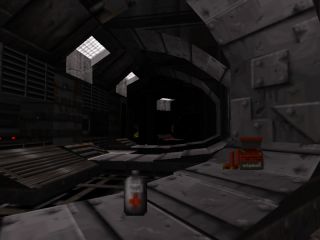 Gameplay Type: SP
Requires: Duke Nukem 3D v1.4+
Filesize: 531.65 KB
Level includes: new ART, new music, multiple difficulty settings

Download: Lem3 (315)
Other releases by Enric Alvarez: Lem, Lem2, Lem4, Vertigo
Know of any other maps from this author? Let us know
Mapping template:



			   ENGLISH

				WARNING!!!!!!

		   LEM3.ZIP WILL EXTRACT A FEW LEM3*.* FILES INTO YOUR 
		   DUKE3D DIRECTORY. BEFORE UNZIPPING AND PLAYING LEM III,
		   BACKUP ALL YOUR .CON AND .ART FILES. LEM III HAS ITS OWN 
		   TILES014.ART FILE, USER.CON AND A MID FILE FOR MUSIC. 
		   I HAVE RENAMED ALL THESE FILES WITH LEM3*.*. ONCE YOU HAVE 
		   UNZIPPED LEM3.ZIP DON'T USE THE DUKE SETUP FOR PLAYING, 
		   SIMPLY TYPE LEM3. THE LEM3.BAT FILE WILL RESTORE ALL YOUR 
		   ORIGINAL CON AND ART FILES AFTER PLAYING. IF YOU WANT TO 
		   USE THE TEXTURES INCLUDED IN LEM3.MAP, SIMPLY RENAME THE 
		   FILE LEM3.ART TO TILES014.ART. ONCE AGAIN -LIKE ON LEM II-
		   I HAVE INCLUDED A MID FILE STOLEN FROM HEXEN -I LOVE THIS
		   GAME-.I HOPE RAVEN SOFTWARE DON'T MIND.

TITLE                   :  L E M III THIS MAP IS ONLY FOR PLUTONIUM PAK
FILENAME                :  LEM3.MAP, I MID FILE, 1 *.ART FILE
			   1 *.CON FILE AND 1 *.BAT FILE
AUTHOR                  :  ENRIC ALVAREZ 
E-MAIL ADDRESS          :  lem[at]grn.es

MISC. AUTHOR INFO       : ADDRESS: PRESIDENT MACIA 65, 17230 PALAMOS -GIRONA- 
			  SPAIN 
			  PHONE NUMBER: 972 60-13-70 

DESCRIPTION             : OK, HERE'S THE SITUATION: DUKE NUKEM AND FRIENDS ARE
			  SLEEPING INTO CRYOGENIC CHAMBERS. SUDDENLY, THE
			  COMPUTER WICH CONTROLS THE BIOLOGICAL CONSTANTS OF
			  OUR FRIENDS DECIDE IT'S TIME TO DUKE GET SOME ACTION, 
			  BECAUSE SOMETHING IS WRONG AT THE BASE...DUKE, VERY 
			  DESORIENTED KICK SOME ALIEN ASSES AND REPEAT ONCE AND
			  ONCE AGAIN "DAMNNNN I NEED A COFFEE.." BUT THERE'S
			  NO TIME FOR COFFEES, A BIG DOOR STARTS TO OPEN AND
			  A FAMILIAR NOISES ANNOUNCE THE WAR.. DUKE IS NOT READY,
			  AND YOU..?



==================================================================

*  PLAY INFORMATION  *

EPISODE & LEVEL         :  LEM3.MAP REPLACES E1L1.MAP
SINGLE PLAYER           :  YES
DUKEMATCH LEVEL         :  NOP -sorry, maybe next time-
DIFFICULTY SETTINGS     :  YEEEEEEEEEEEES!!! IF YOU ARE A MAN ENOUGH, TRY 
			"COME GET SOME", THE REAL LEM III IS THERE, OTHER 
			SKILL LEVELS -EXCEPT THE IMPOSSIBLE "DAMN I'M GOOD"- 
			ARE FOR BOY-SCOUTS.


*  CONSTRUCTION  *

TIME OF CONSTRUCTION    :  I CAN'T REMEMBER.. 
BASE                    :  NEW LEVEL FROM SCRATCH
EDITOR USED             :  BUILD EDITOR THAT CAME WITH DUKE3D, WINTEX 4.2
			   FOR EXTRACTING TEXTURES AND SPRITES, PSP 3 FOR 
			   RETOUCHING THESE TEXTURES.
NEW GRAPHICS            :  YEEEEEEEES!!
NEW SOUNDS              :  NOP
NEW MUSIC               :  YEEEEEEEES!!
KNOWN BUGS?             :  OF COURSE NOT!!


			SORRY ABOUT MY POOR ENGLISH AND...
			SEE YOU SOON ON L E M IV !!!


SOME ADVICES            : SET THE GAMMA CORRECTION TO A MAXIMUM OF 2. I
			HAVE TRIED A FEW MONITORS PLAYING LEM3 AND IS NOT
			A GOOD IDEA SETTING GAMMA CORRECTION HIGHER THAN 2.
			
			: IF YOU LIKE SVGA, I HOPE YOU HAVE A NINJA PENTIUM
			FOR PLAYING LEM III. SORRY ABOUT THAT BUT I HAVE AN 
			EXTREME ATTENTION TO DETAIL AND THIS TIME LOOKS LIKE
			THE LEVEL DOESN'T RUN AT AN ACCEPTABLE FRAME RATE
			ON 486 CLASS MACHINES OR PENTIUM 66-75 -IN SVGA-  

			
	WELL, I THINK THIS IS THE BEST LEVEL FROM ME, OF COURSE I WILL DO
	IT BETTER NEXT TIME. SEE YOU SOON ON LEM IV!!

			CASTELLANO

			ATENCION!!!!
			LEM3.ZIP COPIARA UNOS CUANTOS ARCHIVOS EN
			TU DIRECTORIO DUKE3D. SON ARCHIVOS NECESARIOS
			PARA JUGAR. TODOS SE LLAMARAN LEM3*.* ASI QUE 
			LOS PODRAS BORRAR LIMPIAMENTE SI TE INTERESA
			-ESPERO QUE NO- NO USES EL SETUP DEL DUKE3D
			PARA JUGAR A LEM3, SIMPLEMENTE TECLEA LEM3 Y 
			YA ESTA. EL ARCHIVO LEM3.BAT SUSTITUIRA TUS ARCHIVOS
			USER.CON Y TILES014.ART -SI LO TIENES- TEMPORALMENTE,
			CUANDO TERMINES DE JUGAR TALES ARCHIVOS SERAN 
			RESTITUIDOS, PERO POR SI ACASO, ANTES DE HACER NADA
			HAZ COPIAS DE SEGURIDAD. SI USAS EL SETUP DEL DUKE 
			PARA JUGAR NI VERAS LAS MAS DE 100 TEXTURAS NUEVAS
			QUE HAY EN LEM3 NI OIRAS LA MUSICA ADECUADA, ASI 
			QUE NO LO OLVIDES.. SI QUISIERAS USAR LA TEXTURAS
			QUE VERAS EN LEM3, SIMPLEMENTE RENOMBRA EL ARCHIVO 
			LEM3.ART COMO TILES014.ART. 


TITULO                  :  L E M III ESTE MAPA ES SOLO PARA PLUTONIUM PAK.
ARCHIVO                 :  LEM3.MAP
AUTOR                   :  ENRIC ALVAREZ 
E-MAIL                  :  lem[at]grn.es SE AGRADECERA TU OPINION.

INF. DEL AUTOR          : DIRECCION: PRESIDENT MACIA 65, 17230 PALAMOS -GIRONA- 
			  ESPA"A 
			  TELEFONO: 972 60-13-70 
DESCRIPCION             : DUKE Y COMPA"IA DUERMEN UN PROFUNDO SUE"O CRIOGENICO.
			  LA HUMANIDAD DECIDIO HIBERNARLOS POR SI VOLVIA A 
			  HABER PROBLEMAS MAS ADELANTE. BIEN, POR LO VISTO
			  HAY PROBLEMAS Y EL ORDENADOR QUE CONTROLA LAS 
			  CONSTANTES VITALES DE DUKE DECIDE DESPERTARLE.
			  DUKE NO ESTA EN LAS MEJORES CONDICIONES Y ADEMAS 
			  SE DESPIERTA DE MUY MALA UVA PUES EN ESE MOMENTO
			  SO"ABA COSAS IRREPRODUCIBLES AQUI PERO DEL AGRADO
			  DE NUESTRO HEROE.. PERO ASI ESTAN LAS COSAS, TRAS 
			  PATEAR ALGUNOS CULOS ALIENIGENAS, UNA ENORME PUERTA
			  SE ABRE DESPACIO, Y DUKE PIENSA PARA SI: " JODER, 
			  OTRA VEZ" LO QUE NO SABE DUKE ES QUE ESTA VEZ SERA
			  DISTINTO...


==================================================================

*  INFORMACION DEL NIVEL  *

1 JUGADOR               :  SI
NIVEL DUKEMATCH         :  ESTA VEZ NO.
NIVELES DE DIFICULTAD   :  POR SUPUESTO. PRUEBA EL MAS DIFICIL, ES EL MEJOR, NO
			   EN VANO LEM III ESTA PENSADO ESPECIALMENTE PARA
			   JUGAR EN "COME GET SOME", EL RESTO DE NIVELES 
			   -EXCEPTO EL IMPOSIBLE "DAMN I'M GOOD"- ESTAN 
			   AHI PARA QUIENES NO SEAN MUY HABILES, PERO EL
			   VERDADERO LEM III SOLO LO VERAS SI JUEGAS AL 
			   TERCER NIVEL DE DIFICULTAD.


*  CONSTRUCCION  *

BASE                    :  UN POCO DE AQUI.., UN POCO DE ALLA..
EDITOR USADO            :  BUILD, WINTEX 4.2 Y PSP3 
ERRORES                 :  LA DUDA OFENDE...


ALGUNOS CONSEJOS        : ESTABLECE LA CORRECCION DE BRILLO -F11- EN UN 
			MAXIMO DE 2, Y MEJOR AUN SI LA DEJAS EN 1. PUEDE
			PARECER POCO PERO HE PROBADO LEM3 CON DIVERSOS 
			MONITORES Y ESA ES LA MEJOR OPCION. EL ASPECTO DEL
			NIVEL CON UNA CORRECCION DE 6 O 7 ES HORRIBLE. LEM3
			ES OSCURO POR DEFECTO. 

OTROS                   : LEM3 NO ES LA CONTINUACION DE LEM2 NI ESTE ERA LA 
			  CONTINUACION DE LEM.MAP, TODOS LLEVAN EL MISMO             
			  NOMBRE PORQUE DE ESE MODO ES FACIL RECONOCER MIS
			  NIVELES. LEM3 ES EL QUE MAS TRABAJO ME HA DADO DE 
			  TODOS Y, SI BIEN EN LEM2 HABIA UN ENORME ESFUERZO
			  POR DARLE AL NIVEL UNA AMBIENTACION PERFECTA, CREO
			  SINCERAMENTE QUE LEM3 ES SUPERIOR A LEM2 EN ESTE 
			  ASPECTO. SOLO UN DATO: LOS RECURSOS DE "BUILD" SE ME
			  AGOTARON HACIA EL FINAL DE LEM2, EN ESTA OCASION, 
			  CUANDO LLEVABA APROXIMADAMENTE LA MITAD DE LEM3 YA
			  TUVE QUE EMPEZAR A AHORRAR MUROS Y SECTORES PUES
			  VEIA CON CLARIDAD QUE DE NO HACERLO ME QUEDARIA 
			  SIN PODER TERMINAR EL NIVEL. Y SE QUE EN LEM4 VOLVERE
			  A TENER EL MISMO PROBLEMA, PERO NO PUEDO HACER MAS,
			  ME GUSTAN LOS NIVELES BIEN HECHOS, ATMOSFERICOS Y 
			  COHERENTES. ESPERO SINCERAMENTE QUE TE GUSTE LEM3.
		     

		       ­­­ NOS VEMOS EN L E M IV !!!


							
Top of the page