Map Name:
Lem
Author:
Enric Alvarez
Released:
25th September 1996
Rating:
85
Review by Kim Robinson on 1st August 2007
A reasonably old but nonetheless fun level with action aplenty and pretty good gameplay to boot, it's one of those levels where you see the author's skills developing as the level wears on, but rest assured this doesn't detract from its merit. Puzzles aren't too difficult and there's nothing overly special on offer, just a solid play. Check it out.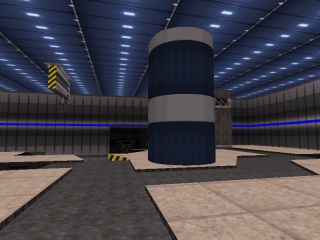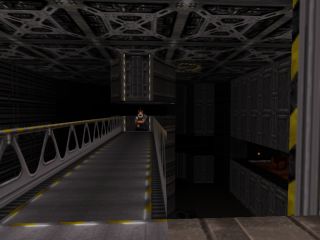 Gameplay Type: SP
Requires: Duke Nukem 3D v1.4+
Filesize: 101.60 KB

Download: Lem (290)
Other releases by Enric Alvarez: Lem2, Lem3, Lem4, Vertigo
Know of any other maps from this author? Let us know
Mapping template:



                           ENGLISH

TITLE                   :  L E M
FILENAME                :  LEM.MAP
AUTHOR                  :  ENRIC ALVAREZ 
E-MAIL ADDRESS          :  lem[at]grn.es

MISC. AUTHOR INFO       : ADDRESS: PRESIDENT MACIA 65, 17230 PALAMOS -GIRONA- 
			  SPAIN 
			  PHONE NUMBER: 972 60-13-70 

DESCRIPTION             : "SHIT!! WHERE'S THE BLOODY KEY??" WELL, THIS LEVEL      
			  IS QUITE DIFFICULT. IF YOU ARE A BEGGINER, BE 
			  PATIENCE AND TAKE IT EASY. PLEASE, DO NOT USE 
			  "BUILD" TO KNOW WHERE ARE KEYS, BAD GUYS AND SECRET 
                          ROOMS, FIRST PLAY THE LEVEL, TRY TO FIND THE THREE 
			  KEYS AND KILL THE FINAL BIG AND UGLY BOSS, THERE 
			  ARE LOTS OF SURPRISES... 
			  THIS IS MY FIRST LEVEL, I'LL APPRECIATE CONSTRUCTIVE 
                          CRITICISM.IT WAS HARD FOR ME BUILDING THE LEVEL, I DID
                          ALL THE WORK WITH A 486/66 WITH 8 Mb RAM, YOU KNOW WHAT 
                          I MEAN.. I PROMISE TO DO IT BETTER NEXT TIME.
			  IF YOU LIKE LEM.MAP, SEND ME A MESSAGE, AND IF YOU DON'T
			  LIKE IT, GO TO HELL!!!	   

ADDITIONAL CREDITS      :  ALL THOSE PEOPLE WHO TESTED THE LEVEL AND THE
                        PEOPLE OF 3D REALMS: DUKE3D IS A GREAT GAME, BUT
                        "BUILD" IS MUCH BETTER!!!
			  
==================================================================

*  PLAY INFORMATION  *

EPISODE & LEVEL         :
SINGLE PLAYER           :  YES
DUKEMATCH LEVEL         :  YES
DIFFICULTY SETTINGS     :  NOT IMPLEMENTED

*  CONSTRUCTION  *

BASE                    :  NEW LEVEL FROM SCRATCH
EDITOR USED             :  BUILD EDITOR THAT CAME WITH DUKE3D
KNOWN BUGS              :  IT'S MY FIRST ONE SO THERE'S PROBABLY PLENTY.


                        SORRY ABOUT MY POOR ENGLISH AND...
                        SEE YOU SOON IN L E M 2 !!!


                        CASTELLANO

TITULO                  :  L E M
ARCHIVO                 :  LEM.MAP
AUTOR                   :  ENRIC ALVAREZ 
E-MAIL                  :  lem[at]grn.es

INF. DEL AUTOR          : DIRECCION: PRESIDENT MACIA 65, 17230 PALAMOS -GIRONA- 
                          ESPA"A 
                          TELEFONO: 972 60-13-70 

DESCRIPCION             : CASI ES UN CONTRASENTIDO INTENTAR DESCRIBIR CUALQUIER
                        NIVEL EN UN JUEGO COMO DUKE 3D, PUES DE LO QUE SE SUELE
                        TRATAR ES DE DISPARAR PRIMERO Y PENSAR DESPUES.. SIN
                        EMBARGO HE INTENTADO QUE LEM.MAP FUERA ALGO MAS DIFICIL.
                        DEBES ENCONTRAR 3 LLAVES Y APLASTAR A TODO BICHO QUE
                        INTENTE IMPEDIRTELO O SIMPLEMENTE NO TE MIRE BIEN, INCLUIDO
                        EL JEFE FINAL, ­SIN DUDA UNA BELLEZA DE PASARELA!
                        INSISTO, EL NIVEL NO ES FACIL. SI HACES TRAMPAS IRAS AL
                        INFIERNO Y ALLI TE AJUSTARE LAS CUENTAS, ASI QUE NO USES
                        TRUCOS CON LEM.MAP O TE PERDERAS ALGUNAS SORPRESAS. TAMBIEN
                        HAY MAS DE UN GUI"O A MIS JUEGOS 3D FAVORITOS, SI ALGUN
                        ESCENARIO TE TRAE A LA MENTE IMAGENES DE DOOM, DESCENT
                        O AIRES DE HEXEN ES POSIBLE QUE NO SEA CASUALIDAD. EN
                        CUALQUIER CASO HE INTENTADO SER ORIGINAL EN LA CONCEPCION Y
                        CORRECTO EN LA REALIZACION, TEN EN CUENTA QUE LEM.MAP ES
                        MI PRIMER NIVEL Y QUE APRENDI A USAR "BUILD" AL MISMO TIEMPO
                        QUE REALIZABA EL MAPA.YA PARA TERMINAR DEJAME DARTE UN PAR
                        DE CONSEJILLOS:

                                * ­NO DESESPERES! LEM ES MUY GRANDE ADEMAS DE
DIFICIL.
                                SI TE QUEDAS ENCALLADO, REVISA LOS LUGARES POR LOS
                                QUE PASASTE, TAL VEZ ENCUENTRES ALGUNA PISTA.

                                * VIGILA TU TRASERO CON FRECUENCIA, NUNCA SE SABE...


AGRADECIMIENTOS        : QUE PRETENCIOSO SUENA "AGRADECIMIENTOS", EN FIN,
                        MI AGRADECIMIENTO A MIS COLEGAS BETA-TESTERS, QUE
                        NO SOLO HICIERON VALIOSAS SUGERENCIAS SINO QUE TAMBIEN
                        DETECTARON NUMEROSOS Y DRAMATICOS ERRORES QUE
                        INTENTE CORREGIR COMO BUENAMENTE PUDE -ALGUNO QUEDA-
                        Y LE ESTOY INFINITAMENTE AGRADECIDO A MI YA VETUSTO
                        486/66 POR LOS BUENOS RATOS PASADOS ESPECIALMENTE
                        CON "BUILD", A PESAR DE LOS PESARES, AUN ME QUEDA 486
                        PARA RATO, GRACIAS MACHO.

			  
==================================================================

*  INFORMACION DEL NIVEL  *

1 JUGADOR               :  SI
NIVEL DUKEMATCH         :  SI
NIVELES DE DIFICULTAD   :  NO LE HACEN FALTA, ES LA HOST.. DE DIFICIL.

*  CONSTRUCCION  *

BASE                    :  UN POCO DE AQUI.., UN POCO DE ALLA..
EDITOR USADO            :  "BUILD", LA REOCA INTERESTELAR -PRUEBALO-
ERRORES                 :  HABERLOS HAYLOS, PERO EN NINGUN CASO SON
                           DRAMATICOS, DE CARCAJADA O QUE COMPROMETAN
                           EL DESARROLLO DEL JUEGO.


OTROS                   :  HAZ LO QUE TE APETEZCA CON LEM.MAP, PERO SI
                           LO MODIFICAS O LO USAS DE BASE PARA OTRO NIVEL,
                           POR FAVOR, HAZMELO SABER, Y SI TE HACES RICO CON
                           EL, ­MANDAME UNA POSTAL DESDE CANCUN!
                   

                       ­­­ NOS VEMOS EN L E M 2 !!!


							
Top of the page