Map Name:
KaiseR Land 03
Author:
KaiseR
Released:
8th May 2006
Rating:
98
Review by Fernando Márquez on 4th August 2007
The highly-anticipated sequel to KaiseR Land 02 takes place (unlike its predecessors) in an medieval environment, a theme which has not been stumbled upon too many times, surrounded by lovely decorations and the typical alien vermin afoot.
Once loaded, players may fall astonished to see the level design is of ultimate quality (you'll love it!) and gameplay of high difficulty (be patient and explore a bit!).
One of the major highlights of KaiseR Land 03 is the abundancy of user art (with shared input of resident duker Numan) which looks gorgeous either in Classic or Polymost videos renderings.
A truly amusing level, definately to be downloaded. NB - don't let the massive download size discourage you.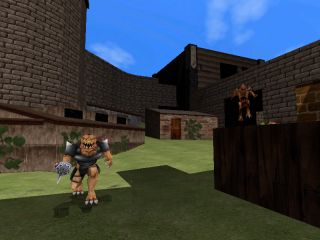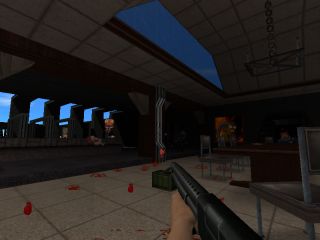 Gameplay Type: SP
Requires: Duke Nukem 3D v1.4+
Filesize: 12.67 MB
Level includes: new ART, multiple difficulty settings

Download: KaiseR Land 03 (1201)
Other releases by KaiseR: Asylum K, KaiseR Land 01, KaiseR Land 02, Lost Island, Psyche, Strange World, The Devils House, The Dome
Know of any other maps from this author? Let us know
Mapping template:



======================================================================
Title                 : KaiseR Land 03 : Time to get medievil !
Filename              : ksr_03.map
Date		      : 8th May 2006
Author                : KaiseR
E-mail                : ksr[at]cegetel.net
Web Page              : 
Misc. Author Info     : French (No it's not a disease !)...
Other Levels          : KaiseR Land 01 and KaiseR Land 02. Some other
			minor stuff

Description           : C'mon, who needs a description ? It's Duke !!!
			Shoot'em, blast'em, freeze'em, stomp'em, burn'em,
			or ass rape'em...
			You just passed the big wooden door in KaiseR
			Land 02.
			"I'm gonna get medieval on your asses" grunted
			Duke...
                          
======================================================================

* Play Information *

Episode and Level #    : User map
Single Player          : Yeah, baby, that's what it's done for
DukeMatch 2-8 Player   : I tested it only with bots. You better have
			 a powerful PC if playing with monsters. Anyway
			 I enabled multiplay only for the sake of it and
			 because it was not much work.
Cooperative 2-8 Player : Implemented but not tested
Difficulty Settings    : You bet
Plutonium Pak Required : That's a minimum, man
New Art                : Hell, yes
New Music              : No
New Sound Effects      : No
New .CON Files         : No
Demos Replaced         : No

=====================================================================

* Construction *

Base                   : New level from scratch
Level Editor(s) Used   : Mapster32
Art Editor(s) Used     : Bastart and Photoshop
Construction Time      : One year. Would have been muuuuuch faster,
			 but I had a very very busy year.
Known Bugs/Problems    : None, AFAIK... BUT : this is specifically
			 designed to be run in polymost32. If it's
			 ugly in 8bit classic, I don't even want to
			 know about it. It may run slow on low end
			 machines, I don't know. In that case play
			 without highres, but still in polymost 32.

* Where to get this MAP file (and others from me) *

File location          : http://www.bur.st/~duke3d (when DNR is back)
			 http://www.planetduke.com/msdn
			 http://www.dukespana.com

=====================================================================

Thanks to Numan and Geoffrey for beta testing, thanks to Numan for providing
a part of the new art (tiles020.art actually) and thanks to everybody else
for whatever they want, duh :)
							
Top of the page