Map Name:
Traffic Jam
Author:
Olivier Boucher
Released:
3rd February 2000
Rating:
90
Review by Kim Robinson on 17th September 2007
Set in and around a multiple story parking lot, Traffic Jam is one of those must-have levels. Everything is balanced well - enemies, ammo and goodies, and puzzles are straightforward. It pinched some level design ideas from LameDuke but don't let that put you off, gameplay is solid and there's lots of pretty splosions to keep you entertained. Features new art!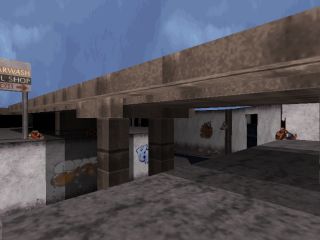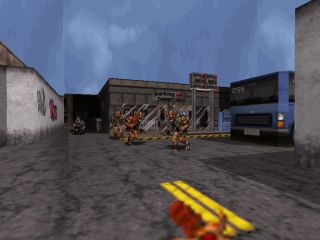 Gameplay Type: SP
Requires: Duke Nukem 3D v1.3d
Filesize: 181.83 KB
Level includes: new ART, multiple difficulty settings

Download: Traffic Jam (636)
Other releases by Olivier Boucher: The Slums of L.A.
Know of any other maps from this author? Let us know
Mapping template:


Duke Nukem 3D .MAP Authoring Template v1.0
================================================================
Title                   : Trafic Jam
Filename                : trafic.map
Author                  : Olivier Boucher, AKA Qcdn3d
Email Address           : olivierb[at]sprint.ca
Misc. Author Info       : 16,and I likes all games named 
			  duke nukem!

Description             : You don't need any, just play it ! All I can say is that if
you like cars                           and city maps, then you'll LOVE this map :)
Additional Credits to   : Captain IGLOO, for updating this map : less new tiles (
otherwise the file                           would have been bigger :p ), Skill 3,
and some tiles adjustments
================================================================

* Play Information *

Episode and Level #     : No
Single Player           : Yes
DukeMatch Level         : No
Difficulty Settings     : /S2 and /S3 ( play Skill 3 ! )

* Construction *

Base                    : New level from scratch
Editor(s) used          : Build
Known Bugs              : None

* Where to get this MAP file * 

At the Bug Team's Dukepage : http://www.multimania.com/duke3d
The best duke3d site ever made ! Check it out !


Other: This map should have been part of my add-on "Duke Nukem Strikes Again" ! But
I've decided not        to put it in... This add-on will feature cool maps like
Trafic Jam and The Slums of L.A.,        another map I made which can be also found
at the Bug Team's Dukepage !
       The "Duke Nukem Strikes Again" website : http://www.dukeworld.com/dnsa

							
Top of the page