Map Name:
Supa2: Mission Possible
Author:
Cedric Haegeman (Sang)
Released:
8th August 2002
Rating:
69
Review by Kim Robinson on 3rd August 2007
The 'sequel' to Supa but not following any real continuity pattern, Supa 2 is the same, mindless stuff - which is great. This time around there's fewer texture errors and some effort has been spent on lighting, although there's no real ambience to the level, and this is one of the areas it falls short. No real puzzles, just run through, grab a key or two and find the nuke button.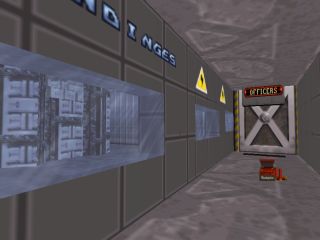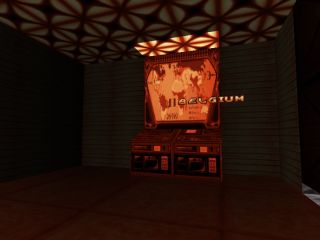 Gameplay Type: SP
Requires: Duke Nukem 3D v1.4+
Filesize: 13.48 KB

Download: Supa2: Mission Possible (296)
Other releases by Cedric Haegeman (Sang): Battlefield 3, Outpost X, Project Whatever, Supa
Know of any other maps from this author? Let us know
Mapping template:



======================================================================
Title                 : Supa2: Mission Possible
Filename              : supa2.map
Author                : Cedric Haegeman
E-mail                : forget cedric.haegeman[at]wol.be because its now
cedric.haegeman[at]skynet.be
Web Page              : http://users.skynet.be/fa310167
Misc. Author Info     : Belgian 10 years old (11 in November) 
Other Levels          : supa.map

Description           : After exploring the f*cking museum "supa", Duke gets his fat
pence in a 
                        new adventure. The aliens screwed up the "road" to Alien
Dorado (Brussels)
                        so you need to take another way trough a base of The supanian
assholes:).
                        they placed a teleporter to Belgium (well good because you
need to be
                        there) and they placed a teleporter to a building called
"Hotel". So ya
                        will need to blast the aliens off and wimp out the building
so ya can
                        get your ass to supa3.
                  

Additional Credits To : The brothers v.Oostrum for fixing the earthquake.
                        All the beta testers: 
                        V.Oostrum brothers (no reply)
                        Alejandro Glavic
                        Kevin Cools
                        Eduard van Nieuwenhuyzen
                        Mikko Sandt
                        Pascal Rouaud
                        Sangluss (woops thats me)

======================================================================

* Play Information *

Episode and Level #    : User map
Single Player          : Yes
DukeMatch 2-8 Player   : No
Cooperative 2-8 Player : No
Difficulty Settings    : No
Plutonium Pak Required : Yes
New Art                : No
New Music              : No (my midi doesn't works anymore)
New Sound Effects      : No
New .CON Files         : No
Demos Replaced         : No

=====================================================================

* Construction *

Base                   : Level raised out of graveyard
Level Editor(s) Used   : BUILD
Art Editor(s) Used     : none
Construction Time      : 1 month (no 2 months but I didn't build 2 months on it)
Known Bugs/Problems    : the swining door in the hotel (the ceiling of it) doesn't
looks well.

* Where to get this MAP file *

File location          : AMC (http://amc.ttnetwk.com)
                        MSDN (http://www.planetduke.com/msdn)
                         DSS (http://users.skynet.be/fa310167)

*********************************DA
END**********************************************************
At least for now ;).



							
Top of the page