Map Name:
Ruin
Author:
Stranger
Released:
7th April 1998
Rating:
94
Review by Kim Robinson on 6th March 2008
Ruin takes place in a ravaged city guarded by a whole lot of sentry drones - looks like somebody left the gate open. Layout and design is pretty damn good - plenty of dark spots and eery shadows, though gameplay suffers a bit from the single-naturedness of the puzzle. Find 3 cards, plug them into adjacent access slots and blow up the exit. Still a barrel of fun, though!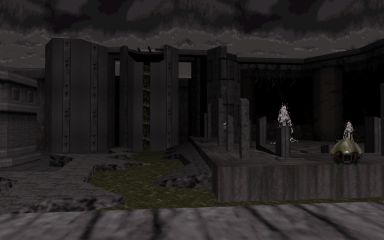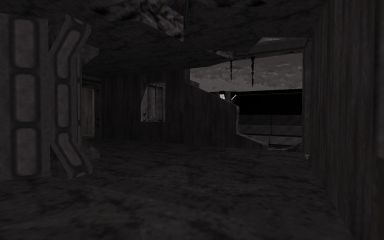 Gameplay Type: SP
Requires: Duke Nukem 3D v1.4+
Filesize: 71.19 KB
Level includes: multiple difficulty settings

Download: Ruin (286)
Other releases by Stranger: Agony, Daemonus, Pain, Powerstation 64, The Starlite Project
Know of any other maps from this author? Let us know
Mapping template:


====================================================
Title                   : Ruin
Filename                : RUIN.MAP
Author			: Stranger
Email address           : peterl[at]nucleus.com
Web Page		: http://www.freeyellow.com/members2/wz/
Misc. Author info       : Nihilist

Description             : Single player is challenging, as you are very
                          limited for equipment and you are constantly
                          hunted by sentry drones. Your goal is to escape the
                          ruined cityscape by blasting open a barricade at
                          the east side of the city. Surviving long enough to
                          get there is difficult, and I recommend you rely on
                          sneaking around instead of rushing into battle.

                          Dukematch design allows the player to stay in
                          different areas (example, the lower streets) without
                          running out of equipment. This allows people to
                          pick whatever play style they want, but emphasis is
                          on sniper attacks and ambushes.

Additional credits to   : No one
=====================================================

* Play information *

Episode and level#      : Default
Single player           : Yes
Dukematch level		: Yes
Co-op play              : Yes
Difficulty settings     : Yes

* Construction *

Base			: New level from scratch
Editor used		: BUILD v. 1.4
Time to build           : Approx. one month
Known bugs              : None

* Copyrights/Permissions *

Distribute this map freely, provided this text file is included. Do not edit
this map or text file in any way.


							
Top of the page