Map Name:
Mars! Attacks MegaCity
Author:
Arturo Martinez (MapLord)
Released:
28th September 1997
Rating:
81
Review by Kim Robinson on 12th August 2007
The first in the Mars! series from MapLord, this one really went to show how far the author had came by the time Mars!4 rolled around. It's your basic city level, pretty much standard apart from the fact that it's situated on Mars. As is the case with most newb city maps, the author tries to pack as many ammenities and 'city features' in as possible. Most of the time this is a bad idea but MapLord seems to pull it off alright in this level. There's no real strategy, no puzzles of any kind - just get in there, kill all the bad guys and find the nuke button. Glorious, mindless fun!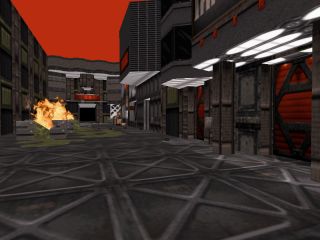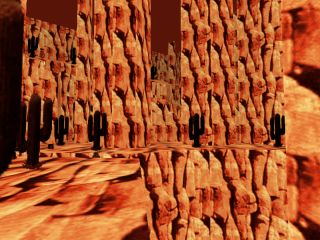 Gameplay Type: SP
Requires: Duke Nukem 3D v1.3d
Filesize: 67.40 KB

Download: Mars! Attacks MegaCity (475)
Other releases by Arturo Martinez (MapLord): Mars!2, Mars!4, MegaCity 2000, Return to MegaCity
Know of any other maps from this author? Let us know
Mapping template:


===========================================================================
* Mars! attacks MegaCity -=-=-=-=-=-=-=-=-=-=-=-=-=-=-=-=-=-=-=-=-=-=-=-=-=
===========================================================================


Title                 : Mars! attacks MegaCity
Author                : A.M. MapLord

Files                 : * mars!.map
                        * mars!.txt
                        * mars!.bat

E.mail                : gines[at]ergos.es
Web Page              : http://www.ergos.es/usuarios/gines

Description           : One-player level ambiented in a city of Mars.
                        It has a LOT of sprites and sectors, so
                        I recommend PENTIUM if 'u really want to
                        enjoy Mars!
                        
 

Credits               : NoBody

Thanks to             : NoBody
                                
Other MapLord's works : Mars!2
                        MegaCity
                        The Dark Temple
        

===========================================================================

<*> Game Information <*>

Episode and level     : E1L1
One player            : Yes
DukeMatch Level       : No
Dificulty settings    : No
New tiles             : No
New music             : No
New sounds            : No


* Construction *

Base level            : New Level
Editor(s) used        : Build 1.2
Known Bugs            : None, please comment to 
Used time             : 'bout two weeks

* How to get this level *

Internet: http://www.ergos.es/usuarios/gines

FTP Sites: ftp.cdrom.com/pub/duke3d

BBS Numbers: None

Electronic Mail: gines[at]ergos.es

===========================================================================
=-=-=-=-=-=-=-=-=-=-=-=-=-=-=-=-=-=-=-=-=-=-=-=-=-=-=-=-=-=-=-=-=-=-=-=-=-=
===========================================================================


Titulo                : Mars! attacks MegaCity
Autor                 : A.M. MapLord

Ficheros              : * mars!.map
                        * mars!.txt
                        * mars!.bat

E.mail                : gines[at]ergos.es
P gina Web            : http://www.ergos.es/usuarios/gines

Descripci¢n           : Nivel de un jugador ambientado en una ciudad
                        marciana. He puesto muchisimas cosas, por lo que
                        recomiendo, o se requiere, por lo menos, un
                        Pentium.
 

Creditos para         : Nadie

Gracias a             : Nadie
                                
Otros trabajos del    : Mars!2
autor                   MegaCity
                        The Dark Temple

===========================================================================

<*> Informacion del juego <*>

Episodio y nivel      : E1L1
Un unico jugador      : Si
Nivel Dukematch       : No
Dificultad a¤adida    : No
Nuevos graficos       : No
Nueva musica                : No
Nuevos sonidos              : No


* Construccion *

Nivel base            : Nuevo nivel
Editor(es) usados     : Build 1.2
Errores conocidos     : Ninguno, por favor, comentalos en 
Tiempo usado          : Sobre dos semanas

* Como conseguir este nivel  *

Internet: http://www.ergos.es/usuarios/gines

Sitios FTP: ftp.cdrom.com/pub/duke3d

Numeros BBS: Ninguno

Correo electronico: gines[at]ergos.es

======================================================>
ENJOY!
======================================================>

---------------------- COPYRIGHT -----------------------------------------
You can't use this level for a base level, and you can't separate de map
and the text file, you must always include my name, you can't edit this
level. Fuck off all the level pirates
------------------
No puedes usar este nivel como base, ni puedes separar el mapa del texto
y siempre tienes que incluir mi nombre. No puedes editar este nivel
Que se jodan todos los copiadores de niveles
------------------



							
Top of the page