Map Name:
Escape from San Angelos - Level 4
Author:
Chaos
Released:
4th January 1999
Rating:
93
Review by Kim Robinson on 31st July 2007
A great map simply bursting with clever design and layout - it would have scored far higher if the puzzles weren't so damn difficult. Expect lots of tiny, hard to find buttons, more than reasonable gameplay, plenty of explosions, traps and enemies - it's more intensive than a frontal lobotomy operation. Nevertheless, it's a great play if you manage to work it out. Cheers to Stef for submitting this one.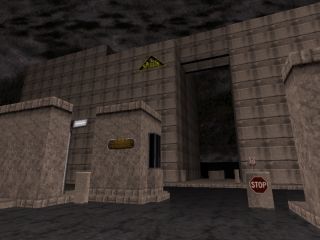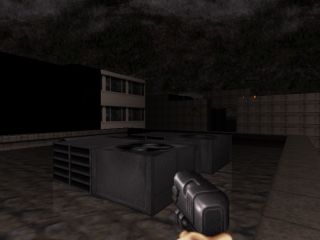 Gameplay Type: SP
Requires: Duke Nukem 3D v1.4+
Filesize: 94.16 KB

Download: Escape from San Angelos - Level 4 (433)
Other releases by Chaos: Escape from San Angelos - Level 5 (or Paranoid)
Know of any other maps from this author? Let us know
Mapping template:


title: ( episode ) escape from san - angelos
filename: escape1/2/3/4.map                                                          
                                                                      
author: chaos ( known in the real world as gregory douglas lemieux )
author info: artist, writer, self-taught computer user. fan of cult films, industrial
music,
                 h. r. giger.
description: four-level mini-episode.
                  THE STORY: unknown to most, the aliens have a secondary reason for
                  being here; our transporter technology. our system ( fixed
point-to-point ),
                  is closing the gap with their system ( variable point-to-point ).
and they
                  don't like it. earth defense forces, in cooperation with
transdynamics,
                  was working on an advanced prototype, continuous sustained
transmission
                  system ( the current process being known as single burst
transmission ),
                  and had succeeded, just prior to the alien invasion. they were
operating
                  under the guise of 3drealms, out of one of their old facilities.
                  THE MISSIONS: level one -- recon of EDF office complex. level two
--
                  uptown. level three -- downtown. search for transporter to alien
home world.
                  level four -- liberate the EDF facility, before the aliens can
establish 
                  a permanent presence. intelligence reports only a small advance
team,
                  so alien resistance should be minimal. however, the facility itself
has a
                  number of built in defenses on-line, which you will have to deal
with on
                  your own. you will be traveling light, with an issue sidearm, and
shotgun.
                  good luck, and remember: intelligence reports should be taken with
a
                  grain of salt.
                  THESE LEVELS ARE NEITHER MADE , NOR SUPPORTED BY, 3DREALMS.
                  for more information, see comments below.

credits: 3d realms, for the game, and the excellent build editor

episode/level# : e5-l1 thru 4
single player: yes
multi-play: yes ( 2 players )
dukematch: yes and no ( escape3, 6 players / escape4, 4 players ) 
difficulty: not set

base: new
editor: build ( atomic edition v.1.5 )
bugs: none
available at: write me at: 4853 dippen rd. w-s, n.c. 27105  message: ( 910 )
767.4857

permissions: these levels may be distributed by any means, as long as they are
accompanied
                    by this readme file. they may NOT be used, in whole or in part,
as the basis
                    for other levels. ( if you're that lazy, why bother? )

comments:  due to the lack of difficulty setting, health and ammo are limited.
                  these levels were done on a nv/hl 1000 ( my own brand ) p133, with
24mb
                  system memory, 512kb pipeline burst cache, and a 2mb diamond
                  3d card, using the atomic edition v1.5. frame rates average out at
                  about 20 to 25, dipping down to 15 in some spots. this is at
                  640x480 svga. 340x240 runs roughly 40 to 50 or better. on my
                  machine. individual results may vary, especially on a 486.
                  if you have less than a dx4/100 and 16 mb, you may be wasting  
                  your time.
                  at first, i had intended to do a six-part episode, but have left
off at
                  four in favor of stand-alone levels, although there will probably
be some
                  sort of tie-in. while i plan to continue doing duke levels, my next
effort
                  will probably be done for either blood, or shadow warrior. i
should
                  have something else out by years end.
                  HINTS: if you've read this far, you deserve something --
                  don't waste your explosives. use tactics. there are plenty of
corners
                  and such to use for cover. some buttons are hard to find, so
examine
                  everything. and remember: things are not always what they seem.    
             under the guise of 3drealms, out of one of their old f
							
Top of the page