Map Name:
Beerzity
Author:
Numan (Beerz)
Released:
6th August 2005
Rating:
95
Review by Fernando Márquez on 17th September 2007
For the first time ever, a WGRealms TC map has been bunged on the server, which belongs to none other than Beerz! Quite a huge improvement we can appreciate on this masterpiece. Everything seems to be quite near perfection (plus custom art is bundled as a highlight for the level) - except maybe it's too big and rushed Dukers may not be glad to complete it. Still, anybody who wants a true challenge and have some good time may want to check this out!

Review by Kim Robinson on 27th March 2008
An absolutely bloody enormous level from none other than DNR resident Numan, to work with WGRealms (so you'll need this to play). The vastness of this open plan city level allows you to explore to your heart's content, which is exactly the kind of thing a lot of Duke levels lack. You've still got to find and hit switches, use keys and generally avoid getting killed, so that much in essence is quite usual, but the level offers many possibilities and areas can generally be explored in any order.
The architecture is wonderfully imposing and the custom WGRealms art has been suited to the city theme quite well, not mentioning the extra art which Numan has supplied in this map. I cracked a smile or two in the mall area when I noticed the names of a few business, along with the art to match, and there's oodles of secret areas and hidden (and cryptic) messages to keep things interesting.
Ammo isn't scarce, so to speak, but you're generally never given more than you need. If you suddenly come across a large stash of firearms be very wary, as a barrage of freshly spawned lizard troopers or something are sure to be headed your way. Running around is generally the best option - never stand in the same place for too long or something is bound to "have at you!"
If long, expansive maps aren't your thing, avoid this one. However if you're up for a challenge and enjoy being forced to hit the save key now and then, give it a go - now!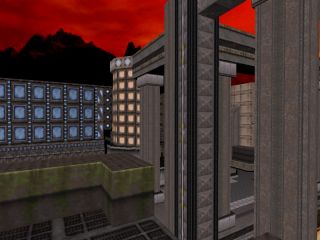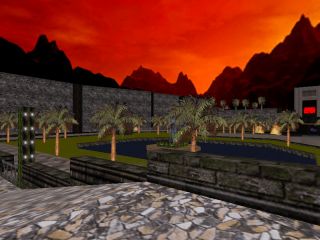 Gameplay Type: SP
Requires: Duke Nukem 3D v1.4+ and JonoF/EDuke32
Filesize: 3.37 MB
Level includes: new ART, new music, new sounds

Download: Beerzity (509)
Other releases by Numan (Beerz): Annoyin 1, Annoyin2
Know of any other maps from this author? Let us know
Mapping template:





=====================================================================================
=====

Title			: BEERZITY
Filename			: BEERZITY.map
Author			: BEERZ/NUMAN
Web Page		: www.BeerzArt.nl
			  (Did you get the name now? Don't forget it... ;)

Misc. Author Info		: Started mapping in 2002 when I was 40! (Old dog... ;)
                                      	  This is my third released map, the best I've
done so far...
                                                        
Other Levels		: Annoyin' 1 (practice) Annoyin' 2 (better)

Description		: A city map for WGRealms.

Story			: The aliens have taken over... blablabla...
			  make up your own story, it's just a citymap and I'm not a storyteller... ;)

Hints and tips		:  Make sure you explore everything, walk slowly around the
buildings,
			   you never know what to expect and you might wake some bad creatures up...
			   Even in the water you aren't save...
			   Search for the viewscreens, save often and be carefull out there!

Special thanks to      		:  William Gee for all his helpfull, friendly advice and
inspiration, 
			   Geoffrey for the BeerzDuke painting & Al Numan ;) 
			   Mad Skillz! :D and for all his advice,
			   KaiseR for the wonderful skybox, for fixing the broken mirror
			   and for the help with the annoying recon pig cops who didn't obey me at
first...
			   Maartn & MrLine for the usefull tips which made the map better,
			   but you shouldn't climb over the wall you Maartn punk! :D   

Additional Credits		:  DaVince, Fernando Márquez, Kim Robinson, Mikko Sandt.  
                                       	   And all the other active members from DNR
and AMC for their inspiration...

Beta testers		:  Testing Commander Willy Gee, Geoffrey, Maartn, MrLine, KaiseR,
DaVince.

Release date		:  The 6th of august 2005. (Willy Gee's birthday) :) Congratz mate! ;)



=====================================================================================
=====

* Play Information *

Episode and Level		: User Level for WGRealms
Single Player		: Yes 
DukeMatch 2-8 Player	: No
Cooperative 2-8 Player 	: Now what the hell is that? 
Difficulty Settings		: Not implemented, "Let's Rock" will do fine!
New Art 			: Yes
New Music		: Yes; Creature Shock - W4K. (midi) 
			  MegaDeth - Duke theme. (VOC) 
New Sound Effects		: Yes
Best playing time		: In the evening or at night with the sound very loud,
			  close the curtains and don't be disturbed!
                    
=====================================================================================
=====

* Construction *

Base			:  WGR userlevel from scratch
Level Editors Used		:  BUILD  
Art Editors Used		:  DukeRes
Construction Time		:  From april till august 2005...
Known Bugs/Problems	:  Bugs are already deleted, the mirror was broken but the
problem is solved. ;)
Sectors			:  2425
Walls			:  16380
Sprites			:  3180
Enemies			:  375
Explosions		:  700
Rats			:  180
Bottles			:  150
New Art			:  WGR, Numan, Geoffrey "Mad Skillz"!
Size			:  743 kb.  


* Where to get this MAP file *
File location		:  http://geocities.com/wgrealms
			   http://www.bur.st/~duke3d
			   http://www.planetduke.com/msdn
                                                       
http://Groups.msn.com/DukeAtomic 



=====================================================================================
=====



*Important Information*

Installation		: Make sure you have the latest Jonofport installed because this map
has 
                                                       increased the old building
limits, you can play this usermap only in combination
                                                       with WGRealms from William
Gee. If you don't have that one, download it first, 
                                                       then unzip all files and put
it in your Duke Atomic folder.
			  http://geocities.com/wgrealms/
			  http://bur.st/~duke3d/episode.shtml

SkyBox			:  Copy from here and paste the JPG. textlines to the Duke3D DEF. file,
			   then make a textures folder, put the JPG's pictures in it
			   and add this all to your Duke3D WGR folder:



            defineskybox 199 2 0 "textures/199_2-front.jpg"
"textures/199_2-right.jpg" "textures/199_2-back.jpg"            
"textures/199_2-left.jpg" "textures/199_2-top.jpg" "textures/199_2-bottom.jpg"


                      

Important Notes		:  This user map is build for polymost 32 bit with skybox  
			   and can also be played in classic mode (8 bit) but some places could be too
dark. 
			   It's been made compatible with the new High Resolution Pack,
			   I made the cracks in the walls more clear so you won't get stuck... ;) 
			   

Copyright			: 3DRealms, WGRealms, Jonof's port, Numan/Beerz-WBRealms ;) 2005. 
                                                       

                                                           
			       NEVER TOO OLD TO PLAY & BUILD DUKE!   :)

			       BE CAREFUL OUT THERE!

			       END OF LINE.........



=====================================================================================
=====





















































Don't read this, it isn't original and very dull... :S













































Still reading? I stole this text idea from other mappers
but I didn't stole any parts of their maps... :)








































Done! Now play for Chrissake! :D



 
							
Top of the page