Map Name:
Another Timeless Night
Author:
Alejandro Glavic
Released:
5th May 2006
Rating:
91
Review by Forge on 2nd June 2009
Duke was taking the subway home when the aliens decide to attack the station while he was waiting for his connecting train.
A well put together and solidly designed map. Well detailed and shaded and with the right choice of texturing to set a nice rail station ambiance. Some nice architecture and sprite work to emphasize the atmosphere such as in the wall pillars, the trains, overhead covers, and more.
Game play starts out slow, definitely feeling alone in the empty station, then when you least expect it the walls are exploding and the aliens are emerging from hidden nooks and crannies. The combat dramatically escalates with the appearance of some very powerful aliens and the rest of the game, until the exit is reached, is an exchange of heavy fire power. There's loads of ammunition and health, and even though it's fairly easy to gain tactical advantage, you'll need every bit of it.
Texturing/Lighting-Shading: 9/10 Sprite Work/Detailing:8/10 Ambiance: 9/10 Architecture/Design: 19/20 Layout: 19/20 Gameplay/Difficulty: 27/30 Overall: 91/100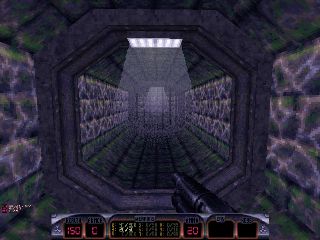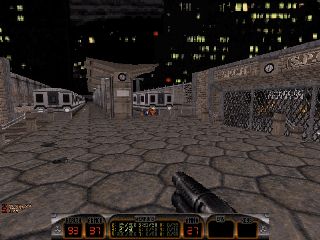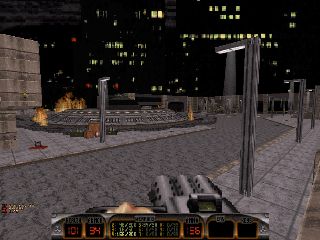 Gameplay Type: SP
Requires: Duke Nukem 3D v1.4+ and JonoF/EDuke32
Filesize: 200.52 KB
Level includes: new music

Download: Another Timeless Night (581)
Other releases by Alejandro Glavic: ADG Episode, Alien Wipeout, Blackened, EDF Secret Base, HydroStation, Military Madness, Space Showdown, The Lost Moonbase, Welcome Home, YMF500G
Know of any other maps from this author? Let us know
Mapping template:


Duke Nukem 3D .MAP Authoring Template v1.1
======================================================================
Title                 : Another Timeless Night
                        (or Shopping Plaza Commander Hunt! S.P.C.H.)
Filename              : timeless.map
Author                : Alejandro Glavic
E-mail                : aglavic[at]yahoo.com.ar
Web Page              : http://www.planetduke.com/amc
Misc. Author Info     : 20 years old from Buenos Aires, Argentina
Other Levels          : ADG Episode, YMF500G, EDF Secret Base, The
                        Lost Moonbase, HydroStation, Military Madness,
                        Eye-Witness, Blackened, Space Showdown,
                        AdgDM2, Alien Wipeout, Welcome Home.

Description           : Duke looked at the mirror and said "Damn,
                        I'm not looking so good!". Time to buy new
                        clothes. Go Duke, get'em!

Additional Credits To : Beta Testers
                        ------------
                        Antonio Rodriguez (Grijan)
                        Maarten van Oostrum
                        Merlijn van Oostrum

                        Jonof and Terminx for their excellent work.
                          
======================================================================

  ******************************************************************
  * DO NOT RUN THIS MAP WITH POLYMOST/HRP! This map was designed   *
  * to be played in classic mode. Polymost can do weird effects    *
  * like rendering some things incorrectly, making other things to *
  * not even appear or just crash in some places.                  *
  ******************************************************************

* Play Information *

Episode and Level #    : User map
Single Player          : Yes
DukeMatch 2-8 Player   : No
Cooperative 2-8 Player : No
Difficulty Settings    : Not implemented
Plutonium Pak Required : Yes (Jonof also required for high limits)
New Art                : No
New Music              : Yes, Seemann from Rammstein
New Sound Effects      : No
New .CON Files         : No
Demos Replaced         : No

=====================================================================

* Construction *

Base                   : New level from scratch
Level Editor(s) Used   : Mapster32
Art Editor(s) Used     : None
Construction Time      : Two months (more off than on...)
Known Bugs             : Some rendering bugs in polymost...

* Where to get this MAP file *

File location          : http://www.planetduke.com/amc
                         http://www.planetduke.com/msdn

=====================================================================

*Important Information*

Installation           : Unzip in your Duke folder and run

Important Notes        : Again DO NOT PLAY WITH POLYMOST! Thanks :)

======================================================================

							
Top of the page