Map Name:
You Could Be Dead
Author:
Alejandro M.
Released:
24th March 1997
Rating:
75
Review by Kim Robinson on 27th July 2007
Another oldie but a good one nonetheless. A very large level with a mish-mash of themes, design for the most part is pretty good (with inspiration from the original levels), though there's a few featureless rooms and corridors which let the map down. Puzzles are easy enough - just make sure you explore for switches and mind the monsters whilst you're at it.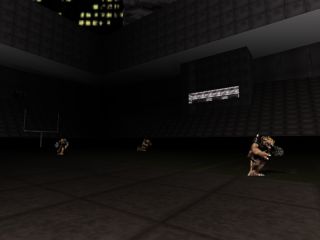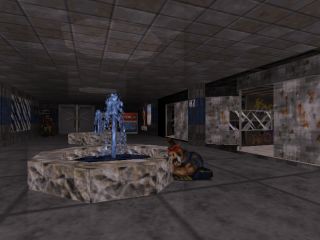 Gameplay Type: SP
Requires: Duke Nukem 3D v1.3d
Filesize: 81.25 KB
Level includes: new music, multiple difficulty settings

Download: You Could Be Dead (426)
Know of any other maps from this author? Let us know
Mapping template:


================================================================
Title                   : You CouLD Be DeaD
Filename                : ukudbded.map
Author                  : Alejandro M. (aka AleM aka quovadis)
Email Address           : quovadis[at]arrakis.es
			  http://www.arrakis.es/~quovadis/index.html
Description             : Duke is caught after his last mission.
			  While waiting for a transport to the prison 
			  he gets advantage over his warder and reduces
			  him. Now you must guide Duke to freedom.
			  Bit them !!
			  
Special features        : - Metro
			  - Two way train
			  - Much more things... lots of them.

Additional Credits to   :  Cho Yan Wong (aka Tempest)
			   http://www.wi.leidenuniv.nl/~cwong/myindex.html 
			   For his great tutorials.    
			  

Personal Info           : Probably someone like you. :-)
		     
================================================================

* Play Information *

Single Player           : Yes
Cooperative 2-4 Player  : Yes 
Deathmatch 2-4 Player   : Yes 
Difficulty Settings     : Yes
New Sounds              : No
New Graphics            : No
New Music               : Yes
Demos Replaced          : None

* Construction *

Base                    : Build from scratch, a small part of e3l8.map
			  and a reformed stadium from e3l9.map.
Editor used             : Build.exe
Build Time              : A few weeks. (Learning included).
Known Bugs              : - Sharks can bite you through the glass
			   so stay away from it. 
			  - If two way train's activator doesn't works,
			   just kick it.
			  - Not really a bug, but you'll probably
			   need a Pentium 100 Mhz or faster to run it
			   correctly. (Today is not a problem, itsn't?)
			  - Probably you must play this level twice.
			  - In some cases parallax textures may fail.

* Copyright / Permissions *

You can distribute this map freely, but only if ukudbded.txt is within the
same pack. It may be put on a CD-ROM compilation but please, let me know.

							
Top of the page