Map Name:
Wonderful Christmas Time
Author:
James Stanfield
Released:
25th November 2007
Rating:
93
Review by Zykov Eddy on 30th March 2009
* This map is already implemented in DukePlus *
Wonderful Christmas Time by James Stanfield.
A snow themed map, which uses a feature of duke Plus. The first thing to say - the author is well take advantage of duke Plus and as a result there are many innovative effects. This map also comes with new midi track. The author makes a good balance of outdoor and closed areas, as well as good shading. First part of the map is a big cave, where you can see an original idea of the author - the so-called "air tunnel" which allows immediately jump from one place to another, there are also a lot of ladders which you can climb. The most interesting part starts when you go into a big snowy outdoor area, which occupies the biggest part of the map. Here you will meet the new kinds of monsters, which have certain characteristics. In particular, they have different amount of health and different types of attacks, so the gameplay doesn't get boring. Also there is good snow effect imitation (such as snow flakes), which creates an atmosphere of a true snow map.
After walking in caves and snow outdoor areas Duke gets on the alien ship. There is a battle with the final boss. Most importantly - you must have RPG, which the author has not forgot to put somewere near, so don't worry - you will find it.
Secret rooms: There are only three secret places, but the author added useful things inside (such as a freezer gun) so you better find them. The first two won't be difficult to find. The third secret room is the most difficult. In order to get in, you'll need to find a switch in one of the underground bases.
The map is not difficult, and therefore gameplay is fairly easy and that's a good thing. Surely it's worth to take a look.
Rate for the map: The author has done a good job so my rate is 93 out of 100.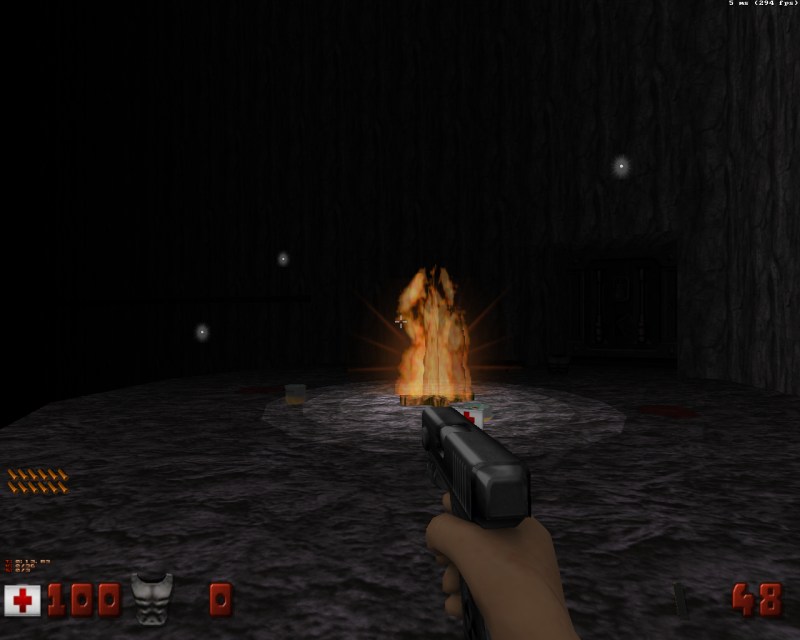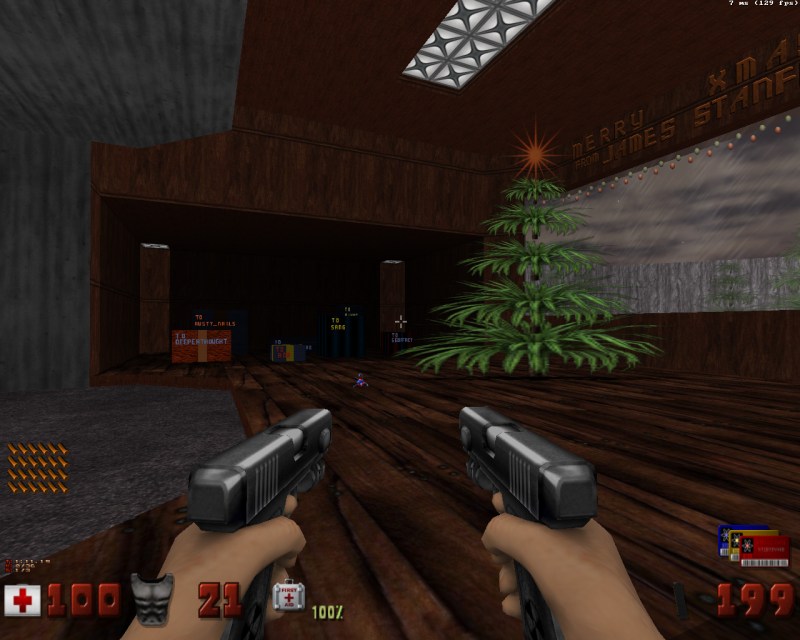 Gameplay Type: SP
Requires: Duke Nukem 3D v1.4+ and JonoF/EDuke32
Filesize: 87.44 KB
Level includes: new music

Download: Wonderful Christmas Time (346)
Know of any other maps from this author? Let us know
Mapping template:


======================================================================
THIS LEVEL IS NEITHER MADE BY OR SUPPORTED BY 3D REALMS.

Title                 : Wonderful Christmas Time
Filename              : WCTime.zip
Author                : James Stanfield
E-mail                : Jstanf35[at]hotmail.com
Web Page              : www.planetduke.com/amc and www.geocities.com/jstanf35
Misc. Author Info     : 20 Year old who's been building for Duke for almost 10 years,
but hasn't 
			released any standalone Duke maps till now (it's been almost all TCs and CBPs)
			
Other Levels/Stuff    :  Imagination World
			 CBP2, 3, 4 and 5
			 JFCBP1 and 2
			 Survival
			 Duke's 10th Anniversery Pack
			 HardG
			 Nuclear Showdown
			 Other stuff that I can't recall!

Description           : I've always wanted to make a christmas map for Duke, and
DeeperThought's DukePlus was 
			enough to finally kick start my inspiration and get one done. Thanks DT!
	
			Duke has been dropped into some remote snowy mountains to investigate strange
alien 
			activity. He will have to treck through the wind caves, a tourist attraction, and
then
			an old mining facility before locating the source of the alien activity. Good
luck, and
			Good hunting!

			Also, this map was made for Classic mode - don't play it using the HRP.

Additional Credits To : Geoffrey and Sang for Beta testing! 
			Mikko, Rob and Rusty_Nails for feedback
			Valve for making excellent games and inspiring some gameplay ideas
			DeeperThought for making Duke Plus
			3DR for making Duke3D in the first place
                          
======================================================================

* Play Information *

Episode and Level #    : User map
Single Player          : Yes
DukeMatch 2-8 Player   : No
Cooperative 2-8 Player : Yes
Difficulty Settings    : Yes (I recommend Come Get Some)
Plutonium Pak Required : Yes
New Art                : No
New Music              : Yes (The song wonderful Christmas Time)
New Sound Effects      : No
New .CON Files         : No
Demos Replaced         : No

=====================================================================

* Construction *

Base                   : New level from scratch
Level Editor(s) Used   : Mapster32
Art Editor(s) Used     : None
Construction Time      : Roughly 1 Month on and off
Known Bugs/Problems    : None that I'm aware of.

=====================================================================

*Important Information*

Installation           : This level requires Duke Plus to play properly - as of the
time of 
			writing this, a download location is:

			http://www.csus.edu/indiv/g/gaskilld/DukePlus.rar

			Download and unzip Duke Plus into an atomic Duke directory first, than
			unzip WCTime.zip into that directory and run the WCTime.bat file.

Important Notes        : This level contains many of DukePlus' features like Night
Vision secrets
			 and toughter enemies. If things are getting tough, try using the goggles
			 and looking for dull lights - these will flash brightly when you have the
			 goggles on. Infront of these are hidden items.

======================================================================

							
Top of the page