Map Name:
Tribute to Action II
Author:
Danny Mason
Released:
8th June 2009
Rating:
96
Review by Forge on 8th June 2009
Requires Dukeplus 2.0 or later
From the burning, collapsed buildings bordering the skyline to the abandoned automobiles in the street; this map captures perfectly the picture of a city under siege. A solid layout and design with great architecture; everything is well proportioned and structured to create realism. The map is very well detailed, has nicely placed sprite work, and is open enough to not feel cramped at any point. There are several major areas of the map; from the city street, the movie theater and the alien infested portions of the building, an abandoned subway station, to the devastated and destroyed portion of the city. Thanks to the articulate attention to detail by the author, transitioning from one portion to the map to the next is seamless and flows incredibly smooth. The atmosphere is completed with nice usage of ambient sound effects, great lighting effects, explosions, rain, and fires.
Game play is a saga and you almost forget that you're actually supposed to be looking for keys. The enemies are very strategically placed and appropriate for the type and quantity in relation to where they're located in the map. At the start it might seem as if Duke is a bit too well armed and a little top heavy on the ammunition and health; that is until you find out what you're up against. It's a gun battle almost the entire length of this huge map, but the aliens aren't just tossed in like haphazard clusters. The majority of the battles consist of medium to large numbers of aliens that are presented in organized waves of an invading force. The sizes of the enemy forces encountered continue to escalate until the last epic battle where you have to throw everything you got at the enemy and keep moving just to collect enough ammunition to finish the fight.
Texturing/Lighting-Shading: 9/10 Sprite Work/Detailing:10/10 Ambiance: 10/10 Architecture/Design: 19/20 Layout: 20/20 Gameplay/Difficulty: 28/30
Overall: 96/100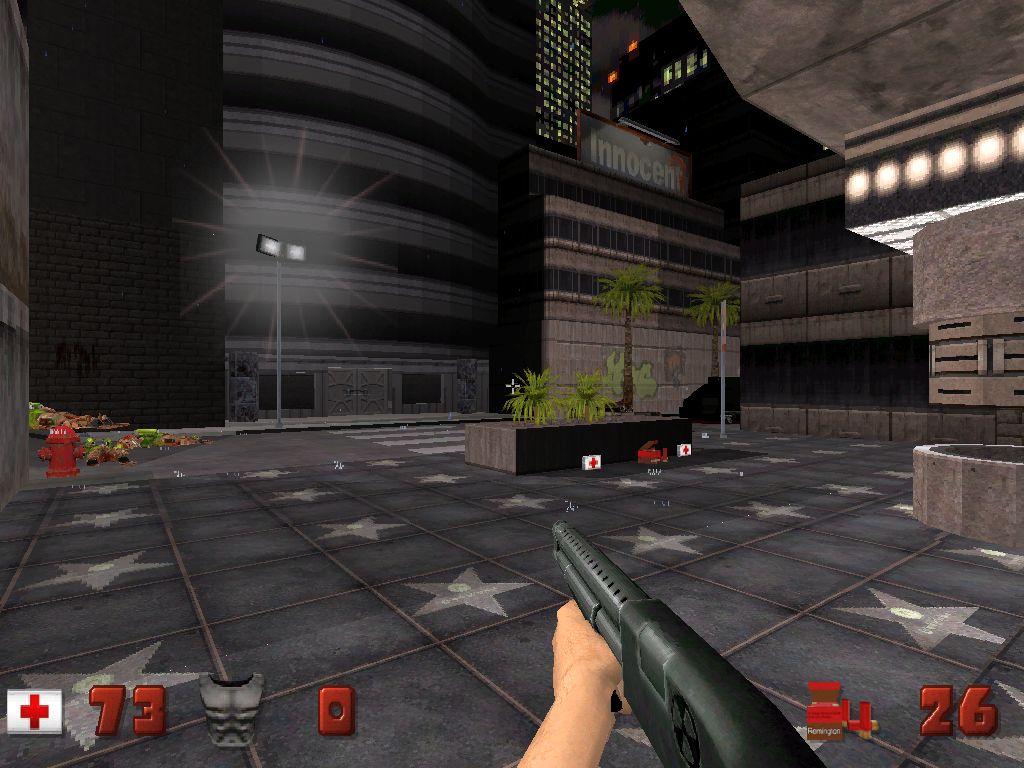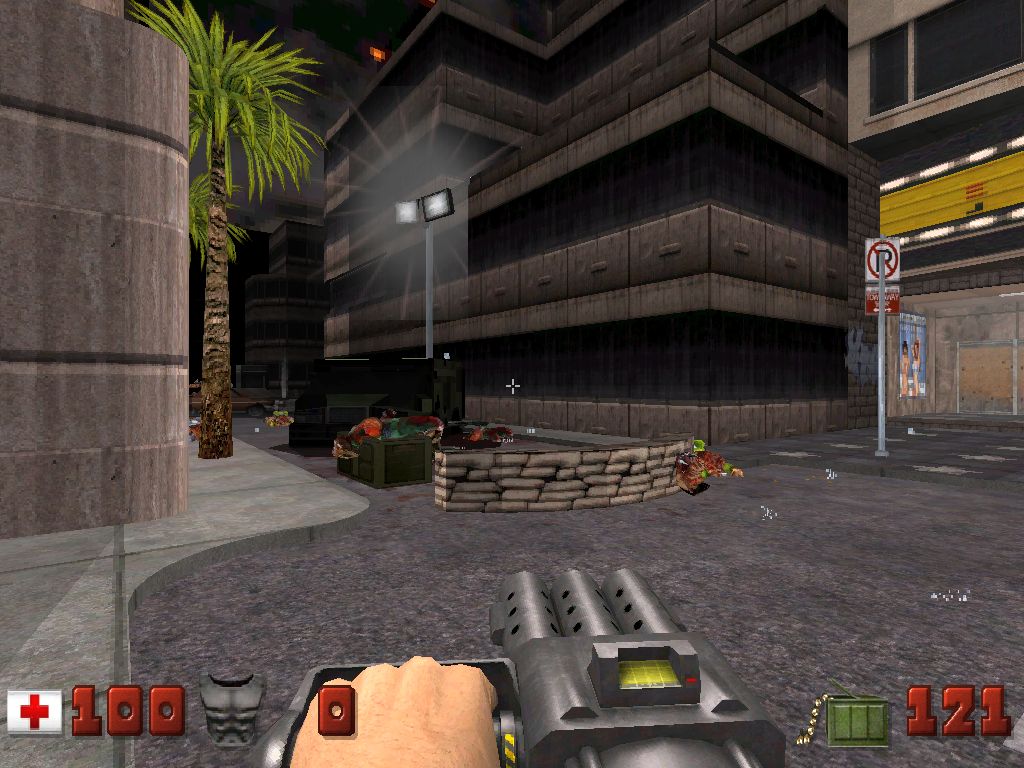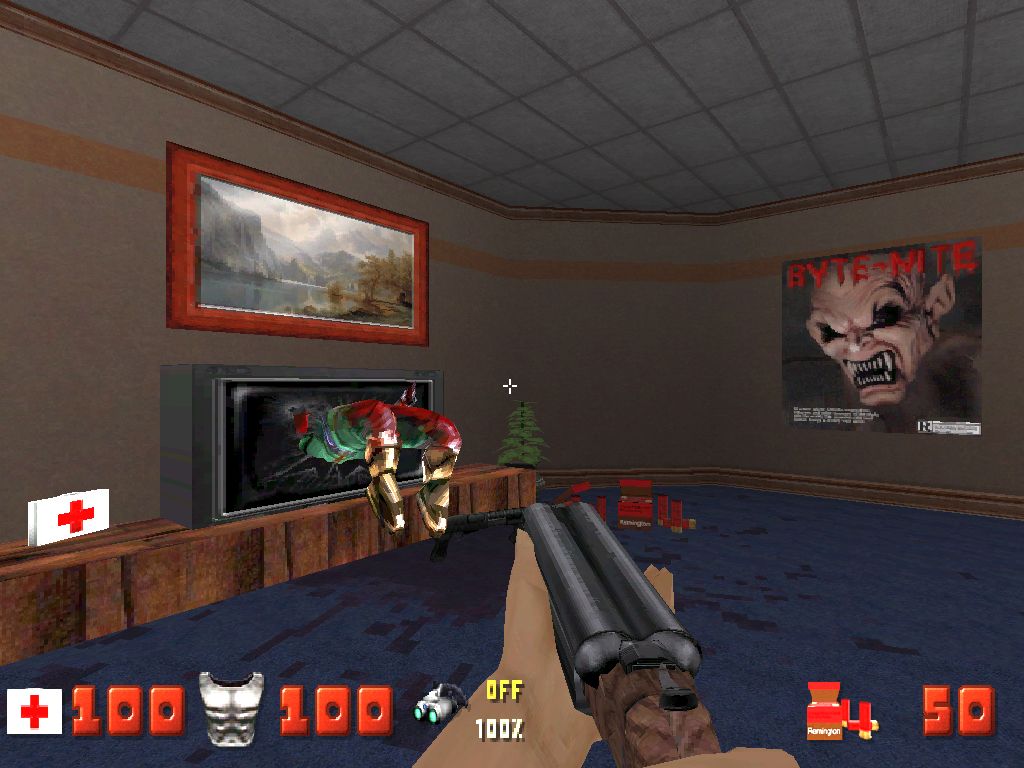 Gameplay Type: SP
Requires: Duke Nukem 3D v1.4+ and JonoF/EDuke32
Filesize: 200.29 KB

Download: Tribute to Action II (682)
Know of any other maps from this author? Let us know
Mapping template:


======================================================================
THIS LEVEL IS NEITHER MADE BY OR SUPPORTED BY 3D REALMS.

Title                 : Tribute to Action II : Its on now motherucker! (REQUIRES HRP
EDUKE32 & DUKEPLUS)
Released	      : 8 / 6 / 09	 
Filename              : tta2.map
Author                : Danny Mason
E-mail                : rlb33333[at]hotmail.com
Other levels          : 50 Shells in Hell 1 & 2
			Tribute to Action 
			You and whose Army? 

Description           : Done, one monster of a map, weighing in at 
			1666 Sectors 15231 Walls and 2006 Sprites

			Uses quite a few dukeplus effects, dukeplus rocks!!	

			Contains a full remake of the cinema from the 1st level
			and then continues down a path of destruction
			with mass street battles and bosses galore.

			Contains variants of normal monsters that have more health
			more damage and different attacks attacking as mini / sub bosses
			
			its a hard map but i have finished it without cheats so :P						
			Double Barrel Shotgun highly reccommended :)	
			
			(REQUIRES HRP EDUKE32 & DUKEPLUS)			


Additional Credits To : 3DREALMS
			Dan Gaskill (a.k.a. "DeeperThought") for DUKEPLUS (you rock!)
                          
======================================================================

* Play Information *

Episode and Level #    : User map
Single Player          : Yes
DukeMatch 2-8 Player   : No and too big anyway
Cooperative 2-8 Player : Yes 4 players
Difficulty Settings    : Nope
Plutonium Pak Required : Yes

=====================================================================

* Construction *

Base                   : New level from scratch
Level Editor(s) Used   : Mapster32
Art Editor(s) Used     : None
Construction Time      : quite some time
Known Bugs/Problems    : Small AI related things that cant be helped

* Where to get this MAP file *

File location          : http://dukerepository.com/


Installation           : new game / user map / tta2.map

Important Notes        : Might run slow on older machines :P
                         
=====================================================================




SPOLIER NOTES





















































































yes drones are there to help in parts

BOSS DOES DIE, YOUR MEANT TO KILL HIM WHILST FLYING AROUND WITH JETPACK HE DOES
DOUBLE DAMAGE and has 6x health, use steroids devastator runs to kill him, takes
awhile but it is fun :)
							
Top of the page