Map Name:
Torc
Author:
Kevin Farnfield
Released:
29th June 1996
Rating:
89
Review by Kim Robinson on 8th August 2007
An oldie but a goodie - a huge thankyou goes out to Frode 'Puritan' Waksvik for submitting this one a while back. It's a medium to rather large sized city level full of your basic social amenities - strip club, pub, adult bookstore. A lot of things are destructible, so just like in Real-Life™ if you take an RPG to a wall it might well blow up. Basically you've got to explore the place and try to recover a blue key card (which is rather well hidden), after that you're pretty much home free. The level sports some pretty decent gameplay for how simple the puzzles are - although if you can't find the first keycard after 10-15 minutes things can get a bit tedious. There's some great fire-fights, plenty of ammo to keep the place rocking and the new sound files suit the map perfectly. Check it out now!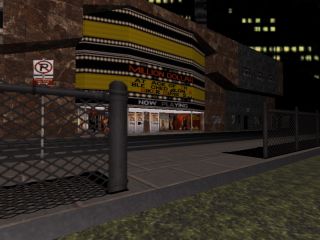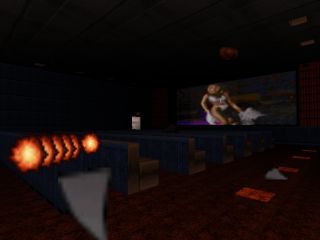 Gameplay Type: SP
Requires: Duke Nukem 3D v1.3d
Filesize: 1.42 MB
Level includes: new sounds, multiple difficulty settings

Download: Torc (456)
Other releases by Kevin Farnfield: UnderGround
Know of any other maps from this author? Let us know
Mapping template:


===========================================================================
Title                   : Torc.map
Date Finished           : 6/29/96
Author                  : Kevin Farnfield (Kevsmeg)
Email Address           : 106144.3071[at]COMPUSERVE.COM
Other Files By Author   : All in Development!
Misc. Author Info       : 33 year old gamer! Love's to build levels for Doom &
                          Duke, but should really be spending his time on 
                          building Level's for Command & Conquer. Plays Duke, 
                          Quake and C&C every weekend at THE TEMPLE OF NOD
                          (England)!
Description             :         <>
                          Duke has decided to pay a visit to his old mate's at
			  TORC SOFTWARE in the U.K. They have helped to make 
			  Duke himself FAMOUS! Unfortunatly the aliens have 
			  beaten him there & Robin is now a PIG COP! (The one
                          behind the counter.) He now has to clear this town
			  of bad guys and find Kevsmeg's built in hiding place
			  for DUKEMATCH!

Additional Credits to   : TORC SOFTWARE & TORC INTERACTIVE
===========================================================================

* Play Information *

Episode and Level #     : E1M8 (if you change the map name to E1L1.map this 
			  will replace the first level of the first episode.)
Single Player           : YES
Cooperative 2-4 Player  : YES
Dukematch 2-4 Player    : OF COURSE is there any other way???
Difficulty Settings     : Yes
New Sounds              : No
New Music               : Yes
New Graphics            : No
Demos Replaced          : None

* Construction *

Base                    : New level from scratch 
Build Time              : Too LONG!!!
Editor(s) used          : Build
Known Bugs              : Do Not try and blow up Macdonalds with 50 pipe bombs!
			  I know this sounds stupid but we try everything!

* Copyright / Permissions *

You MAY NOT use this level as a base to build additional levels.  

You MAY distribute this MAP, provided you include this file with
no modifications.  You may distribute this file in any electronic
format (BBS, Diskette, CD, etc) as long as you include this file 
intact,AND NO FEE IS CHARGED.

***************************************************************************

If you have any suggestions or if you want to get other levels I have done
E-mail me at the above address.

HAVE FUN!!

							
Top of the page