Map Name:
The Spiegul Contest
Author:
Aymeric Nocus, Devastator, Taivo Maripuu
Released:
30th January 2005
Rating:
Pending review
Review by Kim Robinson on 2nd August 2007
Some time ago, Merlijn hosted a contest called The Spiegul Contest. After some hard months of work, we finally bring the Spiegul bundle up to your very eyes - deriving three outstanding maps from three well-respected mappers. These maps really highlights how good these mappers are actually, from their amazing ability to generate realism, up to the dense atmosphere they make us fit into. Worth your time for some great challenges and action.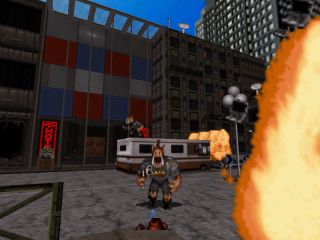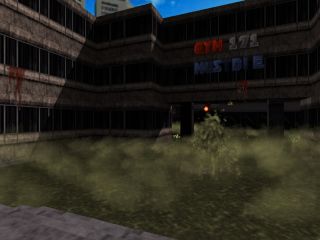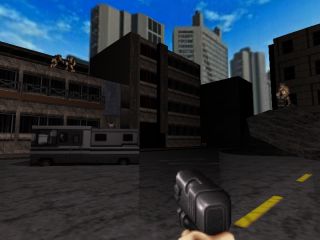 Gameplay Type: SP
Requires: Duke Nukem 3D v1.4+
Filesize: 547.82 KB
Level includes: new ART

Download: The Spiegul Contest (550)
Know of any other maps from this author? Let us know
Mapping template:


======== Spiegul contest ==================

This is a small contest started by Merlijn at AMC. Once upon a time this genius
started a small city map,
but the lazy bastard never finished it :-) The idea of the contest is to use this
first start (which is
the first street with the neat mirroring windows and the first 2 rooms of the cinema)
and build on from
this basis. The builder making the best and most creative map wins. 
Naturally a lot of enthusiastic little builders started to map on this, but only 3
(!!!!) of them were cool
enough to actually finish this project. 

The result is these 3 Spiegul maps.

The authors are:
-Taivo 
 
-MRCK  
 MRCK spiegul.map
 MRCK spiegul.txt

-Devastator 
 Spiegul_DEV.map


After that the AMC members could vote for their favourite spiegulmap in a poll. This
was one hard battle.
A certain author even shamelessly voted for himself!

Anyway the final results are these:

First place: Taivo and MRCK (it's a tie, both got the astounding number of 8 votes!)
Second place: Devastator (2 votes)

Now go play all three maps, they're included in this zip (MRCK also added his own
txt-file, the cocky bastard :P)
and all three of them have their own great qualities. Enjoy!

Note that all maps are SP and require Atomic edition to be played. 


*Files included

taivospiegul.map
MRCK spiegul.map
MRCK spiegul.txt
Spiegul_DEV.map
this txt file

-Merlijn

30th of January 2005
							
Top of the page