Map Name:
The Monastery of Darkness
Author:
Schronzki
Released:
3rd July 1999
Rating:
86
Review by Kim Robinson on 6th March 2008
An old level but one which has stood the test of time, The Monastery of Darkness takes place in and around a large monastery carved deep into a mountain-side. The whole thing is laced with catacombs and various passage ways - exploring the level is fun and finding the keys is far from tedious. Lighting and shading is pretty reasonable, gameplay shies away from puzzles but focuses on grabbing a couple of keycards and blasting your way through the level. Certainly worth a gander at!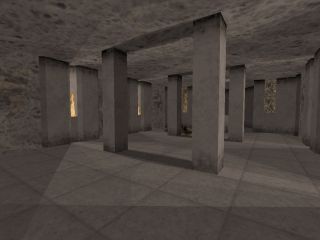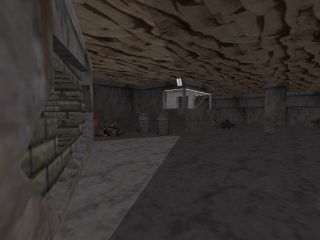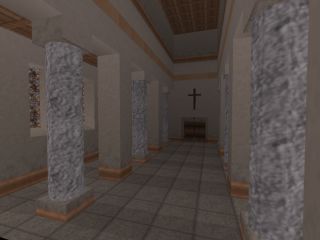 Gameplay Type: SP
Requires: Duke Nukem 3D v1.3d
Filesize: 67.45 KB
Level includes: multiple difficulty settings

Download: The Monastery of Darkness (276)
Know of any other maps from this author? Let us know
Mapping template:


==============================================================================

Title                   :  THE MONASTERY OF DARKNESS
Author                  :  Schronzki
Email                   :  schronzki[at]aol.com
Description             :  User level for Duke Nukem v1.3 and later
                           Built in july 1996
Files included          :  monodark.map - the file to load with DUKE3D
			   monodark.txt - this file
Additional Credits to   :  The makers of DUKE3D especially for supporting the
                           building of custom levels with BUILD
                           Klaus Breuer (sz0759[at]rzmail.uni-erlangen.de) for
                           The UnOfficial Duke Nukem 3d Editing FAQ.

==============================================================================

** Play Information **
										  
Level #                 : User Map
Single Player           : Yes
Cooperative 2-8 Player  : Yes
Dukematch 2-8 Player    : Starts are there...
Difficulty Settings     : Yes - after loading monastry.map type
                                    DNSKILL3  for Skill 2
                                or  DNSKILL4  for skill 3
                          (Multiplayer: choose skill as usual)
Monsters                : Let God sort 'em out.
New Graphics            : No
New Music               : No
New Sound FX            : No
Demos Replaced          : None

** Build Information ** 

Base                    : From scratch.
Build time              : This was the first level I ever made. I heard Duke
                          cracking his knuckles a thousand times while testing
                          it.
Editors used            : BUILD by Ken Silverman
Bugs                    : None.


** Copyright / Permissions **

You may include monastry.map in any compilation or distribute in any
electronic format (BBS, Diskette, CD, etc.) as long as you leave the
files unmodified.

							
Top of the page