Map Name:
The Citadel
Author:
Akimbo
Released:
22nd April 1997
Rating:
85
Review by Fernando Márquez on 2nd August 2007
The sequel to The Vigilante (87) and the final installment in 'The Quest', The Citadel once again amuses us with the medieval theme, which resembles sometimes to some great Duke3D old maps. As its predecessors, very large map but still having some bad chosen and detail-lacking places. Is too obvious to say gameplay is top-notch? No; because (although it is key-grab based) it has a lot of puzzle variation which detracts the player a bit. What a great chance to check out this golden oldie from 1997.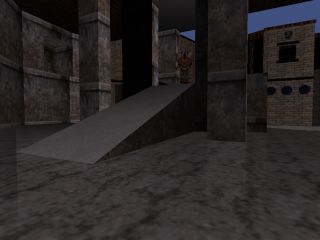 Gameplay Type: SP
Requires: Duke Nukem 3D v1.3d
Filesize: 99.19 KB

Download: The Citadel (495)
Other releases by Akimbo: Slaughter House 2, The Vigilante
Know of any other maps from this author? Let us know
Mapping template:


                     The Citadel
--------------------------------------------------------


Title         : The Citadel
Filename      : citadel.map
Author        : Akimbo
Email Address : Akimbo[at]nni.com 
        
Description   : This is the final part of a Medival trilogy called           
                "The Quest" which includes 1/ Slaughter House 2/ The
                Vigilante and 3/ this map, The Citadel.
                 
                 

Requiements   : Registered version of Duke3D, 1.3
                                                                 
* Play Information *

Single Player  : Yes                        
DukeMatch      : No  
Cooperative    : No  
New Sounds     : No
New Graphics   : No
New Music      : No

Base           : New Level from scratch 
Editor         : Build 
Known Bugs     : none
Copywrite      : This map may be copied as long as it is                  not changed
and this text file                  accompanies it.




							
Top of the page