Map Name:
Research Station
Author:
C3PO
Released:
6th March 1999
Rating:
92
Review by Kim Robinson on 31st July 2007
A rather nice weather research station at the North Pole, lots of ice, snow, isolated buildings and protozoid slimers to keep you entertained. The level layout is very well thought out, although it does seems a little short - puzzles are very good and gameplay excellent! Use your ammo sparingly.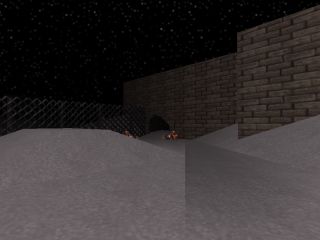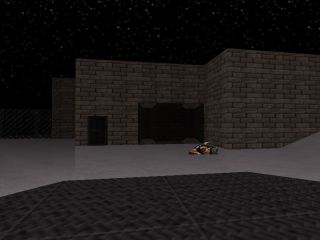 Gameplay Type: SP
Requires: Duke Nukem 3D v1.4+
Filesize: 62.37 KB

Download: Research Station (331)
Other releases by C3PO: Fruit Loops, Holiday Holocaust, Leaving L.A.
Know of any other maps from this author? Let us know
Mapping template:


======================================================================
THIS LEVEL IS NEITHER MADE BY OR SUPPORTED BY 3D REALMS.

======================================================================
PLEASE GIVE ME SOME FEEDBACK ON THIS LEVEL.
IT WILL HELP ME MAKE BETTER MAPS IN THE FUTURE.
======================================================================

Title                 : The research station
Filename              : research.map
Author                : C3PO
E-mail                : Alv-hj[at]online.no
Web Page              : Haven`t got one
Misc. Author Info     : I`m 15 years old, live in Norway and i`m a map maker for the

			Starshiptroopers TC

Other Levels          : Leaving L.A for Duke 3d v1.5

			Compound infiltration for the Platoon TC

			Moonbase Mayhem for Duke3d v1.4/1.5

Description           : The EDF had been receiving some radio transmissions from a
weather 
			research station at the north pole.
			The scientists that worked there had been reporting to EDF about strange
			sounds at night and that some of their sled-dogs had been killed.

		        EDF decided to send in Duke to investigate a few days after the
			transmissions had stopped.
			
			Now, Duke was sitting in the chopper, waiting until they got to the
			station. 
			" Okay, this is how we are going to do this. " the pilot said to Duke
			" We`ll land about 2 miles south of the station, and from there on
			  you`re on your own. You`ll be extracted in a mini-sub, which 
			  is located at sector H4 in your map. "
			
			" Okay, but what if..... " 
			That was all that Duke had time to say, before the chopper started
			to shake.
			" What the hell is happening ? "
			" We got a computer malfunction. I think it`s because of the extreme
			  temperature here. We`re loosing altitude.
			  Strap on your parachute. You got to jump. "
			
                        A few seconds before he hit the ground, he saw where the
chopper
			crashed. It flew over a brick-wall and crashed on the other side.
			Duke knew he had to get to the crashsite and salvage the weapons 
			before he could start kick some alien ass.

Hints and tips :	You have to turn on the power in the station so that you can
			use the doors.

			Proceed with caution. If not, you`ll probably end up dead.		
			
			The pipebombs are not supposed to be used at enemies.
			Be careful where you use them.

			It`s VERY important that you don`t waste your ammo.
			When you get a shotgun, don`t use it to take out eggs or 
			standard troopers. Save it for pigcops and such.

			
			
Additional Credits To : 3dRealms for the great game and the beta testers
                          
======================================================================

* Play Information *

Episode and Level #    : E1L1 probably
Single Player          : Yes
DukeMatch 2-8 Player   : No
Cooperative 2-8 Player : No
Difficulty Settings    : Not implemented
Plutonium Pak Required : Yes
New Art                : No
New Music              : No
New Sound Effects      : No
New .CON Files         : No
Demos Replaced         : No

=====================================================================

* Construction *

Base                   : New level from scratch
Level Editor(s) Used   : BUILD
Art Editor(s) Used     : None
Construction Time      : Some time
Known Bugs/Problems    : No bugs here

* Where to get this MAP file *

File location          : Asbestos Duke 3d page

=====================================================================

*Important Information*

Installation           : Nothing special

Important Notes        : Remember to e-mail me with your comments.
			 
======================================================================

							
Top of the page