Map Name:
Proxyon Military Base
Author:
Scott McNutt
Released:
4th June 1996
Rating:
80
Review by Kim Robinson on 6th March 2008
An ancient map but one of the better ones from by-gone eras, Proxyon Military Base is an enormous complex with clean, fresh design, nice architecture and top-notch gameplay. Enemies are thick and heavy, but you get more than enough ammo to fix that with. Plenty of splosions and heart-pumping action!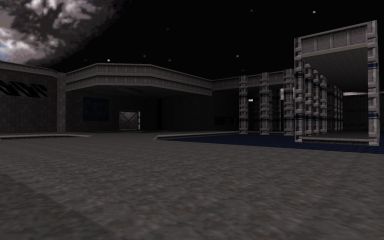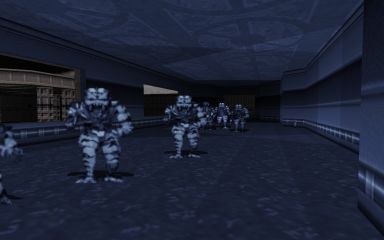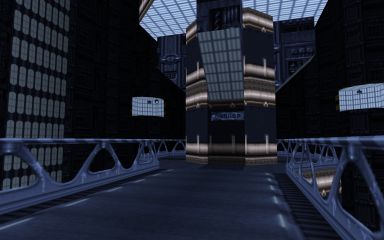 Gameplay Type: SP
Requires: Duke Nukem 3D v1.3d
Filesize: 41.17 KB

Download: Proxyon Military Base (269)
Other releases by Scott McNutt: Control Station
Know of any other maps from this author? Let us know
Mapping template:


================================================================
Title                   : Proxyon Military Base for Duke Nukem 3D

Filename                : DUKEPROX.MAP

Author                  : Scott McNutt
Email Address           : smmcnutt[at]best.com			  
WWW Address             : http://www2.best.com/~smmcnutt/smlevel.html

Description             : Proxyon Military Base was
			  built on the planet Andromeda
			  in the Alpha Cruxus system,
			  known as Summer Row because of
			  the five Earth-type worlds that
			  orbit this G-type sun at 
			  comfortable distances. The whole
			  system is possibly the richest
			  non-mineral system in the galaxy.

			  Proxyon is built from scratch
			  utilizing Duke Nukem's unique
	 		  special effects. Look for cool
			  rooms above rooms, now swimming
			  is possible, exploding walls are 
  			  a blast, video monitors are there
			  to stalk your prey, plus many more
			  cool Duke Nukem 3D special effects.

			  Another quality SM level.
			  
			 
Additional Credits to   : Oh Great Master Lawrence, Slacker 415 and
			  Darrellman - for more cool Doom, Doom2,
			  Quake, Heretic, Hexen and Quake stuff check
			  out his cool WWW page.........

			  http://www.itslab.calpoly.edu/~desau/
================================================================

* Play Information *

Game                    : Duke Nukem 3D
Episode and Level #     : E1l8
Single Player           : Yes
Cooperative 2-4 Player  : Yes
DukeMatch 2-4 Player    : Yes (all weapons appear in DM play)
Difficulty Settings     : No
New Sounds              : No
New Graphics            : No
New Music               : No
Demos Replaced          : No

===============================================================

* Construction *

Base                    : New level from scratch
Editor used             : Build


===============================================================



* other SM Levels for Doom2,
  Carnage, Blitzkreig, Control Station KGx/57
  Proxyon Military Base, Proxyon Sector KGx/57
  Attack Station KGx/57, Symetrix,
  and Fist of Fury

* other SM Levels for Heretic,
  Tomb of Quarix, Graves of Thark
  City of Tanash, Symetrix 
  and Irvel's World

* other SM Levels for Hexen,
  Dreadnaught a complete hub for Hexen,
  Knockabout another complete hub for Hexen,
  Draco 7 and Quarhex

* 1996 SM LEVELS


* THIS LEVEL IS NOT MADE BY OR SUPPORTED BY 3D REALMS 



							
Top of the page