Map Name:
Last Reaction and Water Bases (or Aquatic TC)
Author:
George W. Bernard
Released:
23rd February 1999
Rating:
93
Review by Nancsi on 11th December 2008
Being one of the most famous total conversions in Duke Nukem 3D history, Last Reaction TC offers you 2 brand new episodes (as said in the text files: E5 and E6) with new art, sounds, cons and modified monsters. Unlike many TCs of the time this one actually captured the original feeling of Duke especially in the 2nd episode. The new arts are a good fit to the original theme, and new monsters are coded very well (art mostly borrowed from Lame Duke).
The first episode, called "Last Reaction" is clearly older and somewhat inferior to the other one, and has 11 massive, adventrous levels following a journey through canyons, space stations, hi-tech bases and cities as well. These levels are some of the biggest ones I ever witnessed in the game's history. Most notably the two space levels here combined are nearly as big as the complete Lunar Apocalypse episode. This is not neccessarily a good thing since you get bored very fast in playing, moreover many of the levels have some nasty puzzles, big mazes, and ammo isn't always placed very well, you have to find secret locations if you don't want to run out of them. Therefore the first 5-6 levels aren't very good ones, at least compared to the following maps. Their design is a bit messy as well, and the author likes oversize and overshade them, so better set your visibility higher.
However, the TC raises its game spectacularly in the second half of the first episode and even more in the second episode (Water Bases). The author started using more atomic stuff, and turned his oversizing and overshading mapping style into his advantage. Last Reaction ended up in the stadium with a bang, while Water Bases consistently give you some of the best levels that were made for Duke3D!
Actually Water Bases is much like an underwater "Lunar Apocalypse", but the design is massively better here. Wonderful coloring and shading was combined with challenging gameplay. 125 starting health, medkits, and 250 max atomic health are the first signs what challenge you can expect. The only problem with the second episode is the lack of ammo, and from the 2nd level you will struggle to find your goodies through the gameplay and it WILL hurt your chances to survive. Prepare for boss fights as well.
The last couple of levels in the 2nd episode had some of the greatest gameplay experiences I ever had in an FPS, so I don't want to spoil them. Just stop reading, and play the game. The big boss in the second episode is very well made, and very oringal as well.
Summary: After a bit too difficult and too long 1st episode, you can play one of the best classic looking Duke TCs of all time in Water Bases. I recommend to play both.
Last Reaction (episode 1) rating: Texturing/Lighting-Shading: 6/10 Sprite Work/Detailing-Architecture: 6/10 Ambience: 17/20 Layout: 18/20 Gameplay/Difficulty: 28/40 Overall: 75/100
Water Bases (episode 2) rating: Texturing/Lighting-Shading: 10/10 Sprite Work/Detailing-Architecture: 10/10 Ambiance: 20/20 Layout: 19/20 Gameplay/Difficulty: 34/40 Overall: 93/100 (the score belongs to the last 4-5 levels of the 1st episode as well)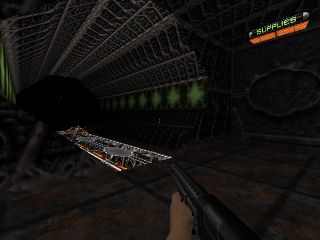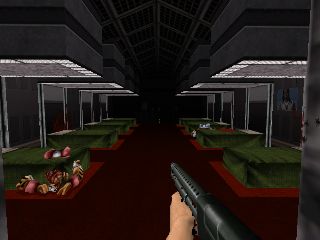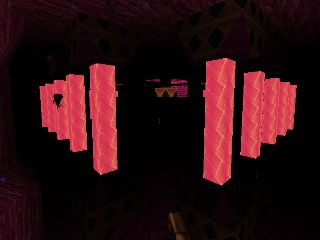 Gameplay Type: SP,DM;COOP
Requires: Duke Nukem 3D v1.4+
Filesize: 8.45 MB
Level includes: new ART, new CON code, new music, new sounds, multiple difficulty settings

Download: Last Reaction and Water Bases (or Aquatic TC) (291)
Know of any other maps from this author? Let us know
Mapping template:


THESE EPISODES ARE NOT MADE BY OR SUPPORTED BY 3D REALMS

****************************************************************

Title                   : Last Reaction & Water Bases
Filename                : Lr&Wb.grp, Lr&Wb.con
Author                  : George-William BERNARD
Email Address           : georgewb[at]infonie.fr

Description             : Two new episodes (22 levels).

Additional Credits to   : 3DRealms, Eric (beta testor), my mother, the girl which
helped me to do one of the new textures, The POV-Team.

Special thanks to Chuck Salley for his bug reporting.

****************************************************************

* Play Information *

Episode and Level #     : Episode 5 & 6 (select E3 & E2 in the game)
Single Player           : Yes
Coop-Mode		: Yes
DukeMatch Level         : Yes
Difficulty Settings     : Yes

* Construction *

Base                    : New levels from scratch
Editor(s) used          : Build & Editart & POVRay 3.0 for the new boss & PSP
Time to build		: 2 or 3 years

New Art			: Yes
New ennemies		: Yes (About 12 I think...)
New sounds		: Yes
New Music		: 1 old from "Lameduke"
New Anm File		: Yes (3)

Known Bugs		: Level 2.08 near the "Convairbelt" (I don't understand where it comes
from)

----------------------------------------------------------------

				-= LAST REACTION =-
				     

Duke was coming back from his last mission : the Queen was now dead and Duke was very
tired. 
A light, coming with a deafening sound, appeared just in front of him. 
 -Mr Nukem ! We've got to bring you back to the H.Q.! 
 -OK, I'm coming ! 
 -Congratulations, you were very efficacious. But I fear that you won't back to your
vacation now: 2 English geneticists have been kidnapped, those aliens looks to be
interested in cloning. Something else... 
 -What ? 
 -The cyclop, and the head of that hideous space frog have disappeared from our
laboratories last night, just after you leave. You must start in the lake in area
65B. Aliens are very active there. 
 -How many time have I got ? 
 -About 3 hours before they start the 'production'. Nevertheless, the cyclop being
more evolved than the frog, you certainly won't see one of them before 8 hours, Time
for it to get its adult size in growing accelerators. 
 -One more match against that imbecile ? It will be too easy ! 
 Duke turned back to the door. 
 -Duke ! 
 -What ? 
 -What about the Queen ? 
 -Vanished... 

				-= WATER BASES =-
				 

-Three - zero ! Is he bad or am I good ? 
His radio crackled : 
-Duke, hurry-up : a spaceship is just upon the stadium, go up on it as you can and
destroy it before it makes a report... Wait a minute... Here's a message from one of
our spies...  
-What does it tell ?  
-He's been located ! He send us any documents he has... He must interrupt the
communication as soon as possible. The fleet is withdrawing ! They have no more
ammunition and supplies !  
-And they will back stronger ! I'm going to weaken them the more I can.  
-Stay near here Duke, One of their bigger spaceship will stay around earth.  
-Only the time to squash that drone upon my head...

				
				(Read this to understand what happened.)

-I hope they have survived on earth. This vortex helped me to diminish the trip's
duration but... 
A message appeared on the green screen, recorded a few years ago. 
"TO DUKE NUKEM, CANNOT FIGHT ANYMORE -STOP- WILL FIGHT FOR HONOR -STOP- NEW ALIEN
WEAPON -STOP- NEW GENERATION DRONE -STOP- INDESTRUCTIBLE -STOP- PROTOTYPE OF
TIME-MACHINE STOLEN -STOP- UNUSABLE WITHOUT ACCESS CODE :
11010110010110111011010010010001 -STOP- SECURED FREQUENCY-STOP- TO DUKE NUKEM,
CANNOT..." 
Duke turned back to the electronic calendar behind him... You are 40 years late ! 
If you found a bug please contact me.

							
Top of the page